Black Friday hits big money-line bettors in NCAA Tournament
Updated March 16, 2018 - 11:38 pm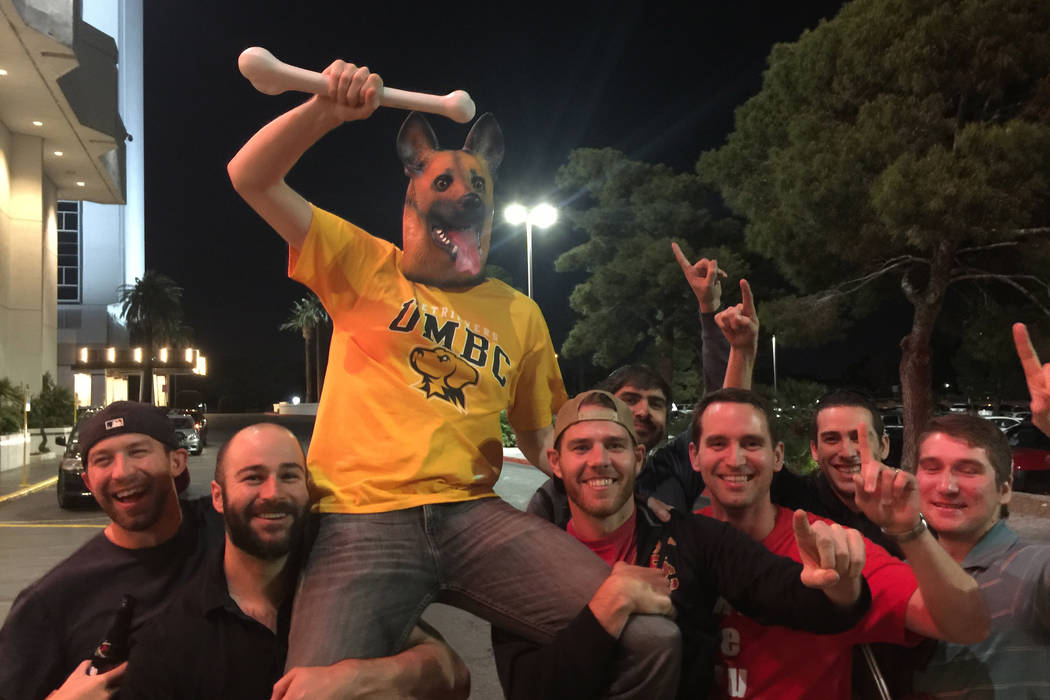 When it comes to sports betting, there's no such thing as a lock.
That was never more evident than on the second day of the NCAA Tournament, which turned out to be a Black Friday for at least two big money-line bettors in Las Vegas and a glorious day for others.
A CG Technology bettor lost a $20,000 three-team, money-line parlay to win $870 on Purdue, North Carolina and Virginia when the Cavaliers became the first No. 1 seed ever to lose to a No. 16 seed — which had been 0-135 in the tournament.
Maryland-Baltimore County stunned Virginia in a historic 74-54 upset Friday night as a 20½-point underdog.
"That's why it's gambling," CG Technology sports book director Jason Simbal said.
Shortly after the wager was made Friday morning, Simbal tweeted that "the $20K 3 teamer to win $870 bucks is the most March Madness bet ever."
UMBC bettor turns $800 into $16,000
The public was on Virginia, but the Retrievers proved golden on the money line (20-1) for one CG Technology bettor who placed an $800 wager to win $16,000.
The win was priceless for UMBC alumnus John Doyle, who was wearing a UMBC shirt and dog mask and carrying an oversized dog bone as he was carried out of the Westgate sports book by his buddies as they chanted "U-M-B-C" shortly after the upset.
The #UMBC entourage with a victory parade at the @LVSuperBook …. only in Vegas pic.twitter.com/mP79GU07Pp

— Tommy Lorenzo (@sportsbooktom) March 17, 2018
William Hill sports book took 134 money-line bets on the Retrievers at 25-1, including six wagers of $100 that each netted $2,500.
Brief blackout at Westgate
No. 13 seed Marshall was Friday's other giant killer, beating No. 4 Wichita State 81-75 as a 13½-point underdog.
The screens on the world's largest indoor LED video wall at the Westgate were blacked out for about 10 minutes as the Thundering Herd completed their upset.
It was unclear what caused the blackout, but a Wynn Las Vegas bettor would have been grateful to miss the ending of that game.
Bettor loses $100,000 money-line parlay
It cost the gambler six figures, as he lost a $100,000 three-team, money-line parlay on Wichita State, Michigan State and Cincinnati.
"Every tournament, I get some six-figure parlay bets," Wynn Las Vegas sports book director Johnny Avello said. "They like to bet the big favorites."
Bettor wins big on Marshall
A Westgate bettor cashed a big money-line bet on Marshall at 8-1.
"We took a big hit on Marshall winning outright," Westgate sports book director Jay Kornegay said. "That was our biggest loser."
Public backs underdogs
Underdogs went 8-7-1 ATS with four outright upsets.
"The public in the tournament bets the dogs more than you think," William Hill sports book director Nick Bogdanovich said. "It's crazy, but that's the way it's been the last year or two."
The betting public won on Marshall and College of Charleston, which covered as a 9-point underdog in a 62-58 loss to Auburn. But the public lost on New Mexico State, which was beaten 79-68 by Clemson as a 3½-point underdog, as No. 5 seeds swept No. 12 seeds for only the fifth time in 32 years.
Tight lines
Several games landed right around the number. Cincinnati finished its 68-53 win over Georgia State on a 22-6 run to cover as a 14-point favorite by a point. Texas Southern made two late free throws in its 102-83 loss to Xavier to cash as a 19½-point underdog by a half-point. And Lipscomb hit a 3-pointer with 35 seconds left to cover as a 22-point underdog in an 84-66 loss to North Carolina.
"We're at the end of the season, and the numbers are about as tight as they can be," Avello said. "The numbers are great."
Gambler loses six figures on Texas
An MGM Resorts sports book bettor lost a six-figure wager on Texas when UNR stormed back from a 14-point second-half deficit en route to an 87-83 win in overtime. The game closed at pick 'em, but the Wolf Pack were available at plus 625 on the in-play money line at William Hill when they trailed the Longhorns 43-30 in the second half.
"We were a small loser to Nevada," Bogdanovich said. "That was, by far, the biggest bet game for us."
Contact reporter Todd Dewey at tdewey@reviewjournal.com. Follow @tdewey33 on Twitter.