ESPN anchor Scott Van Pelt relishes ride on 'Bad Beats' elephant
Updated October 11, 2018 - 7:17 pm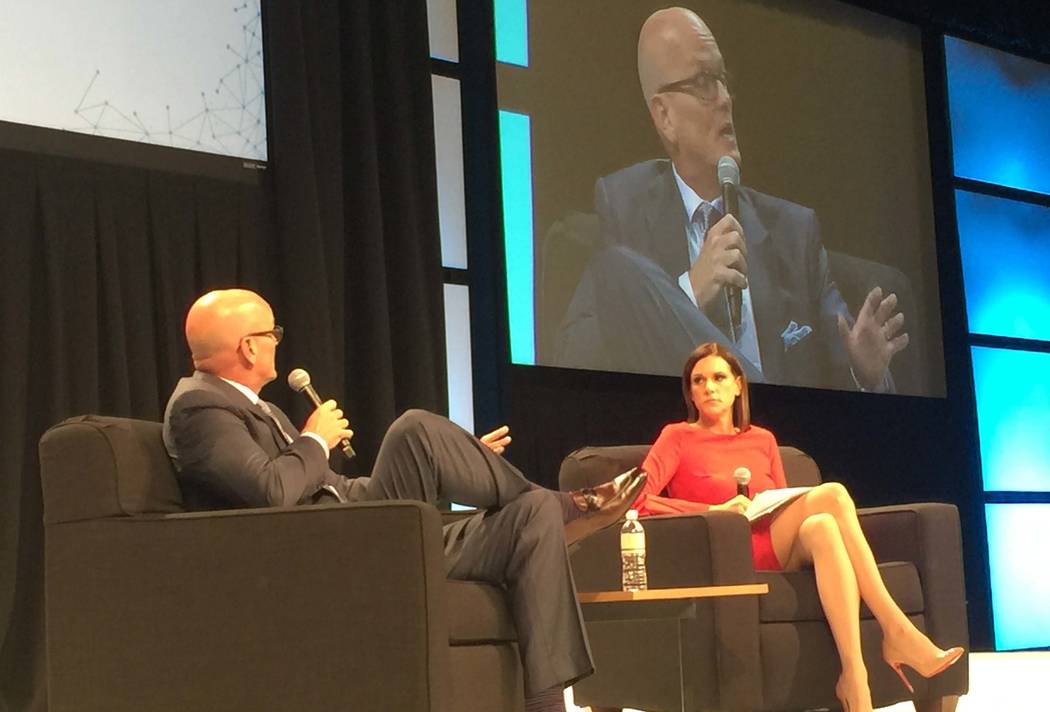 At a time when iconic sportscasters Brent Musburger and Al Michaels were still sneaking subtle references to gambling into their broadcasts, ESPN anchor Scott Van Pelt in 2015 started showcasing "Bad Beats" and other sports betting segments on his midnight edition of SportsCenter.
"I told them when they gave me this show that I want to talk about gambling and I'm not going to talk about it in that way where you kind of dance around it," Van Pelt said. "The line I used is, 'I'm not going to ignore the elephant in the room. I want to party with the elephant. I want to jump on the elephant and ride it around the room.'"
Van Pelt was interviewed by Sara Slane — senior vice president of the American Gaming Association — for the keynote chat on the future of legalized, regulated sports betting in the U.S. on Wednesday at the Global Gaming Expo at the Sands and Expo Convention Center.
He also took a few questions afterward from the standing-room-only crowd. The first was about preventing problem gambling.
"I would offer that the segment we do every Monday would be the single greatest deterrent to betting you can ever have called 'Bad Beats,'" Van Pelt said. "If you've seen it, we make a production out of the fact that it's incredibly difficult to win and I believe it's understood."
Van Pelt then shared the fact that he lost his father to alcoholism and takes addiction very seriously.
"Occasionally, people will tell me, 'You're influencing people to bet.' I disagree with that," he said. "We say jokingly, 'Take these picks and parlay them and tease them.' It's a joke. No one's meant to do that.
"I'm not suggesting to anybody that they're going to retire off of this. I'm just realistic about the fact that people have and do and will (bet). In the interest of serving an audience I know does, I talk about it."
Bad beats
Van Pelt brought the "Bad Beats" segment with him from his SVP & Russillo ESPN radio show.
"It's content," he said. "And we had done it on radio where we talked about them and I thought on television it would be even more compelling and it's certainly turned out to be. It's without question the most popular thing we do weekly. Every week, we say this has a chance to be the worst one ever and then something worse always happens.
"It immediately connected with people. I think folks were appreciative of the fact we were just talking about it head on."
Tiger tracks
A Maryland native and University of Maryland graduate, Van Pelt worked at the Golf Channel before joining ESPN in 2001 as its lead golf reporter. He said meeting a young Tiger Woods helped launch his career.
"I got remarkably lucky to meet Tiger Woods before he became what he became," Van Pelt said. "He loves to tell me — and it's accurate — that he's singlehandedly responsible for my career. And he is, because if I didn't have the type of business/professional relationship with him, ESPN never would've been interested."
Van Pelt said he's always grateful for his job and aware that countless people would love to do it.
"My dad was a plumber and he worked for a living and he wore boots to work, and I wear makeup," he said. "So, as far as gigs go, mine is hard to top."
Winners
Besides "Bad Beats," Van Pelt also makes picks, almost exclusively underdogs, on a weekly segment called "Winners."
"Think about this. If you hit 56 percent, which we did last year on 'Winners,' you're not mad at that. But that means you lose damn near half the time, which means people think you suck," he said. "But people that understand it know that that's actually doing just fine."
Van Pelt's handicapping strategy is to be on the same side as the sports books.
"All I want to know is who's the house need, because I know they're going to win over time," he said. "So the content that interests me is which side has 80 percent of the money because I'll back the side that has 20 on the show on 'Winners.'
"I see it very much like playing blackjack by the book. The numbers tell me which way to go for the picks I've given on TV. I wish it were more fun to me but it's very much black and white."
It's still fun for us to watch Van Pelt ride the elephant around the room.
Contact reporter Todd Dewey at tdewey@reviewjournal.com. Follow @tdewey33 on Twitter.
Dewey's picks
(Home team in CAPS)
BOSTON COLLEGE (-13.5) over Louisville
Wisconsin (+9.5) over MICHIGAN
NORTHWESTERN (-4.5) over Nebraska
Central Florida (-4.5) over MEMPHIS
LOUISIANA ST. (+7.5) over Georgia
Last week: 2-3 against the spread
Season: 15-15