Gonzaga-UCLA game among handicappers' Sweet 16 best bets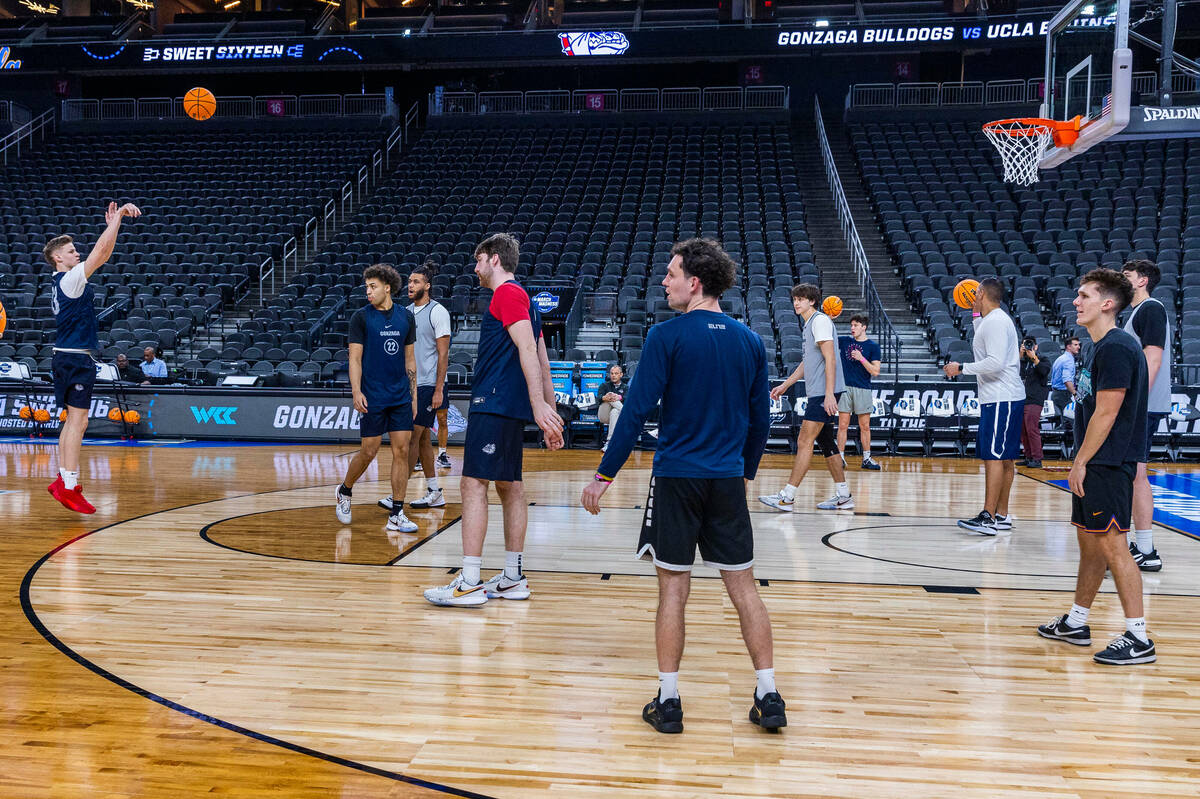 In one of the most memorable moments in NCAA Tournament history, Jalen Suggs banked in a 40-footer at the buzzer to lift Gonzaga over UCLA in overtime in the 2021 Final Four.
In their rematch last season at T-Mobile Arena, the No. 1-ranked Bulldogs blew out the No. 2-ranked Bruins by 20 points.
No. 2 seed UCLA is a 1½-point favorite over No. 3 seed Gonzaga in their Sweet 16 matchup Thursday when they meet in the West Regional in Las Vegas, a regional host for the first time.
Wizardraceandsports.com handicapper "Dr. Alan" Dumond made the Zags his best value bet to win the national championship at 16-1 odds last week before the tournament started. He's sticking with the Bulldogs getting points over the Bruins, who were -2½ before the line dipped Wednesday.
"In prior years, the Zags entered March Madness with the pressure and weight of expectations of being named as one of the favorites to win the national championship," Dumond said. "However, this year the Zags have no such pressure, and they enter this game versus UCLA as an underdog. This helps the Zags psychologically.
"Getting a quality team like the Zags, who are on an 11-game winning streak, in the underdog role is simply too good to pass up."
Reynolds wrap
VSiN betting analyst Wes Reynolds is on the cusp of sweeping the Review-Journal's college handicapping contests. He won the RJ's college football challenge with a 40-25 ATS record and finished first in the college football bowl challenge at 11-4 ATS.
Reynolds (@WesReynolds1) leads the RJ's March Madness Challenge with seven points after going 6-6 ATS and hitting his best bet (Furman) in the first round.
His best bet in the Sweet 16 is San Diego State (+7½) over Alabama, which has ticked down from -8.
"Alabama is one of the fastest and most athletic teams in the country, but the Aztecs rank No. 2 in the nation in defensive transition rate," Reynolds said. "San Diego State should be able to keep this close by slowing the game down."
Kelly in Kansas
Barstool Sports handicapper Kelly Stewart went 6-6 ATS in the first round after going 53-31-1 ATS while winning two of the past five RJ college basketball contests.
Stewart, a former Kansas State student, is banking on her alma mater as her best bet. The No. 3 Wildcats are 1½-point underdogs to No. 7 Michigan State, and Stewart noted that higher-seeded underdogs are 11-6 ATS in the Sweet 16 since 1990.
"This matchup bodes well for Kansas State. Their Achilles' heel all season has been turnovers. The good news for the Wildcats is that the Spartans don't create them," said Stewart (@kellyinvegas). "On the flip side, Michigan State has the potential to get hot from three. Just so happens that's the Wildcats' strongest defensive metric. I look for this to be a fast-paced game that favors Kansas State."
X marks spot
Texas-based handicapper Paul Stone has been impressed with the Longhorns' recent play, but he believes they will have trouble dealing with Xavier big man Jack Nunge.
The 7-foot, 245-pound Nunge averages 14.1 points, 7.7 rebounds and 2.1 assists for the No. 3 Musketeers, 4½-point underdogs to No. 2 Texas.
"Texas' kryptonite the past couple of seasons has been defending talented big men, and Nunge certainly fits that bill," said Stone (@paulstonesports). "The Longhorns were eliminated from the tournament last season due to their inability to neutralize Purdue's size advantage, and I believe the same could happen here."
Stone, who hit his best bet (Kansas State) in the first round, notes that Xavier is 7-3-1 ATS this season as an underdog and 9-4-1 ATS when the line is 4½ points or less.
Under armor
Unders are off to a 35-17 (67.3 percent) start in the tournament.
Per Sportsmemo's Jeff Michaels (@JMSportsCLE), here are a few trends for the Sweet 16 round only:
— Unders are on a 25-13 run, and underdogs are 22-14-2 ATS;
— Unders are 7-0 when both teams covered in the first two rounds (trend applies to Michigan State-Kansas State, Connecticut-Arkansas and Creighton-Princeton);
— Teams off back-to-back upset wins are 11-5 ATS and 12-4 to the under (applies to Princeton);
— Teams with three straight wins and now an underdog are 14-2-1 ATS (applies to Gonzaga, San Diego State, Princeton, Florida Atlantic).
Contact reporter Todd Dewey at tdewey@reviewjournal.com. Follow @tdewey33 on Twitter.