Handicapper expects Knights to upset Jets, win Stanley Cup
Updated May 11, 2018 - 6:48 pm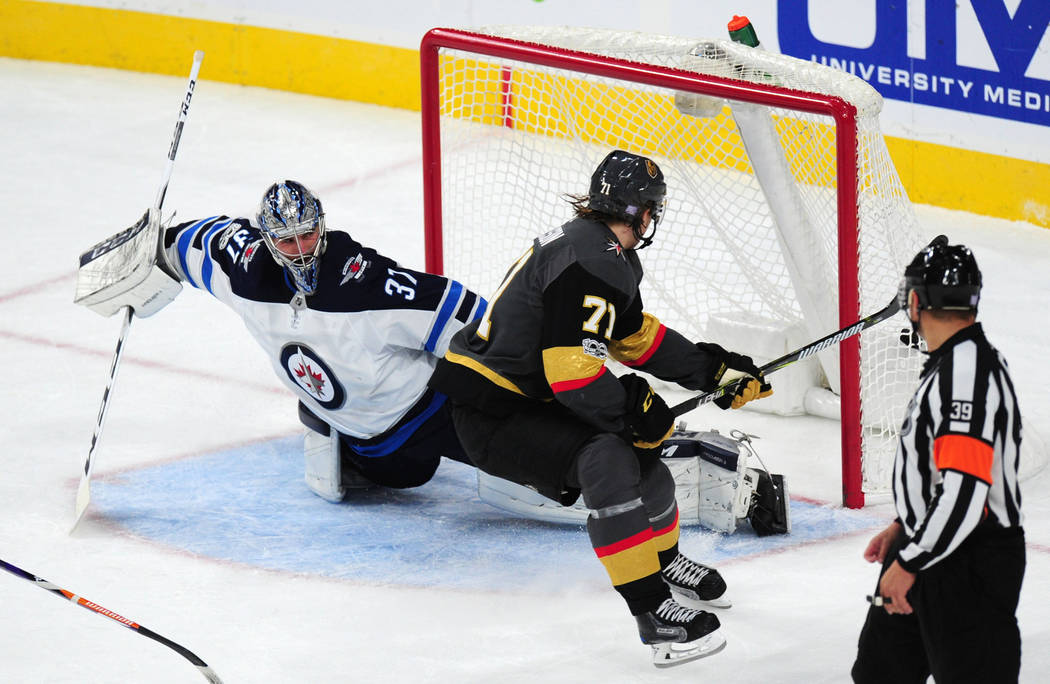 Handicapper Dana Lane endeared himself to Golden Knights fans — and by that we mean drew their expletive-filled wrath — by having the audacity to pick against Las Vegas' beloved hometown team in the NHL Western Conference semifinals.
Despite being Shark-bit by San Jose in a six-game loss to the Knights, Lane correctly called three games in the series — including two Knights wins — and has picked NHL winners at a 60-percent clip (80-54-3) this season for the Review-Journal.
While some superstitious Knights backers are hoping Lane picks against them again in the Western Conference Final, he's not.
■ Golden Knights (+120) over Winnipeg Jets, series
■ Golden Knights (3-1) to win Stanley Cup
"Honestly, I think Vegas wins the Cup now," said Lane (@DanaLaneSports). "The teams I thought they'd have the most trouble with because of their depth were San Jose and Pittsburgh.
"If it gets to the (Stanley Cup) Final, Vegas will be a mirror image of Tampa Bay and … I think (the Lightning) will have a real problem with Vegas' speed. They're the fastest team Tampa will face in the postseason."
But first things first. The Knights went 2-1 against the Jets in the regular season, winning 5-2 at home while splitting two games in Winnipeg, where they won the last meeting 3-2 in overtime in February.
Lane gives the Knights edges in speed, goaltending and intangibles.
"I don't come from a numerical handicapping standpoint. I try to come from a psychological standpoint and what team I think, mentally, has the advantage coming into the series," he said. "Numbers only tell you what you did. They don't tell you what you're going to do. Confidence is a much better barometer than analytics when you're trying to determine whether team A has an advantage over team B.
"I thought San Jose would be more confident going into that series. From a Vegas standpoint, knowing it won at Winnipeg, they have to have the confidence factor going into this series."
The Jets opened as a minus 160 favorite Thursday night after beating Nashville in Game 7, but early action on the Knights quickly moved the line to minus 140.
"On paper, Winnipeg is definitely the better of the two teams. But there is an intangible factor you can't put a value on that Vegas has been riding since October. To go against that is so difficult," Lane said. "Intangible is such a simplistic term but it really comes down to belief and faith and confidence in what they're doing and that ultimately is going to be the difference."
Lane expects the Knights to give the Jets fits with their superior speed.
"Winnipeg, especially in Game 1, will take a little bit to get used to Vegas' speed and to mentally get back into a brand-new series after just disposing of Nashville," he said. "Vegas has had time to prepare and their speed advantage and making Winnipeg chase them will play a large role in ultimately winning the series in seven."
Lane said the biggest factor will be the matchup between Knights goalie Marc-Andre Fleury and Jets netminder Connor Hellebuyck.
"It really comes down to if Fleury is going to outplay Hellebuyck," he said. "Can Marc-Andre Fleury win a couple games the scoresheet says he shouldn't have."
■ Knights (+128) over Jets, Game 1
■ Knights over Jets, Game 2
Lane recommends playing the Knights at plus money in each of the first two games.
"That will put you in a position that in two of three scenarios is going to net you money," he said. "Unless they lose both, the worst-case scenario is they split and you win a little. The best case is they win both and you win a lot."
Final horn
For the record, Lane has lived in Las Vegas for 26 years and eagerly awaited the arrival of hockey. He backed the Knights in their first-round series against the Kings and dismissed any notion of jumping on their bandwagon — if that's even possible for a first-year team.
"Carrie Underwood is jumping on the bandwagon," he said. "This is about wagering. It's not about what my heart wants. It's what my head says. We're just talking about trying to make some money. I've never rooted against them. Of course I want them to win.
"If we all went with who the public picked, we'd all be living under a palm tree on the Strip."
More betting: Follow all of our sports betting coverage online at reviewjournal.com/betting and @RJ_Sports on Twitter.
Contact reporter Todd Dewey at tdewey@reviewjournal.com. Follow @tdewey33 on Twitter.