Jimmy Garoppolo, 49ers not quite ready for prime time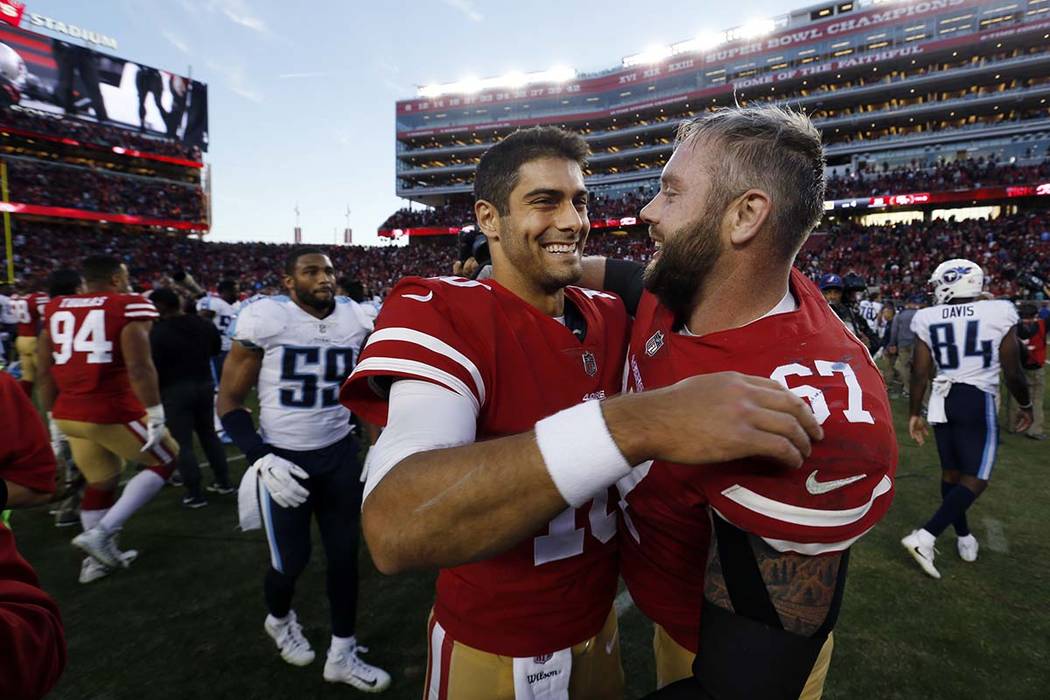 Jimmy Garoppolo called it a good learning experience.
But the 49ers quarterback wasn't referring to his three-plus seasons in New England getting tutored by Bill Belichick and Tom Brady.
Or about resurrecting San Francisco's storied franchise last year during a season-ending five-game win streak that helped him land a $137.5 million contract after only seven career starts.
Jimmy GQ was referring to the criticism he received following the most questionable pass of his career. The one that led to his much-publicized date with adult film actress Kiara Mia.
We're not going to pass judgment on the 26-year-old for dating Mia, who, like Brady, is a 41-year-old expert in her field. But we are going to pass on her handicapping advice.
"I can promise the 49ers that they will make the Super Bowl and win because everything I touch turns to gold," Mia said after her date with Garoppolo.
Despite her golden guarantee, at least one expert in the sports betting industry thinks the Niners will struggle to surpass their win total, let alone make a title run.
49ers, under 8½ wins
San Francisco was 1-10 last season and mired in a 3-24 slide before Garoppolo took over as starter. The 49ers' 2018 win total has dipped to 8½ after it opened at 9 and Westgate sports book manager Ed Salmons sides with the under.
"If they regress down below that, I wouldn't be surprised. I think the Niners can be a lot better team than they were last year but not reach the nine," he said. "Nine wins is a playoff team. They can go 7-9 or 8-8 and look like they're on the verge, but I think people are a year ahead of themselves here."
The Niners are one of four teams that have seen their win totals decrease by a half-game since the Westgate posted the numbers in April. The others are the Lions (8 to 7½), Bengals (7 to 6½) and Bills (6½ to 6).
Bouncing Bills
Salmons said Buffalo might end up being the NFL's worst team after going 9-7 last season and making the playoffs despite being in rebuild mode and trading away several key players.
After Buffalo dealt quarterback Tyrod Taylor to Cleveland, AJ McCarron, Nathan Peterman and first-round draft pick Josh Allen are competing for the starting job. And running back LeSean McCoy has been accused of domestic violence.
"Buffalo is a big team that figures to bounce downward. Everything went right last year," Salmons said. "If Buffalo went to Allen and said he's going to learn, it wouldn't surprise me if they were the worst team."
Rising Rams
The Rams are one of six teams with double-digit win totals after their opening number of 9½ moved to 10. Los Angeles improved to 11-5 in Sean McVay's first season as coach after going 4-12 in Jeff Fisher's final season and have added Brandin Cooks, Ndamukong Suh, Aqib Talib and Marcus Peters. But Salmons sees the Rams regressing.

"A lot of times when you have a new coach who's never really been a head coach, he does things the league's unfamiliar with," he said. "But now there's a whole year of tape of what the Rams did and teams will be much more prepared for how the Rams play."
Six other teams have seen their totals increase by a half-game: the Cardinals (5½ to 6), Dolphins (6 to 6½), Giants (6½ to 7), Colts (6½ to 7), Falcons (9 to 9½) and Chargers (9 to 9½).
Browns, over 5½ wins
Cleveland has been an embarrassment under coach Hue Jackson, finishing 0-16 last season and going 1-31 the last two seasons. But Salmons expects the Browns to surpass their NFL-low win total of 5½ in spite of Jackson returning for a third season.
"Talent is not the reason they won't win this year. If they don't win, look at the coaches because this is a team that should realistically be .500. I think they're that good," Salmons said. "Most people can't comprehend the Cleveland Browns and good in the same sentence, but they're the same as Jacksonville was last year, with a lot of young talent."
Cleveland added veterans such as Taylor and Jarvis Landry to complement a young core led by defensive end Myles Garrett and Salmons expects the Browns to drastically improve on last season's league-worst turnover differential of minus 28.
"Common sense says they're not going to be minus 28 this year," he said. "If the Browns don't win six games, it should be a complete embarrassment. I think that's the best bet on the board."
Contact reporter Todd Dewey at tdewey@reviewjournal.com. Follow @tdewey33 on Twitter.