Just wince, baby: Books, pro bettors bank on rough year for Raiders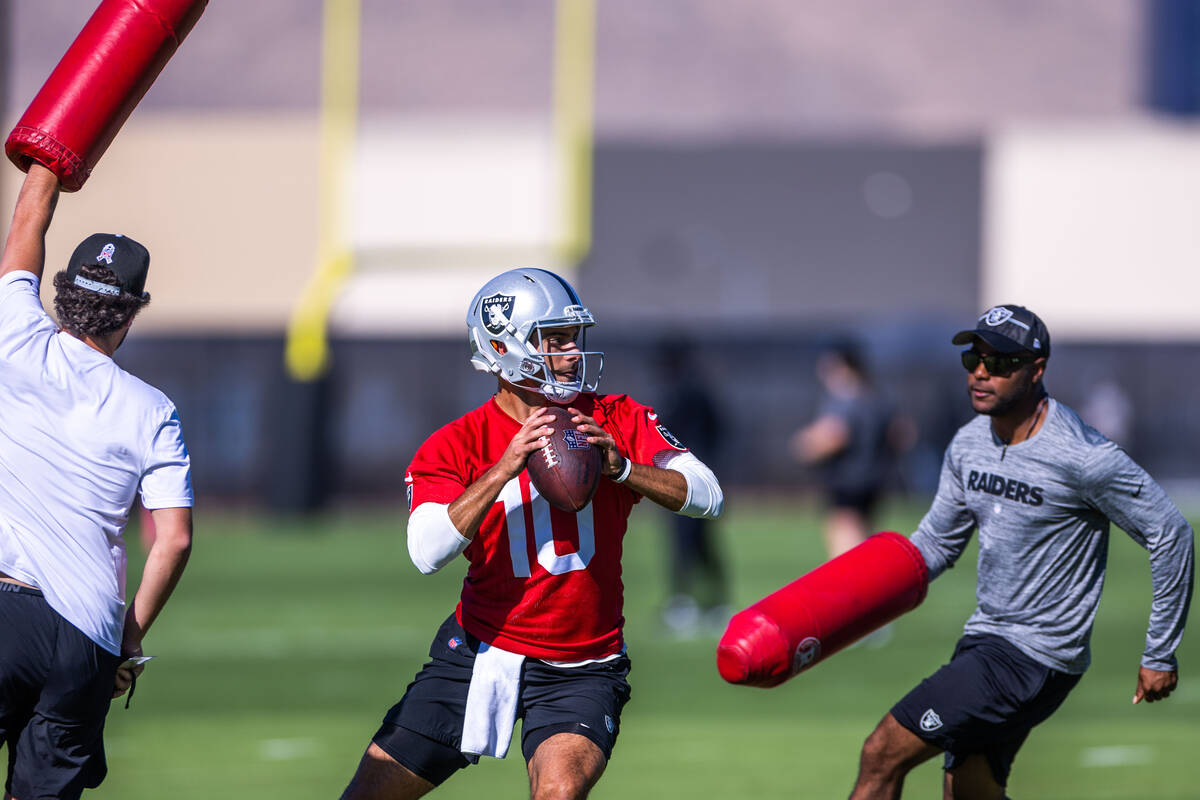 Jimmy Garoppolo said he had "that little kid feeling" before the Raiders' first training camp practice.
But oddsmakers, pro bettors and pundits aren't feeling it this season for the Silver and Black.
USA Today this week projected the Raiders to finish 3-14, and their season win total at sportsbooks has dropped from 7½ to 6½.
At Circa Sports, only the Cardinals, with a win total of 4½, have a lower number than the Raiders.
Respected betting service Right Angle Sports gave out a play on the Raiders to go under 6½ wins, and Circa and the Westgate SuperBook reported sharp action on the under.
"So far, it's been all negative. They're betting their season wins under, don't make the playoffs and so on," Circa sportsbook risk manager Dylan Sullivan said. "I don't think fans or bettors are too optimistic right now."
The under is -130 at Circa, -150 at the SuperBook and -120 at Station Casinos.
"I don't see the Raiders winning seven games this year," Westgate vice president of risk Ed Salmons said. "We're trying to stay ahead of it, and it keeps going down."
The Raiders went 6-11 last season before most notably parting ways with tight end Darren Waller and replacing quarterback Derek Carr with Garoppolo.
"They're a pretty similar team to last year," Sullivan said. "It all comes down to Garoppolo. I don't think there's a lot of optimism there."
Last winless team?
The Raiders, who based on win totals have the NFL's second-most difficult schedule, are among the favorites at Circa to finish with the most losses in the league (15-1 fifth choice) and to be the last winless team (15-1 eighth choice).
With three of their first four games on the road, six games against the stacked AFC West and four against the loaded AFC East, the Raiders are among the longest shots at Circa, at 150-1 each, to have the most wins and be the last unbeaten.
Besides playing in arguably the best division in football, the Raiders also must overcome their recent history of poor drafts and a porous defense — outside of defensive end Maxx Crosby, the 14-1 fifth favorite at Circa to win the Defensive Player of the Year award.
"There are a lot of question marks with this team," Salmons said. "It's just hard to miss on that many players (in the draft). It leaves you with little depth. The defense, outside of Crosby, is below average. Offensively, maybe Garoppolo can play up to the level of Carr. But he seemingly gets hurt every year."
Garoppolo's backups are veteran journeyman Brian Hoyer and rookie Aidan O'Connell.
"If Garoppolo gets hurt, they're instantly the worst power-rated team in the league," Salmons said. "At some level, the Raiders might be better off having a bad year and drafting (Heisman Trophy-winning Southern California quarterback Caleb Williams) and this time next year they'll have a whole different vibe.
"Who knows? At this time last year, Seattle looked awful on paper and went out and made the playoffs. But there are a lot of down indicators to me before the year even starts."
Jacobs, McDaniels
Reigning NFL rushing leader Josh Jacobs is the 22-1 eighth choice at Circa to repeat the feat. But he has refused to sign the franchise tag and hasn't reported to training camp.
"There was a little expectation of a drop-off from last year, when they ran him into the ground and he had a million carries," Sullivan said. "If he comes to camp late or misses a couple games, it will be almost impossible to win most rushing yards."
Josh McDaniels is the second-longest shot on the board at Circa to win the Coach of the Year award at 52-1.
"If they win 11 or 12 games, he'd definitely be in the mix," Sullivan said. "But there's no interest there."
Contact reporter Todd Dewey at tdewey@reviewjournal.com. Follow @tdewey33 on Twitter.
Raiders season win totals
At Circa Sports
Over 6½ +110
Under 6½ -130
Alternate high
Over 7½ +245
Under 7½ -290
Alternate low
Over 5½ -200
Under 5½ +175
Exact season wins
0, 500-1
1, 200-1
2, 35-1
3, 19-1
4, +925
5, 6-1
6, +425
7, +405
8, +485
9, +715
10, 13-1
11, 23-1
12, 36-1
13, 65-1
14, 200-1
15, 350-1
16, 600-1
17, 1,000-1