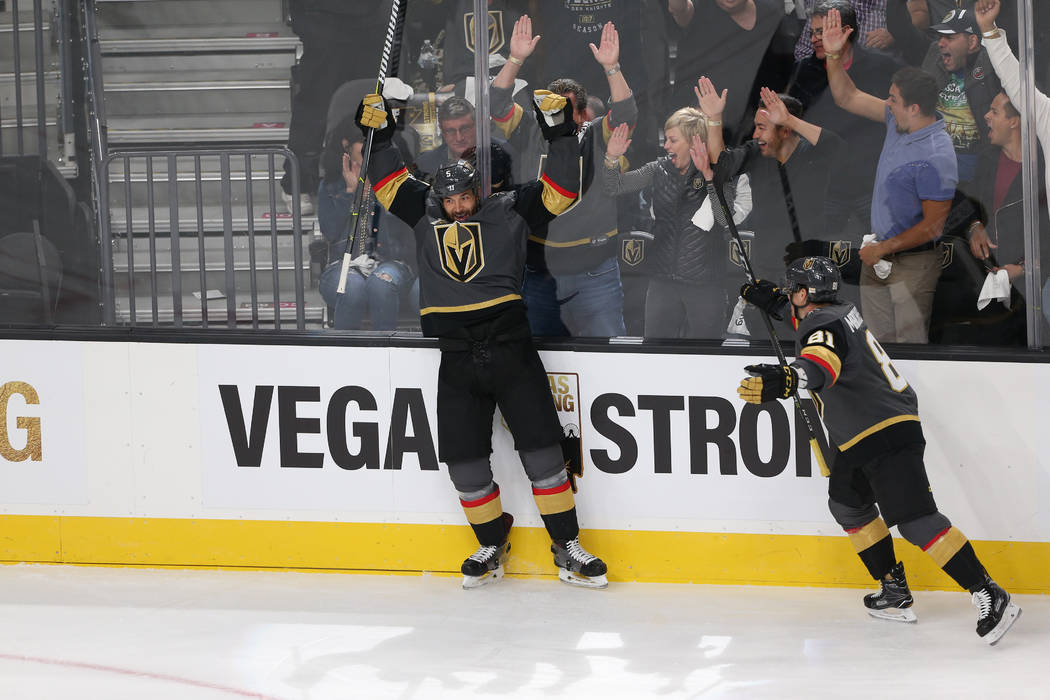 Why didn't I bet on the Golden Knights at 500-1 odds to win the Stanley Cup? Or at 300-1? Or at 100-1?
Because, truth be told, I wouldn't have wagered on a first-year expansion team to hoist the Cup if I'd seen it myself in Biff Tannen's Sports Almanac.
Like countless other bettors in Las Vegas, I was kicking myself during the Knights' astonishing run to the Stanley Cup Final for not taking them at long odds to win it all.
But in the summer of 2017, when we'd hardly heard of any of the players besides Marc-Andre Fleury and James Neal, I could scarcely fathom the idea that a team could contend for the Cup in its inaugural season.
Revisionist history
Many critics contended during the playoffs that the NHL essentially rigged the expansion draft to ensure the Knights would thrive in their inaugural season. But that's revisionist history at its finest.
There certainly wasn't an outcry after the draft that Vegas had a loaded team. In fact, most prognosticators and oddsmakers predicted the Knights would finish with one of the league's worst records, if not the worst. A Deadspin story on June 22 declared "This team is going to be bad, potentially historically so."
Vegas' regular-season point total opened at 69½ in June at the Westgate sports book and it was a 200-1 shot to win the Pacific Division.
A few days after June's expansion draft and entry draft, the headline for a Review-Journal betting story stated "Golden Knights could contend for Stanley Cup within 5 years, oddsmakers say." That seemed like a reasonable time frame.
While praising the job Vegas general manager George McPhee did in the drafts, Westgate sports book manager Ed Salmons said, "I'm pretty sure the Knights will have the lowest point total of any team in the league." And Sunset Station sports book director Chuck Esposito added, "It's unrealistic to think the playoffs will happen in the first couple of years."
I thought a winning record would've been an impressive accomplishment, but not a likely one.
Inspiring opener
Nine days after the horrific Oct. 1 mass shooting on the Strip, I had tears in my eyes watching the Knights pay tribute to the 58 victims before their home opener against the Arizona Coyotes. I then had chills as Vegas exploded for four goals in the first 11 minutes en route to a 5-2 win.
William Hill sports book lost almost six figures on the game. That was par for the course for Las Vegas sports books all season. When the Knights won, the books lost, and vice versa.
The Knights and their backers were playing with house money all season and they cashed early and often, getting off to a flying 8-1 start. So-called sharp bettors kept waiting for them to falter, but it never happened. Vegas didn't lose more than three straight games until dropping its final four to the Washington Capitals in the Stanley Cup Final.
Vegas' handle tops NFL
It quickly became apparent that the Knights weren't your typical expansion team. There was more money wagered on the Knights-Chicago Blackhawks game at T-Mobile Arena on a Tuesday night in October than was bet on the New York Jets-Miami Dolphins game the previous NFL Sunday.
"With each passing game, we started to see that this was going to be much bigger than our wildest expectations," Esposito said.
Knights fever
In early December, following Vegas' 17-9-1 start, William Hill sports book director Nick Bogdanovich quipped, "We get killed if they make the playoffs, and we close if they win the Stanley Cup."
At the time, the Knights' odds had shrunk to 28-1 to win the Cup but making the playoffs was still a 50-50 proposition. That changed over the holidays, when Vegas won 12 of 13 games to improve to 18-2-1 at home and 29-10-2 overall.
The Knights finished 51-24-7 and won their division, costing books six figures.
As many bettors began plotting ways to hedge their long-shot futures bets on Vegas and the state's sports books continued to try to reduce their liability of up to $7 million on the Knights, we turned to handicapper Dana Lane to help us preview each playoff series.
Stay in your Lane
Lane (@DanaLaneSports) went 87-61-4 (58.8 percent) against the spread this season on his NHL Power Play picks in the Review-Journal.
But when he had the audacity to pick the San Jose Sharks over the Knights in the conference semifinals, all bets were off. I received a few expletive-filled emails from passionate fans and started to feel like DeNiro in "Casino" whenever I started my car.
When Lane, a veteran and married father of three girls, then picked Vegas to beat the Winnipeg Jets in the conference final, I knew what would happen. Sure enough, a couple readers complained that he was going to jinx them. You've got to love gamblers.
Knight riders
While those long-shot wagers on the Knights to win the Cup were rendered worthless by the Capitals, many bettors locked in a profit by hedging their wagers or selling them on PropSwap, a secondary market for active sports bets in Las Vegas.
Hermin Soriano and his wife, Charrize Dy-Soriano, sold their $300 wager on Vegas at 100-1 odds for $12,600. The Knights fans are using the money to pay for a trip to Paris this summer.
We lost our Stanley Cup Final series wager but the experience of following the Knights this season was priceless.
We teared up again the day after the season ended while watching, yes, the Budweiser ad that reminded us, "This was about more than raising a trophy. This was always about lifting a city."
More betting: Follow all of our sports betting coverage online at reviewjournal.com/betting and @RJ_Sports on Twitter.
Contact reporter Todd Dewey at tdewey@reviewjournal.com. Follow @tdewey33 on Twitter.