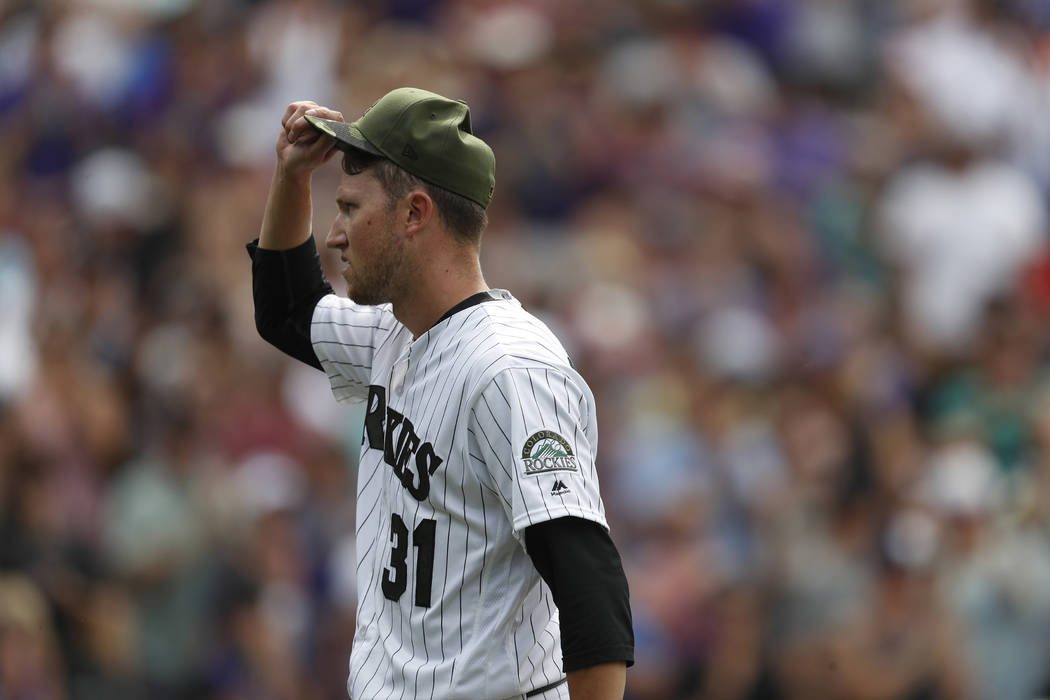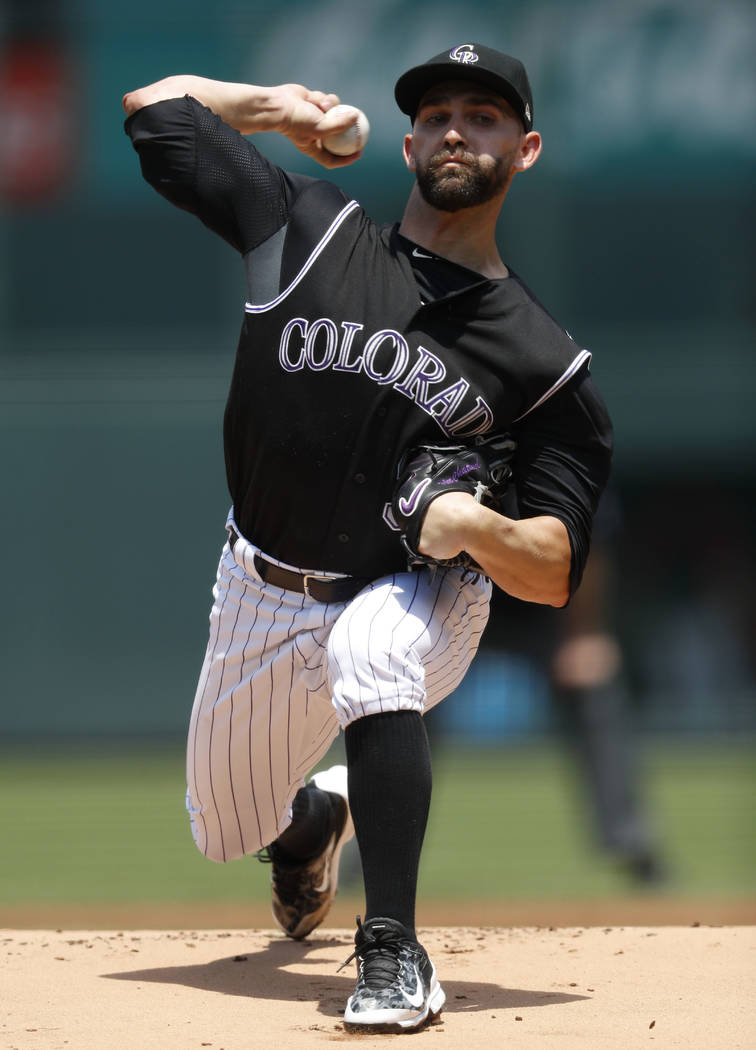 Along with Aaron Judge, Cody Bellinger and the Milwaukee Brewers, the Colorado Rockies have been one of baseball's biggest surprises this season.
Not so much that the Rockies (52-39) are on pace to claim a wild-card playoff spot but that — despite playing at Coors Field, the game's pre-eminent launching pad — they're the second-best under team in baseball and feature the best under pitcher in rookie Kyle Freeland.
Colorado has gone under the total in 10 of its past 12 games (10-1-1), including six of seven at home, and is 50-35-6 (58.8 percent) to the under overall, trailing only the Cleveland Indians (50-31-6, 61.7 percent).
"Their starting pitching has been solid most of the year, and Greg Holland has had the most amazing year as their closer," handicapper Micah Roberts said. "If they get him the lead, it's pretty much over."
Freeland (9-7, 3.77 ERA), who was born and raised in Denver, had a no-hitter broken up with one out in the ninth inning of Sunday's 10-0 win over the White Sox at Coors Field. The total was 12. The Rockies have gone under in 14 of his 18 starts (14-2-2) and won 11 of them.
"He's not affected by the altitude," said Roberts (Sportsline.com). "He's been dealing with this stuff his whole life. It's no big deal to him."
Colorado, which has lost 13 of its past 18 after a 47-26 start, also is 11-4 under the total in Tyler Chatwood's starts.
Strange as it sounds, you might want to wait until the Rockies return to Coors Field before looking to play the under. Colorado opens the second half of the season Friday at New York's Citi Field against the Mets, who are baseball's best over team (49-27-10, 64.5 percent).
"(The Mets') bullpen's terrible, their starting pitching's terrible and their bats have been good," Roberts said. "Their totals have been a half-run low. I don't think the line's been adjusted enough on them. This is not last year's Mets."
Pirates plunder under cash
The Pirates are on a 19-6-2 under run, and Roberts likes that trend to continue in Pittsburgh's series against the Cardinals from Friday through Sunday at PNC Park. Gerrit Cole is scheduled to start the opener (8u-Even) against Mike Leake and has gone under in 13 of his 18 starts.
"The Pirates have good starting pitching, their bullpen's OK and they can't hit," Roberts said.
Seven of the past 10 meetings between the teams have gone under, including four of six this season, when St. Louis won each of the first three matchups 2-1.
Cardinals, Giants ready to rise
Roberts tabbed the Cardinals (43-45) and Giants (34-56) as two teams to bet on the rest of the season.
"The Cardinals have a really good starting rotation (Leake, Carlos Martinez, Adam Wainwright, Lance Lynn, Michael Wacha) and should not have a losing record," he said. "I like their manager, Mike Matheny, and the Cardinals' brand of baseball. They're going to start hitting.
"The Giants are a team I look at to be improved. They'll have such a low rating on them because of their poor play that there's going to be value on them coming up here. They're hitting a lot better, and they're getting (Madison) Bumgarner back. Even if they go .500 the rest of the way, they'll be a 'dog so many times, they'll show a profit."
Hitting a Royal
Based on recent history, it's unlikely that all six division leaders at the All-Star break will end up winning their divisions. Roberts expects the Cubs (43-45) to erase their 5 1/2-game deficit to the Brewers (50-41) to win the National League Central and also likes the Royals (44-43) to overcome their three-game deficit to the Indians (47-40) to win the American League Central.
After acquiring starting pitcher Jose Quintana from the White Sox on Thursday, the Cubs were bumped up from a minus-110 favorite to win their division to minus-125. The Brewers are 3-2 and the Cardinals 7-1.
Kansas City, which has gone 34-23 since a 10-20 start, is a 5-1 underdog to win its division, and Cleveland is a minus-550 favorite.
"I do like the Royals to step up," Roberts said. "They were losing because they were averaging 2.9 runs per game, but their offense the last month has been the best in the division. They already had good pitching."
Contact reporter Todd Dewey at tdewey@reviewjournal.com or 702-383-0354. Follow @tdewey33 on Twitter.
Baseball betting
Statistics courtesy of Covers.com
Minimum 12 starts
Best under pitchers
Name (team) under-over average total runs
Kyle Freeland (Rockies) 14-2 7.3
Yu Darvish (Rangers) 14-4 7.5
Tyler Chatwood (Rockies) 11-4 8.2
Gerrit Cole (Pirates) 13-5 7.9
J. Hellickson (Phillies) 10-4 8.3
Andrew Cashner (Rangers) 10-4 8.5
Carlos Carrasco (Indians) 12-5 9.1
Edinson Volquez (Marlins) 11-5 7.9
Best over pitchers
Name (team) over-under average total runs
Tyler Glasnow (Pirates) 8-2 11.7
Bartolo Colon (Braves) 10-3 12.2
Sonny Gray (Athletics) 10-3 11.2
Robert Gsellman (Mets) 10-3 10.6
Zack Wheeler (Mets) 10-3 9.3
Michael Pineda (Yankees) 13-4 11.4
Zach Davies (Brewers) 12-4 9.9
Joe Ross (Nationals) 9-3 14.9
Best under teams
Team under-over win percentage
Indians 50-31-6 61.7
Rockies 50-35-6 58.8
Angels 49-38-5 56.3
Pirates 47-37-5 56.0
Best over teams
Team over-under win percentage
Mets 49-27-10 64.5
Rays 53-36-1 59.6
Marlins 47-34-6 58.0
Yankees 49-36-1 57.6
Astros 47-35-7 57.3