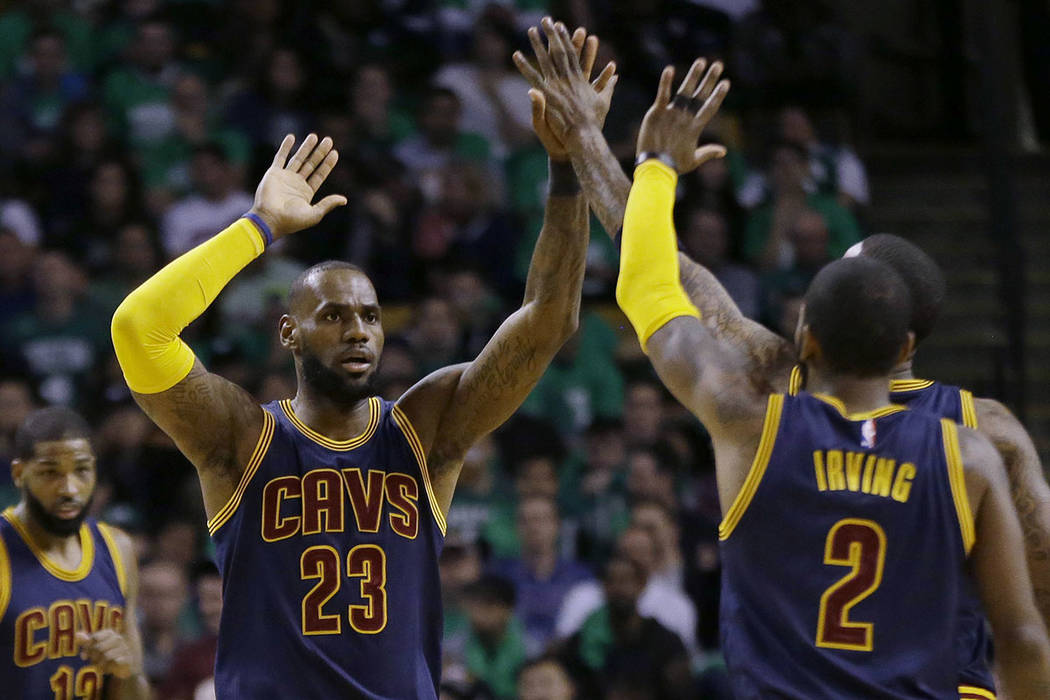 If there was ever a live 'dog, it's the 2017 Cavaliers.
Few people believed that Cleveland would overcome a 3-1 deficit to the Warriors en route to the 2016 NBA title. Likewise, most people don't give the Cavs much of a chance to beat Golden State in the 2017 NBA Finals, which start Thursday.
But we're backing the best player on the planet in LeBron James, whose team is a plus-220 series underdog to the Warriors (minus-260) in their Finals three-quel.
It's easy to forget that James almost single-handedly led the Cavs to two wins over Golden State in the 2015 Finals with a bunch of scrubs before leading last year's comeback with Kyrie Irving.
Making his seventh straight NBA Finals appearance, James is playing the best basketball of his career while igniting "Jordan or LeBron" debates. He has arguably the best supporting cast of his career led by Irving, a much-improved Kevin Love and former Findlay Prep standout Tristan Thompson.
"There's value there. It's LeBron James. How many times was Michael Jordan an underdog?" Sunset Station sports book director Chuck Esposito said. "If anything can motivate LeBron to repeat and bring another championship to Cleveland, it's not getting much respect."
James claims he isn't bothered by the long odds posted at Las Vegas sports books, telling reporters "I only play blackjack in Vegas anyway. So it doesn't matter."
But the Cavs will certainly use the underdog label as motivation, along with Draymond Green's comments from earlier this season that Golden State wants to "destroy" and "annihilate" Cleveland.
Many people consider Green's suspension in Game 5 last year to be the turning point of the series, but South Point sports book director Chris Andrews said the Warriors losing injured center Andrew Bogut for the final three games might have had more of an impact.
"That really changed their team. He was their defensive stopper, which was exactly what they needed. He went out and they lost the series," Andrews said. "They added Kevin Durant, who's a great player, but they don't have that defensive stopper. Draymond Green is not the rim protector Bogut was."
Las Vegas radio host Bernie Fratto, who picked the Cavaliers to win in seven games, said the addition of Durant is offset by the loss of Bogut and inside defenders Marreese Speights and Harrison Barnes.
"The loss of those three guys and selling their soul to get Durant will come back to bite them," said Fratto (Berniefratto.com). "This was a brilliant shooting team, and what did they do? They added a shooter. They improved their starting lineup, but their bench is not what it was."
James and Irving should have no problem getting to the rim against Golden State, and Thompson should dominate the boards.
"The one guy for Golden State that's been effective on LeBron has been Andre Iguodala, and his knee's bad. He's not going to be able to do it," Fratto said. "Anyone else is not going to be able to handle him, just like they couldn't handle Kawhi Leonard in Game 1 (of the Western Conference finals).
"He was able to get to the rim and score consistently, and the Cavaliers are going to be able to do that with LeBron. On the flip side, the Cavs' defense will be able to disrupt the Warriors' rhythm and take them out of their comfort zone with their switches."
After blowing a 3-1 lead last year and adding a former MVP, the pressure is squarely on the Warriors. As an underdog after finally bringing a banner home to Cleveland, James is playing with house money.
If that's not reason enough to double down on Believeland, ESPN's Stephen A. Smith picked Golden State and has been wrong the past six seasons.
Bet the under
Golden State is a seven-point favorite in Game 1, and the total is 226. Fratto is playing the under, and so are we. Including the regular season, only one of the past 26 matchups between the teams has reached 220 points, and none of the 13 NBA Finals games has reached 220.
"Every time Golden State has a few days off, they come out a little cold," Fratto said. "There'll be a lot of tension in Game 1 and a lot of defense. It will be a real low-scoring first half."
The wiseguys agree. They're betting under 115 points in the first half, Westgate sports book manager Jeff Sherman said.
"It makes sense, just because both teams have had long layoffs," he said. "It might just take a half of basketball to get it going."
Contact reporter Todd Dewey at tdewey@reviewjournal.com or 702-266-6080. Follow @tdewey33 on Twitter.