Looking to beat the books? Bet the NFL draft
Updated April 20, 2023 - 6:27 pm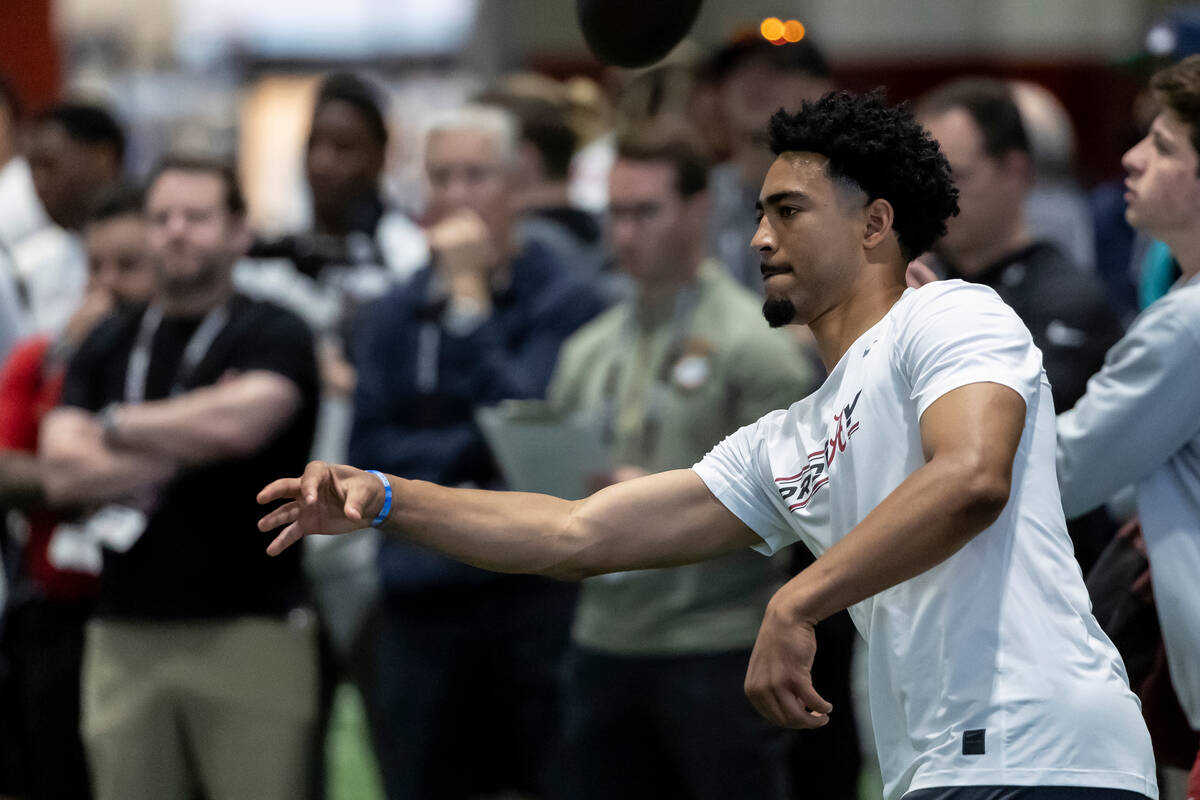 The house doesn't always win. In fact, when it comes to the NFL draft, the house always loses.
"It's not a matter of if you win or lose, it's how much are you going to lose," Caesars Sportsbook assistant director of trading Adam Pullen said.
Las Vegas sportsbooks have lost on the last six NFL drafts, or every year since the Nevada Gaming Control Board approved wagering on the event in 2017.
"The first word that comes to mind is heartburn," Westgate SuperBook vice president Jay Kornegay said. "It's my least favorite event to book. I'm not a big fan of taking bets on information events rather than actual sporting events.
"This is all based on information, and it's frustrating because others get information before we do. It's becoming unpopular with bookmakers."
That explains why, a week before the event, draft props have been posted at only three local books: Caesars, Station Casinos and Boyd Gaming. BetMGM has a lone prop on the No. 1 overall pick.
South Point sportsbook director Chris Andrews said he's not putting up any draft props this year, and Kornegay said the SuperBook might not, either.
"There was a good chance we were not going to do it last year. But because it was held in Las Vegas, we decided to post it," Kornegay said. "There's a chance that we might not post the draft."
Circa Sports director of risk Chris Bennett said the book plans to post some props, but he's not exactly looking forward to it.
"I'm not enthusiastic about booking the NFL draft or any other sports league for that matter," he said. "It requires constant attention once it's open for betting, and your expectation of winning money is almost nonexistent."
Pullen said betting on the draft based on information is a much safer proposition than betting on a sporting event based on information.
For example, Miami was an 8½-point underdog to Milwaukee in Game 2 of their NBA playoff series before the line dropped to 5½ on Wednesday after Giannis Antetokounmpo was ruled out with a back injury. The Bucks still won, 138-122, without their two-time league MVP.
"When you're betting on a basketball game, and Giannis is out for the Bucks so you're going to bet the Heat, it's not that easy," he said. "If you know in advance, you've got an edge when the line moves, but you can still lose. Look what happened.
"But draft information is usually rock solid. If someone says, 'We're taking this guy,' usually that's what it's going to be."
No. 1 favorites flip
The odds on the No. 1 pick in the draft have flipped in dramatic fashion over the last week.
When the Panthers acquired the top pick in the draft in a trade with the Bears in March, 6-foot-3-inch Ohio State star C.J. Stroud emerged as the clear favorite to go No. 1 because Carolina coach Frank Reich has mostly worked with taller quarterbacks.
But 5-10 Alabama quarterback Bryce Young closed the gap earlier this month after several influential voices in the Panthers' organization reportedly favored him.
Last week, Young supplanted Stroud as the -300 favorite. On Monday, when it was reported that Young had canceled the rest of his predraft visits with teams, he soared as high as -2,000 in the betting market before settling at -1,400 at Caesars to be the first pick.
"Once the news broke, we couldn't stop the money on Young," Pullen said. "No matter what you put the price at, it doesn't matter if you know what you're betting on is definitely going to happen. It seems like a lock that Young will be the No. 1 pick."
Second pick shuffle
The favorites to be the No. 2 pick, which belongs to the Texans, have shifted this week from Stroud to Kentucky quarterback Will Levis to Alabama pass rusher Will Anderson.
Levis replaced Anderson as the 2-1 favorite Thursday at Caesars. Anderson is the +220 second choice. Texas Tech edge rusher Tyree Wilson is the +250 third pick, and Stroud has slipped to the +280 fourth choice.
Pullen said some of the uncertainty stems from reports that Houston might be interested in trading for 49ers quarterback Trey Lance.
"If they're getting Lance in a trade, they're not going to take a quarterback," he said. "The information is out there. You just have to be quick to adjust to it."
Contact reporter Todd Dewey at tdewey@reviewjournal.com. Follow @tdewey33 on Twitter.
NFL draft props
At Caesars Sportsbook
First pick
Bryce Young; -1,400
C.J. Stroud; +750
Anthony Richardson; 20-1
Will Levis; 30-1
Will Anderson; 150-1
Jalen Carter; 150-1
Tyree Wilson; 150-1
Second pick
Will Levis; 2-1
Will Anderson; +220
Tyree Wilson; +250
Bryce Young; +850
Jalen Carter; 22-1
Anthony Richardson; 25-1