LSU in 'sandwich spot' in game against Mississippi State
Updated October 18, 2018 - 7:12 pm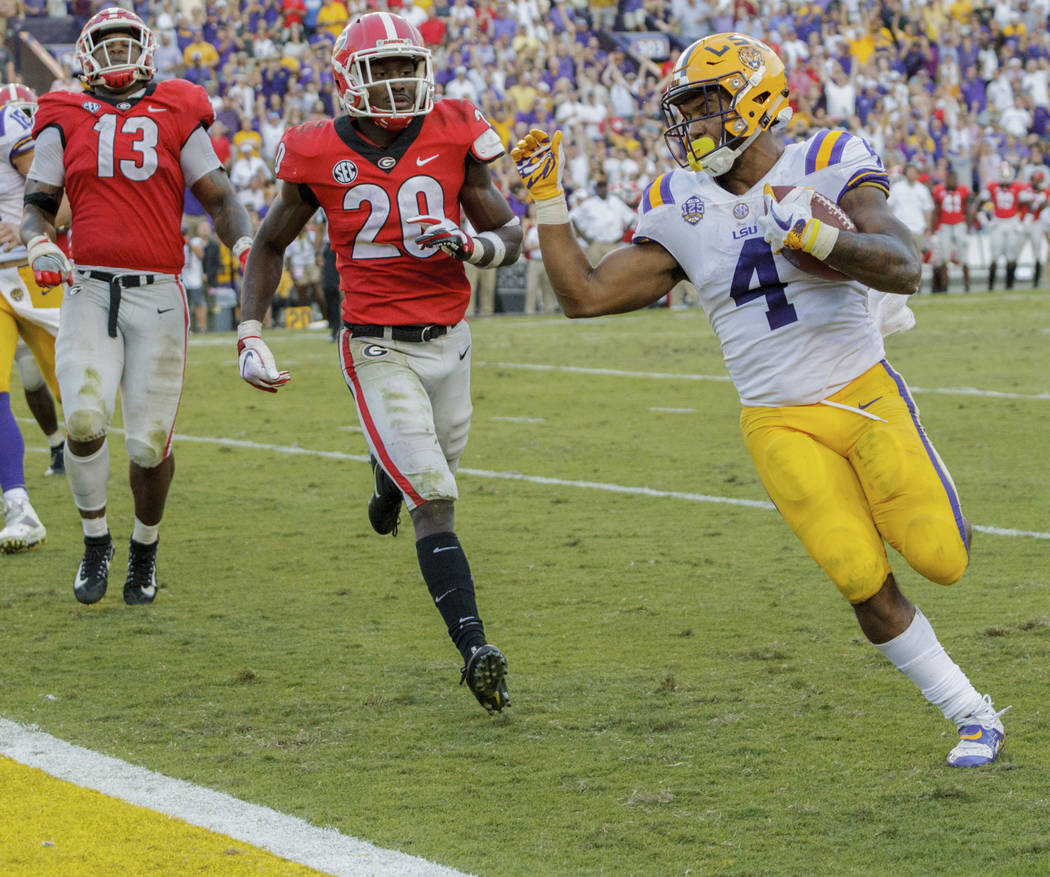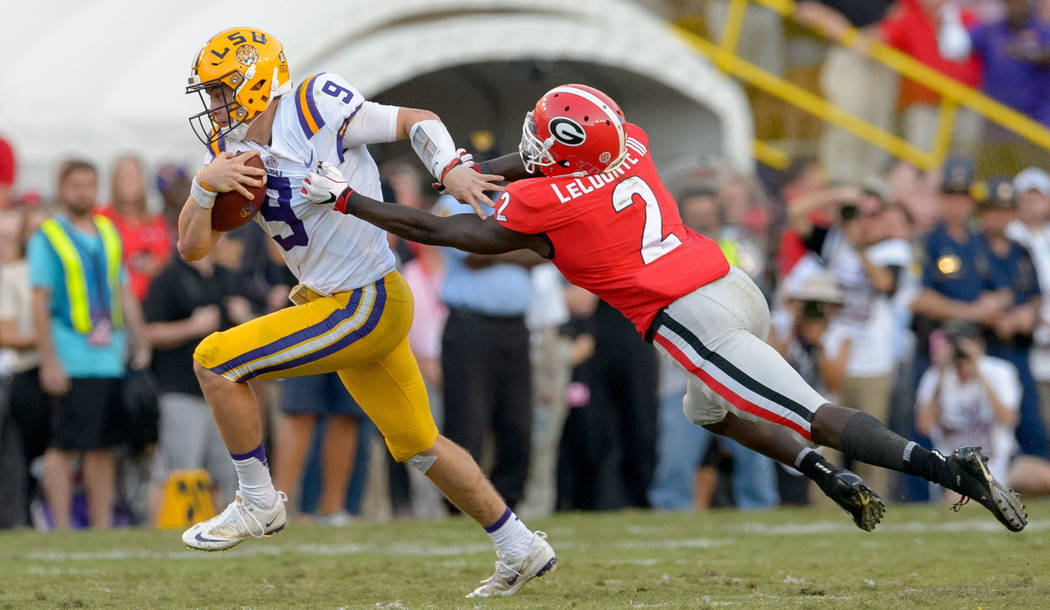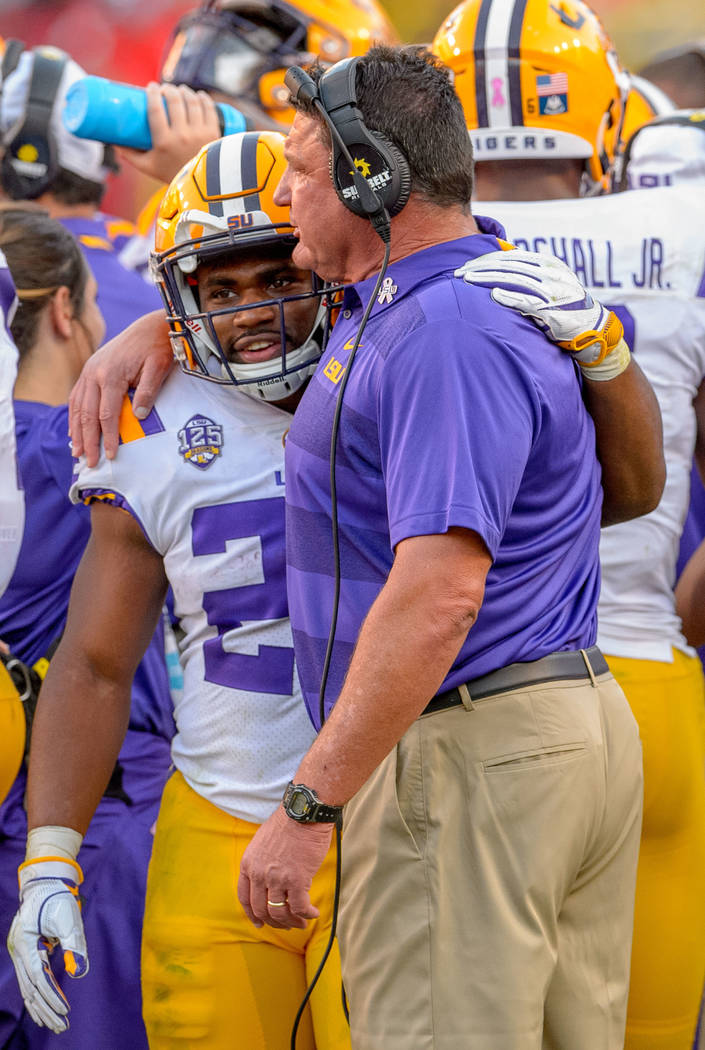 Two weeks before the first College Football Playoff rankings are released, let's take a look at four matchups of teams in the AP Top 25 poll, which is often at odds with Las Vegas power ratings.
For example, Louisiana State is ranked No. 5 in the AP poll after whipping Georgia 36-16 last week. But Westgate sports book manager Ed Salmons has the Tigers at No. 10 in his power ratings and expects them to have a close game at home Saturday against No. 22 Mississippi State.
LSU (6-1) is a 6½-point favorite over the Bulldogs, who trounced the Tigers 37-7 last season and are coming off a bye.
"LSU is off that crazy win where their fans charged the field. I lean to Mississippi State," Salmons said. "I have a feeling it will be a lower-scoring game. If Mississippi State doesn't turn it over, they should be in the game. It figures to be close."
Handicapper Wes Reynolds, 20-14-1 against the spread in the Review-Journal's College Challenge, likes Mississippi State as one of his best bets.
"It obviously is the sandwich spot for LSU between coming off a win over Georgia where they were over a touchdown underdog at home and then playing Alabama the next week. It's a tough spot," said Reynolds (@WesReynolds1). "Now, all of a sudden, the voters and betting market kind of look at LSU as the best one-loss team in the country.
"Mississippi State has one of the top 10 defenses in the country, and it looks like they got rid of their offensive woes (in a 23-9 win over) Auburn. They'll come in focused, and LSU doesn't do as good as a favorite."
Sharp action on the underdog moved the number off 7, so Reynolds recommends buying a half-point or waiting until game day to see if it goes back to 7.
Michigan-Michigan State
Salmons considers Michigan (6-1) the best one-loss team in the country, rating it No. 5. The Wolverines, No. 6 in the AP poll, are 7-point favorites at No. 24 Michigan State, coming off a 21-17 upset at Penn State.
"I have no idea how they beat Penn State last week," Salmons said. "I don't think anything of Michigan State. They're just a bad team. Michigan can name the score here. I wouldn't be in a hurry to lay 7, but I expect Michigan to win the game. They're a much better team, and they kind of owe them, too."
The Spartans have won eight of the last 10 meetings while going 10-0 ATS.
"All the trends are favoring Michigan State," Reynolds said. "But if I'm going to play this, I'd go with Michigan here. They have the No. 1 defense in the country. Michigan's defense is for real."
Clemson-North Carolina State
No. 3 Clemson is a 17½-point home favorite over No. 16 North Carolina State. Salmons rates the Wolfpack at No. 26 and likes the Tigers to get their offense in gear behind freshman QB Trevor Lawrence. Salmons played Clemson at minus 16.
"You're still getting a little bit of value on Clemson. I like N.C. State, but the class differential here is just huge," he said. "I think you'll really start to see Clemson kick it up to being the second-best team in the country. We're ultimately looking at a Clemson-Alabama championship game, and Clemson's only chance is if its quarterback can pass the ball efficiently against Alabama.
"This kid (Lawrence) has a chance. He just needs to see more playing time."
Oregon-Washington State
Clemson and N.C. State are coming off byes. So is No. 25 Washington State, a 3-point home favorite over No. 12 Oregon, coming off a 30-27 overtime win over Washington.
ESPN will broadcast its College GameDay show Saturday from Pullman for the first time.
Oregon opened as a 1½-point favorite before sharp money poured in on Washington State.
"The schedule spot sets up beautifully for Washington State. They had an off week, and Oregon is off a huge game vs. Washington," Salmons said. "Oregon lost its best offensive lineman. That's a real big blow. They have the ESPN crew there. The whole line kind of looks funny. There's something about the bye week, and I like Mike Leach a lot as a coach.
"It's just a game Washington State should find a way to win."
Best bet
Reynolds' best bet is on Temple, a 3-point home favorite over a Cincinnati team ranked No. 20 in the AP poll but No. 69 in Salmons' power ratings.
"Cincinnati has feasted a little bit on a weak schedule," Reynolds said. "The fact they're 6-0 and ranked and now they're an underdog shows you the market and oddsmakers don't believe yet Cincinnati is for real, and I don't, either."
Contact reporter Todd Dewey at tdewey@reviewjournal.com. Follow @tdewey33 on Twitter.
Dewey's picks
Home team in CAPS
TEMPLE (-3) over Cincinnati
PURDUE (+13) over Ohio State
NEBRASKA (-4) over Minnesota
Oklahoma (-8) over Texas Christian
UTAH (-7) over Southern California
Last week: 2-3 against the spread
Season: 17-18