Meet the bettor who will win $111K in parlays if Knights claim Cup
Updated June 8, 2023 - 3:24 pm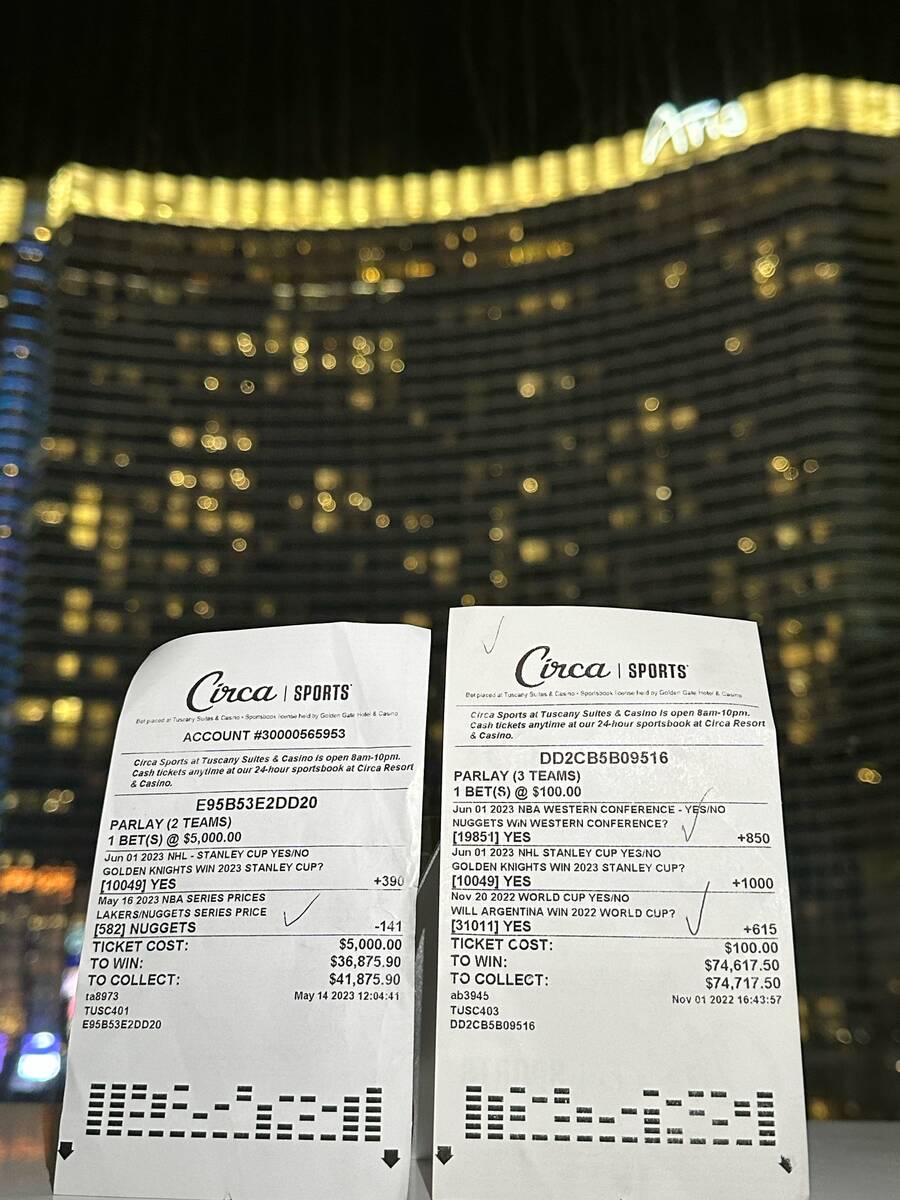 Rather than hedge his $100 parlay at 750-1 odds to guarantee a profit, Jon Grace doubled down on the Golden Knights.
Now the 33-year-old Las Vegas resident is two Knights wins away from collecting $111,493.40 from Circa Sports.
Back on Nov. 1, Grace placed a $100 three-team futures parlay at Circa's sportsbook at the Tuscany to win $74,617.50 on Argentina to win the World Cup (+615), the Nuggets to win the NBA's Western Conference (+850) and the Knights to win the Stanley Cup (10-1).
He hit the first leg in December, when Argentina defeated France in dramatic fashion in the World Cup final in a penalty shootout.
After Grace saw the Knights beat the Oilers 4-3 in Game 5 of the NHL's Western Conference semifinals at T-Mobile Arena to take a 3-2 series lead, he went back for more action at Circa.
He placed a $5,000 parlay to win $36,875.90 on the Knights to win it all (+390) and Denver to beat the Lakers in the Western Conference Finals (-141).
"Seeing them beat Edmonton in person to take that lead, I thought for sure they were going to close it out," he said. "At that point, it was right before the Lakers-Nuggets series. I felt like, instead of putting $5,000 the other way, why not just double down."
The gamble put Grace in position for the biggest sports betting payday of his life after Denver swept Los Angeles to win the West and the Knights knocked off the Oilers and Stars in six games each to reach their second Stanley Cup Final.
Grace pressed his luck again in Game 1 of the Stanley Cup Final against the Panthers, placing a $5,000 bet on the Knights (-130) that paid $3,846 when they beat Florida 5-2.
'Hedging is for gardeners'
"Hedging is for gardeners and landscapers," Grace (@JonGrace) said jokingly. "I really never felt the urge to hedge, especially once the Knights beat Edmonton. I just wanted to put more on it."
He rode the Knights again in Game 2, putting them in a $2,500 parlay with the Nuggets (-2½) over the Heat in Game 3 of the NBA Finals to win $5,782.10.
Grace flew to Miami on Wednesday to attend the Nuggets-Heat and Knights-Panthers games. He said he won't hedge even if the Stanley Cup series goes to Game 7.
"Even if I lose, it's still been an epic ride. I'll have to take the flak from Twitter and the world for not hedging," he said. "But I'm very confident the Knights will finish in five. I just feel the Cup's got to be raised in Vegas."
'Took hometown heart out of it'
A Chicago native who earned his bachelor's degree in corporate communication from Eastern Illinois — where he said he was friends with Raiders quarterback Jimmy Garoppolo — Grace has lived in Las Vegas since 2016, the last four years at the Veer Towers at CityCenter on the Strip.
"I moved out West just to get away from snow," he said. "I got involved in the nightlife industry, and that's kind of what brought me out to Vegas."
Grace, who is single, worked as a host at Drai's nightclub for more than a year before he and his business partner began running the websites BachelorVegas.com and BacheloretteVegas.com. The companies specialize in planning bachelor and bachelorette parties.
A lifelong Blackhawks and Bulls fan, Grace said he wasn't introduced to sports betting until he moved to Las Vegas.
"That kind of changed my perspective on fandom," he said. "It took the hometown heart out of it and basically made me a fan of who I bet on."
Contest cashes
Grace cashed in the Circa Sports Million and Westgate SuperContest NFL handicapping contests last season. He finished 69th in a field of 4,691 in the Million, going 53-32-5 ATS (62.4 percent) to win $5,375. He placed 26th in a field of 1,599 in the SuperContest, going 54-33-3 ATS (62.1 percent) to win $1,175.60.
"I'm hoping to cash this Knights ticket and parlay it into an entry and cash that for the Million next year," he said. "Wouldn't that be a story?"
Grace said he's endured a lot of bad beats and close calls for big parlay tickets. But he's confident the Knights — +108 in Game 3 and -550 to win the series — will finally be the team to cash one.
"It's pretty surreal, man. I've never been in this kind of position before," he said. "I know it sounds like a press conference from one of the Golden Knights. But I've got to enjoy it while it's here and take it each day at a time, each game at a time, to enjoy the moment."
Contact reporter Todd Dewey at tdewey@reviewjournal.com. Follow @tdewey33 on Twitter.