Pro bettors, handicappers give best bets for NFL title games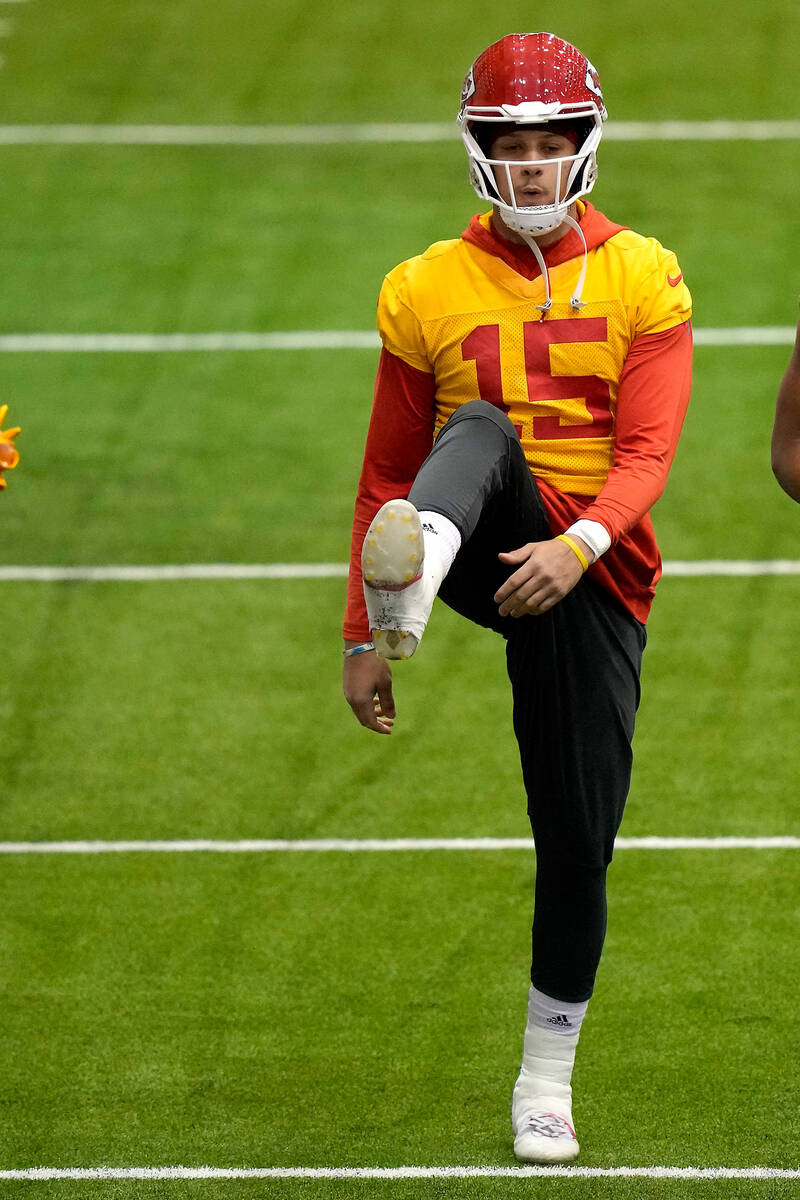 The Chiefs matched the biggest collapse in AFC championship history last year when they blew a 21-3 lead over the Bengals en route to a 27-24 overtime loss.
Kansas City, which has lost three straight games, all by three points, to Cincinnati, was a 7-point favorite in last year's AFC title game.
The Chiefs are 1-point favorites over the Bengals in Sunday's AFC championship rematch after the favorite flipped twice this week.
Kansas City opened as a 3-point favorite Sunday before the line swung 5½ points in favor of Cincinnati, which was -2½ on Tuesday. Then it swung 3½ points back in favor of Kansas City (-1), despite the fact that former NFL MVP quarterback Patrick Mahomes will be at less than full strength after suffering a high ankle sprain in Saturday's 27-20 win over the Jaguars.
Professional sports bettor Jeff Whitelaw and Review-Journal NFL Challenge champion Doug Fitz (58-32-2 ATS, 64.4 percent) still think the number is off and are backing the Chiefs as their best bet of Championship Sunday.
"Although Patrick Mahomes is playing on a bum ankle, this number is too much of an overreaction, and Kansas City still has the weapons on both sides of the ball," said Fitz (Systemplays.com). "Kansas City wins straight-up."
Whitelaw said he likes the Chiefs "quite a bit."
"They should be a bigger favorite. Kansas City is the better team," he said. "Mahomes will probably be 75 percent, give or take. They've overcompensated for the Mahomes injury. Obviously, he's not going to be 100 percent. The spread would be like four if he was 100 percent. But however diminished he is, it isn't worth that much.
"As long as he can play and be moderately effective, it's an overcompensation. And the spread is a little lower because Cincinnati looked so good the previous week (in a 27-10 win at Buffalo).
"Basically, you're just asking the home team to win the game. Cincinnati still has some linemen out, and it's playing its second consecutive road game. Andy Reid is a pretty good coach in this spot."
Fly like the Eagles
VSiN host Brent Musburger, who placed second in the RJ NFL Challenge this season with a 52-38 ATS mark (57.8 percent), made the Philadelphia Eagles (-2½) his best bet over the San Francisco 49ers in the NFC title game.
One reason is that a rookie quarterback has never started a Super Bowl, let alone won it.
"Brock Purdy has been amazing, but rookie quarterbacks don't suit up on Super Sunday," said Musburger (@brentmusburger). "If the Niners don't score first, turn out the lights because the Purdy party is over. Fly, Eagles, Fly."
Under armor
Unders went 4-0 in the divisional round, and pro sports bettor Erin Rynning expects the Niners-Eagles NFC championship game to go under (46½) as well.
"The Eagles flexed their offensive muscle in the early season with a multipronged attack keyed by Jalen Hurts' ability and threat to run the football," said Rynning (@Ersports1). "No question, this threat is now compromised, while the 49ers' No. 1 defense awaits. It's been exceedingly rare for the Eagles' talented offense to face a defense that can match them. Meanwhile, this Eagles defense has stepped up to the plate as they shored up their run defense coexisting with an elite pass defense.
"Brock Purdy continues to deliver wins for the 49ers. However, the speed bumps build week by week, including more video for the opposition to game-plan for the rookie quarterback. Look for inefficiency from both offenses as the top-flight defenses control the game, sending it under the total."
Possible Super Bowl lines
In potential Super Bowl matchups at the Westgate SuperBook, the Chiefs are -1½ over the Eagles and -1½ over the 49ers, while the Bengals are pick'em against the Eagles and 49ers.
Contact reporter Todd Dewey at tdewey@reviewjournal.com. Follow @tdewey33 on Twitter.