Sean McVay's decision begs the question: Do coaches try to cover spread?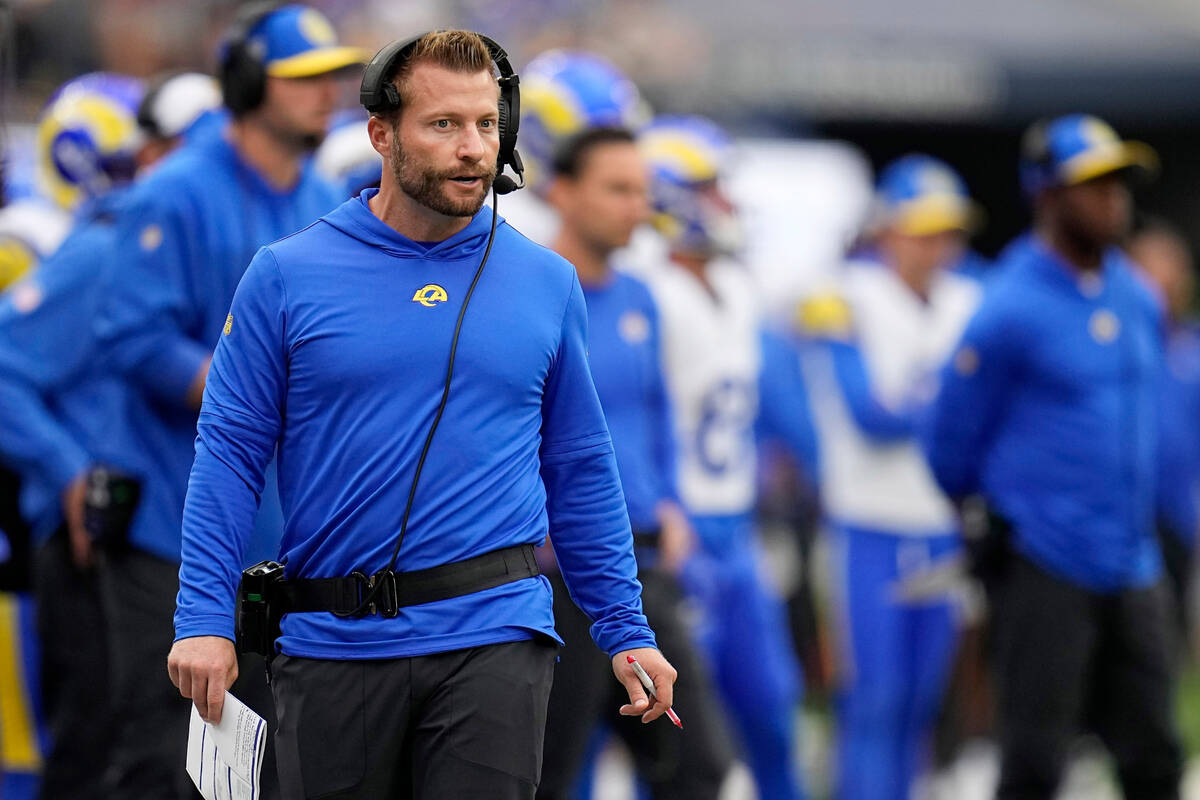 Rams coach Sean McVay said his decision to kick a field goal on the game's final play against the 49ers on Sunday had nothing to do with covering the point spread.
Los Angeles was a 7½-point underdog most of the week before closing at +7. Down 10 with four seconds left, McVay opted for an otherwise meaningless 38-yard field goal as time expired in a 30-23 loss that covered the spread for many Rams bettors and dealt Niners bettors a bad beat.
"Apparently … there's a lot of people in Vegas pissed off about that decision," McVay said. "I clearly was not aware of that stuff."
Regardless of whether McVay, who has a photographic football memory, was trying to cover the spread, it's a safe bet he at least knew the number in this era of widespread legal sports betting.
"Of course (coaches) know what the spread is. It's everywhere. Everybody knows the spread," said Sportsline.com handicapper Micah Roberts, a former Las Vegas sportsbook director. "If the coach doesn't know the spread of his own team, it's kind of a dereliction of duty. You should know everything that's going on.
"The spread's always been relevant. That's the benchmark to say what's expected."
College football coaches have long used the point spread as a motivational tactic.
After Hawaii covered as a 17½-point underdog at Vanderbilt in a 35-28 loss in their season opener, coach Timmy Chang said he used the line and his team's season win total to help inspire his players.
"I pay attention. I see we're 17.5-point underdogs and only 3.5 wins this year," he said. "I hear all those things, and I like that."
While point differential is a seldom-used NFL playoff tiebreaker, there are several plausible reasons to run up the score in college football, including impressing voters in the polls, getting backups reps and pleasing boosters who bet on the game — though no coach will admit to the latter reason.
Here are some curious cases of teams scoring meaningless touchdowns or field goals to cover the spread:
Drive for 25
Iowa has to average at least 25 points per game this season to save the job of offensive coordinator Brian Ferentz. This might explain why the Hawkeyes — leading Western Michigan 34-10 as 28½-point favorites Saturday — were throwing the ball in the final minute and went for it on fourth-and-goal from the 2 with 30 seconds left. They scored to make it 41-10 and cover the spread.
Nittany Lions roar
Penn State led 31-15 and had the victory in hand over West Virginia in the final seconds of their season opener. But rather than run out the clock, the Nittany Lions, 21-point favorites, drove for a 5-yard touchdown run by backup quarterback Beau Pribula with six seconds left to cover the spread. The score also pushed the game over the total of 49 in a 38-15 victory.
The crowd of 107,747 erupted when Pribula, who also converted a fourth-and-2 pass on the drive, scored.
Penn State coach James Franklin defended the late TD by his second-string offense.
"I think once those 2s get in the game, then they deserve the chance to play and compete," he said. "Now if you leave your 1s in, that's a different story."
Controversial ending
Former Penn State coach Joe Paterno and Rutgers coach Doug Graber exchanged unpleasantries after a 1995 game in which the Nittany Lions scored on a late TD pass from midfield that enabled them to cover the spread as 20-point favorites in a 59-34 win.
Backup quarterback Mike McQueary threw a 42-yard TD pass with 58 seconds left, and Paterno was shown shaking his head in dismay after the play. The ending became more controversial in 2014 when ESPN reported that, according to several of his classmates and teammates, McQueary developed a compulsive gambling habit at Penn State and bet on Nittany Lions games.
Urban legend
Florida was favored by 22 over Miami and led 23-3 when it returned a punt to the Hurricanes' 16-yard line with 1:15 left. Rather than take a knee, Gators coach Urban Meyer had Tim Tebow pass on first down and second down. On fourth down at the 11 with 25 seconds left, Florida kicked a 29-yard field goal for a 26-3 win and cover.
Contact reporter Todd Dewey at tdewey@reviewjournal.com. Follow @tdewey33 on X.