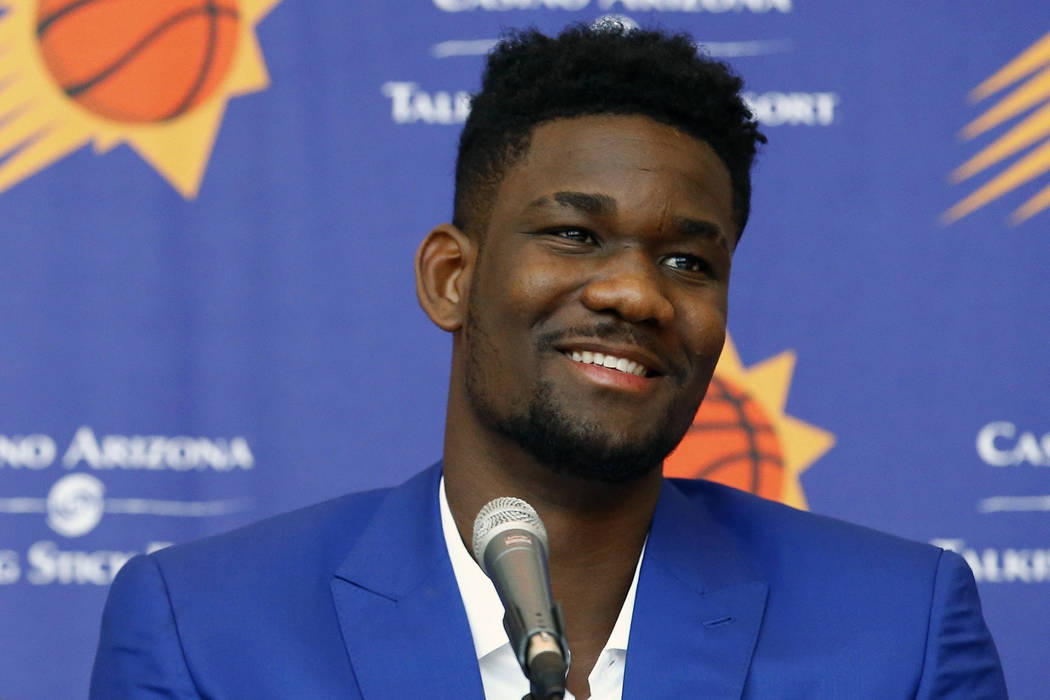 Vlade Divac was arguably the best (worst) flopper in NBA history. So it's not surprising that the Kings general manager recently took dramatic license in describing long-suffering Sacramento as one of the league's super teams.
"My team is a super team, just young," he said after the Kings selected Duke's Marvin Bagley III with the No. 2 pick in June's NBA draft.
"We are, you know, competing. We are playing hard, we are playing fun, fast. We talk about last year, you had a few of those superteams … we beat them twice, I believe. We just have to learn and be better every day, every year."
The Kings did manage to beat the Golden State Warriors twice last season but finished 27-55 and missed the playoffs for the 12th straight year.
Armed with an arsenal of former first-round draft picks, Sacramento is expected to be one of the top teams in the NBA Summer League, which runs Friday through July 17 in Las Vegas.
Kings of Summer League
Led by Bagley, fellow Duke alum Harry Giles III, ex-North Carolina standout Justin Jackson and former Kansas standout Frank Mason III, the Kings are tied for the 10-1 second choice at the Westgate sports book to win the NBA Summer League championship game.
"They've got a lot of guys who will get minutes on their (NBA) team playing in this," Westgate sports book manager Jeff Sherman said. "Most of their young core outside of De'Aaron Fox."
Rising Suns
The Phoenix Suns, led by No. 1 overall draft pick Deandre Ayton, are the 8-1 favorite to claim the Summer League crown.
Ayton will be joined in Las Vegas by fellow first-round pick Mikal Bridges from Villanova and Suns players Dragan Bender and Josh Jackson.
"We started out with the Suns because they have the majority of their guys who are going to be in the rotation with Ayton," Sherman said. "We look through the rosters and try to find a balance of some guys who've been in the league. We like that more than strictly young guys."
Ayton and Bagley will square off Saturday, when the Suns and Kings meet at the Thomas &Mack Center.
"The Suns might be a small favorite or it could be a pick, just for the fact that Sacramento has some games under its belt," Sherman said.
My name is Luka
The Hornets are tied with the Kings at 10-1. Charlotte will feature 2017 first-round pick Malik Monk (Kentucky) and 2018 picks Miles Bridges (Michigan State) and Devonte' Graham (Kansas).
"Charlotte is not looking at guys to add to the team. They're basically going to be playing guys who are expected to be with the team," Sherman said.
The Mavericks, Trail Blazers, Clippers and Grizzlies are each 12-1 at the Westgate. Dallas is a 13-2 co-favorite with Phoenix at the William Hill sports book. But Luka Doncic, the Mavericks' No. 3 pick from Slovenia, is expected to appear in only one game, if that, as Dallas continues to work on his buyout from Real Madrid.
The Mavericks will be led by 2017 first-round pick Dennis Smith Jr. (North Carolina State) and 2018 pick Jalen Brunson (Villanova).

Memphis' odds have moved from 15-1 to 12-1. The Grizzlies will be led by Jaren Jackson, their No. 4 pick from Michigan State who hit 8 of 13 3s and scored 29 points in his debut for Memphis, which also features former Kansas star Wayne Selden.
Blazers are 'stacked'
Portland will feature Bishop Gorman product Zach Collins and fellow NBA players Caleb Swanigan, Wade Baldwin IV, Jake Layman and Georgios Papagiannis, as well as 2018 draft picks Anfernee Simons (IMG Academy) and Gary Trent Jr. (Duke).
"The Blazers are bringing a pretty stacked team," Sherman said.
Collins, coming off his rookie season with the Trail Blazers, broke his nose in practice on Tuesday, accoring to a report in The Oregonian, when banged heads with Swanigan on the final play of a scrimmage.
The newspaper reported Collins plans to play in all the team's summer games wearing a black protective mask.
Competitive Clippers
The Clippers are bringing their potential backcourt of the future in 2018 first-round picks Shai Gilgeous-Alexander (Kentucky) and Jerome Robinson (Boston College), along with second-year players Jawun Evans and Sindarius Thornwell.
"I like the Clippers," Sherman said. "They've got some pieces. They should be competitive."
Futures betting on the NBA Summer League will be taken down at the Westgate when the first game tips at noon Friday. But there will be lines posted on all 72 games.
"The action has been brisk on the futures," said Sherman, who posted them on the Fourth of July. "Now that we have all 30 teams represented, the (betting) handle has been increasing each year."
Contact reporter Todd Dewey at tdewey@reviewjournal.com. Follow @tdewey33 on Twitter.