Tucker's missed PAT felt like bad beat for Ravens bettors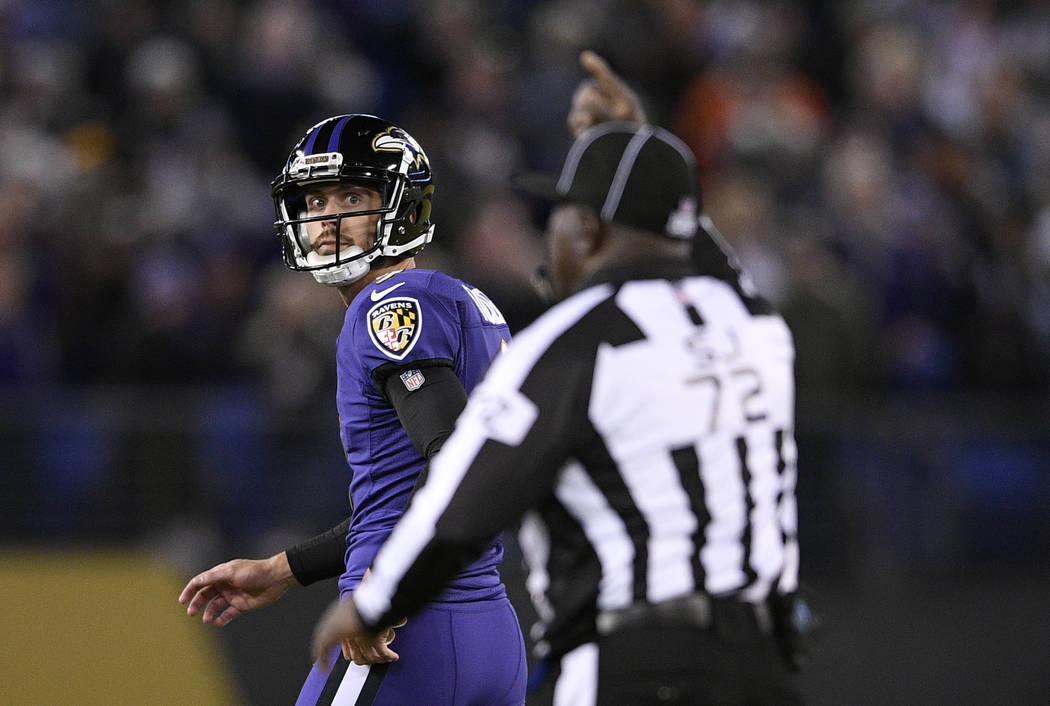 Technically, Ravens bettors didn't suffer a bad beat in Sunday's 24-23 loss to the Saints.
That's because even if Baltimore had tied the game in the final seconds, there was no guarantee it would've won and/or covered as a 2½- or 3-point favorite.
But when Ravens kicker Justin Tucker missed an extra point that would've knotted it at 24-all with 24 seconds left, it sure felt like a bad beat if, like myself, you had a wager on Baltimore.
That's mostly because, according to ESPN, Tucker was 222-for-222 on extra points in his career before Sunday's miss. And just to twist the knife a bit more, Tucker also was 78 of 78 on field goals of 33 yards or less, meaning he'd made 300 consecutive kicks from that distance during his NFL career.
I blame Fox Sports play-by-play man Chris Myers, who before the attempt said "and a kicker who's never missed an extra point in his career." Then Myers acted shocked when he missed.
"If anybody got the (jinx) put on him, it was definitely Tucker," Sunset Station sports book director Chuck Esposito said. "Tucker got Myers-ized today. After each one of their touchdowns, he made a comment that he'd never missed an extra point."
Big money on Big D
Sharp bettors were on the Ravens at the MGM Resorts sports book, which also won on a missed kick in the Redskins-Cowboys game. After a penalty pushed back Dallas' tying FG try to 52 yards, Brett Maher's kick went off the upright, allowing Washington to escape with a 20-17 win.
The Redskins opened as 2½-point favorites but closed as 2½-point underdogs at the MGM after a big bettor placed multiple wagers approaching six figures on the Cowboys.
"The Redskins helped bail us out a little bit," The Mirage sports book director Jeff Stoneback said. "It was unbelievable how three of our biggest decisions were decided by kickers."
Ain't that a kick in the head
Chandler Catanzaro booted a 59-yard FG with 1:50 left in OT after missing an extra point and 40-yard FG try on the final play of regulation to lift the Buccaneers to a 26-23 win over the Browns. But Tampa Bay failed to cover for most bettors after closing as a 3½-point favorite.
Caesars Entertainment sports book took several five-figure wagers on Tampa Bay minus 3½, including a $66,000 bet.
Home 'dogs lie down
The Patriots, Vikings and Rams were the biggest winners for the betting public.
New England, which closed as a 2-point favorite at Chicago, escaped with a 38-31 victory after Kevin White was stopped at the 1-yard line on a 54-yard pass from Mitchell Trubisky on the game's final play.
Minnesota whipped the Jets 37-17 as a 3½-point favorite, and Los Angeles smoked the 49ers 39-10 as 9-point favorites to burn so-called sharp money.
"Home 'dogs didn't fare too well this week, and that's where some of the sharp action was on," Caesars Entertainment sports book director Bill Sattler said. "The public was the one that beat us."
The public also won big at the MGM on the Lions, who rolled to a 32-21 win over the Dolphins, 3-point home 'dogs.
Underdogs went 6-6 ATS on Sunday with four outright upsets from the Saints, Redskins, Texans and Panthers — who scored 21 unanswered points in the fourth quarter to erase a 17-0 deficit in a 21-17 win over the Eagles as 5-point underdogs.
Backdoor cover
The day began early in London with a backdoor cover by the Titans, 6½-point underdogs to the Chargers, who closed to 20-19 in the final seconds on a 1-yard TD pass from Marcus Mariota on fourth-and-goal. Tennessee went for the win, but Mariota's 2-point conversion pass was incomplete.
Chiefs bury books
The betting public had the last laugh Sunday night, burying the books when the Chiefs crushed the Bengals 45-10 as 6½-point favorites to improve to 7-0 ATS this season.
"The public is all over the Chiefs, as they've been every week," Stoneback said before the game. "If we can win this game, we'll be a small winner for the week. If we lose it, we're a moderate-sized loser for the week."
Bad beat for over bettors
Over bettors (hello again) suffered a bad beat when Kansas City, up 45-10 with 4:21 left, opted to go for it on fourth-and-goal from the 5 rather than kick a field goal, which would've pushed the number over the total of 56½. The Chiefs were stopped short, and the game stayed under.
SuperContest consensus
The Chiefs were one of the Westgate SuperContest's top five consensus plays, which went 4-1 ATS. The Vikings were the No. 1 play, followed by the Patriots, Chiefs and Lions. The lone loser was the Ravens.
We feel your pain.
More Betting: Follow all of our betting coverage online at reviewjournal.com/betting and @RJ_Sports on Twitter.
Contact reporter Todd Dewey at tdewey@reviewjournal.com. Follow @tdewey33 on Twitter.