VSiN host sweeps RJ college contests, offers Final Four pick
Updated March 30, 2023 - 11:33 pm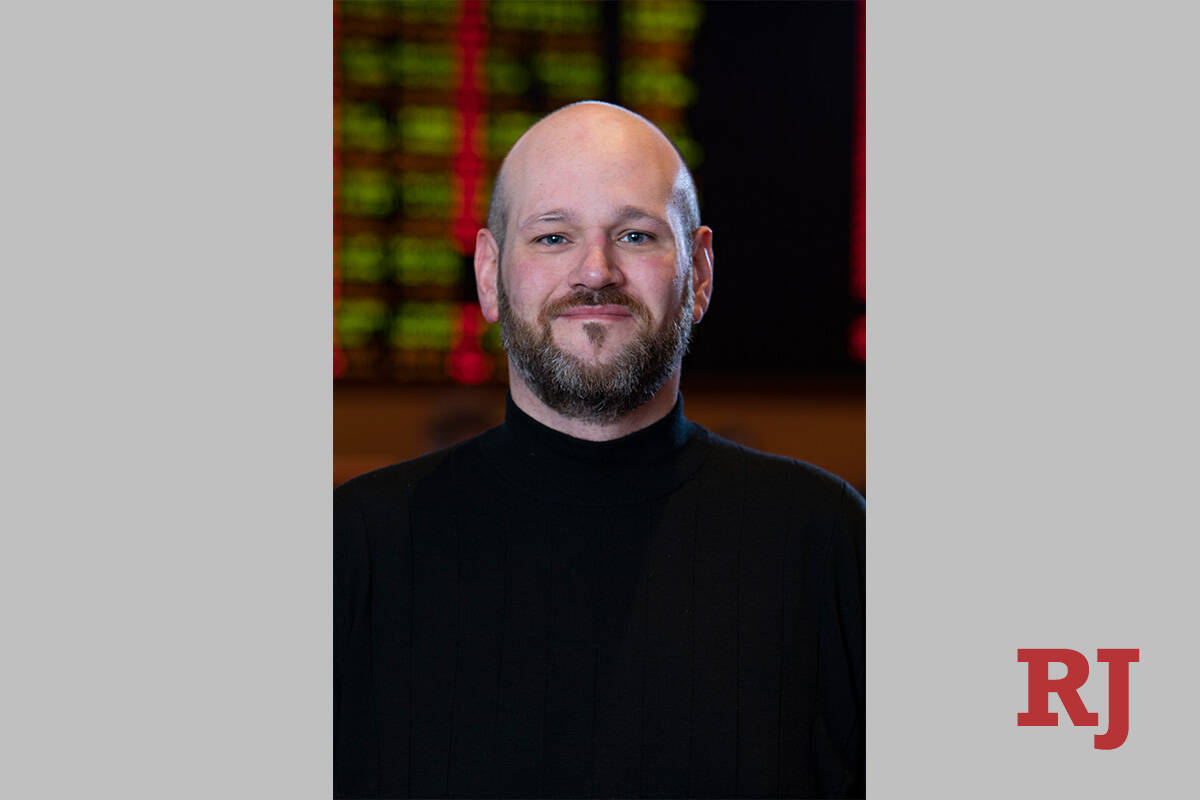 Wes Reynolds became enamored with sports betting at a young age.
The Indiana native was 10 when his mother, a manager at an Italian family restaurant in Indianapolis, would get a $5 parlay card each week from one of her customers for her sports-obsessed son to fill out.
"It was just for fun. I would try to see how many I could get right," said Reynolds (@WesReynolds1). "That's how I got started."
After earning his master's degree in sport management at Indiana University, Reynolds was working in professional sports when his parents became ill, and he became a pro sports bettor by necessity.
"I took time away from my career to help them," he said. "As a way to supplement my income, I bet games for a couple years. I guess you could say I was a professional bettor. I was not betting $10,000 a game. But I was self-sufficient for a couple years.
"It's a grind. When that's how you have to pay your bills and support yourself, there's a lot of pressure. You've got to put in the work and be in front of the Don Best (odds) screen for double-digit hours per day. That eventually led me out here (to Las Vegas)."
For the last five years, Reynolds has worked for VSiN, where he's co-host of "VSiN Tonight" and the "Long Shots" golf betting podcast.
He picked 17 outright golf winners last year and four this year, and he also excels at handicapping college basketball and football and the NFL.
Reynolds won the Westgate SuperBook's Pro Football Season Wins Challenge last season, going 21-7-2 ATS to turn his $200 entry into $21,300.
"That was my first big Vegas contest win," he said. "It's not a life-changing score, but it's nothing I'm ever going to sneeze at."
Paper trail
He also swept the Review-Journal's college contests while going 61-36 ATS (62.9 percent). He went 40-25 to win the college football challenge, 11-4 to win the college bowl challenge and 10-7 to win the March Madness challenge.
Contestants picked five weekly games against the spread in the college football challenge.
"It's hard to just pick five games. I've always been more of a volume player," he said. "There were times I'd go under .500 in the RJ, but I would have a profitable week. I just picked the wrong five."
Reynolds said he's never been the type of bettor who wagers only on differences between his power ratings and the point spread.
"Let's say I have five picks. Probably one or two of them are going to be situational spots, where a team off a big game could be in a potential letdown or a sandwich spot," he said. "For example, if Georgia plays LSU one week, then the next week they're playing Vanderbilt, then they have Alabama, that could be a letdown (against Vanderbilt). Situations like that.
"I wouldn't call myself just a 'dog player, but long term, I'll probably be on more underdogs than favorites. But I only want to lay really focused favorites that are going to give you the best chance to cover. Not one that's got a big game on deck and just came off a war the game before and maybe doesn't have energy.
"Some of it is the market and just looking at what the numbers are and what the sharper books have. I would consider the Westgate SuperBook and Circa to have the sharpest lines."
Best bets
Reynolds hit both of his best bets in the NCAA Tournament, including San Diego State over Alabama in the Sweet 16. Reynolds likes Florida Atlantic (+3) over the Aztecs in Saturday's national semifinal.
"My gut is telling me Florida Atlantic," he said. "They won a similar game already in this tournament, having to beat Tennessee. I don't think San Diego State's physicality or length or athleticism is really going to throw FAU off all that much.
"Florida Atlantic has got multiple ballhandlers, and they have some ways to win here."
The Owls also have a coach in Dusty May who was Reynolds' classmate at Indiana and a student-manager under legendary Hoosiers coach Bobby Knight.
Before the tournament, Reynolds picked Connecticut — a 5½-point favorite over Miami in the other semifinal — to win its fifth national title.
"UConn is clearly the best team with the most talent and the most depth," he said. "I think Miami gives them a challenge, but UConn wins it all."
Contact reporter Todd Dewey at tdewey@reviewjournal.com. Follow @tdewey33 on Twitter.