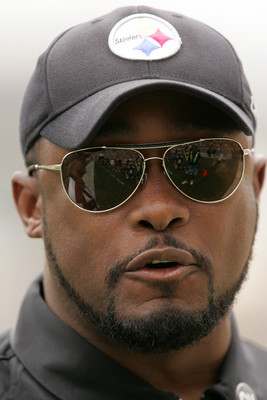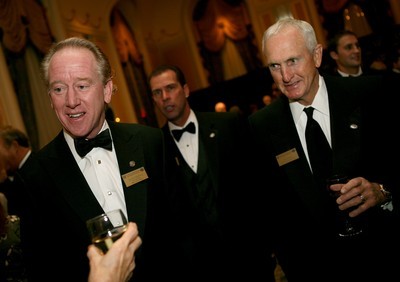 Kids in Pennsylvania shouldn't blame Santa Claus if he leaves their state off his Christmas list. After all, old Saint Nick hasn't been greeted warmly there.
Philadelphia Eagles fans infamously booed Santa and hurled snowballs at him during halftime of a home game in December 1968.
On Tuesday, Pittsburgh Steelers coach Mike Tomlin all but gave Santa the boot from his weekly news conference, greeting him with what amounted to a big "Bah! Humbug!"
Bill DiFabio, a sports announcer from Washington, Pa., traditionally dresses up as Santa for the pre-Christmas press gathering and often pokes fun at the Steelers coach for a few moments.
Former coach Bill Cowher often went along with the gag. Tomlin also played along initially, asking "What have you got for me, Santa?" and inviting DiFabio to join him at the front of the room.
But when DiFabio commandeered the news conference for more than five minutes, passing out gifts and cracking jokes about fellow sportscasters, the Browns and Cowboys, nose tackle Casey Hampton's weight and the woebegone Pirates, Tomlin became impatient.
To end the unrehearsed skit, Tomlin — who could be heard sighing several times throughout the bit — grudgingly agreed to toss a football to the fake Santa.
"If that will get you out of here," said Tomlin, doing a decent impression of Ebenezer Scrooge.
Tomlin apparently did not appreciate a comedy skit interfering with his message.
Later, the Steelers said there would be no future appearances from Santa at any of their news conferences. But the Easter Bunny and Tooth Fairy are still welcome to attend.
• A GUY CAN DREAM — Most professional soccer players aspire to be like Pele, Ronaldo or even David Beckham, but Bruno Cirillo's dream is to one day become a porn star.
Cirillo, 30, a defender for Reggina, which plays in Italy's Serie A league, revealed his ambition on a television show called "Victory," it was reported on the Web site rumorsandrants.com.
Cirillo explained how one day he would like to take his passion seriously. Apparently he has the necessary "equipment" to do so, as his teammates have nicknamed him "Dotato," which translates to "Gifted."
In the interview, Cirillo went on to mention Sampdoria striker Antonio Cassano's claim in his autobiography that he has slept with more than 700 women.
"I think it's a joke," Cirillo said. "I can only say that I have arrived over 20."
• HARD LUCK CLUB — With the Detroit Lions teetering on the brink of the NFL's first 0-16 season, Archie Manning can sympathize.
Manning, quarterback of a 1-15 New Orleans Saints team in 1980, vividly recalls the feeling as the losses piled up.
"One of the worst things was watching our coach, who we all liked and admired, Dick Nolan — good coach, good man — and every week he'd stand up there and it was almost like he would die a little more," Manning said. "It would kill you."
STAFF AND WIRE REPORTS