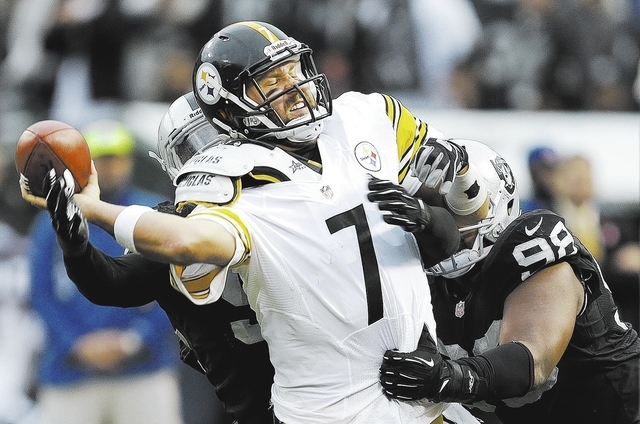 This has been anything but a typical season for Tom Brady, who is putting up numbers indicative of a middle-of-the-pack quarterback in the NFL. Still, the New England Patriots' record does not reflect a decline.
As for Ben Roethlisberger, his production is down, and the Pittsburgh Steelers are close to getting knocked out of the postseason conversation.
The Patriots (6-2 straight up, 4-4 against the spread) are 6½-point favorites over the Steelers (2-5 straight up and ATS) today in Foxborough, Mass.
"Neither Roethlisberger nor Brady have played like quarterbacks with five Super Bowl rings between them," said Bruce Marshall, a handicapper for The Gold Sheet and DonBest.com. "Reports of Brady hurting continue to circulate, but there are other reasons why he is posting the worst numbers of his career."
Brady, limited to 55.7 percent completions and nine touchdown passes, has been without his top five receivers from 2012 for most of this season. The return of tight end Rob Gronkowski has yet to give Brady and the offense a shot in the arm.
On the defensive side, New England coach Bill Belichick has faced challenges after injuries to linemen Vince Wilfork and Tommy Kelly.
"All things considered, Belichick has done well to steer the Patriots to a 6-2 mark," Marshall said, "but they are hardly dominating, with their only easy win coming against troubled Tampa Bay.
"Key defensive injuries have weakened New England's defensive resolve, and those shortcomings could be exploited by a suddenly rejuvenated Steelers infantry."
Marshall recommends taking the points with Pittsburgh, which is 20-11 ATS as a regular-season underdog since Roethlisberger's rookie year in 2004.
'The Steelers have offered decent value throughout Roethlisberger's career in an underdog role," Marshall said. "Even if the offense sputters, Dick LeBeau's defense is good enough to keep the Steelers within the generous number."
Bettors are seeing fewer options this week with Arizona, Denver, Detroit, Jacksonville, the New York Giants and San Francisco getting byes.
Marshall (Goldsheet.com) forecasts the rest of today's Week 9 lineup:
■ Atlanta at Carolina (-7): Carolina's uptick has coincided with a soft stretch of the schedule, but there are fundamental reasons for the Panthers' surge, including a string of mistake-free efforts by Cam Newton, who has no interceptions in the past three games. The Falcons are obviously short-handed due to injuries, especially on offense, where Matt Ryan is without his top downfield targets, and running back Steven Jackson looked nowhere near 100 percent in his return last week. But the oddsmakers have made their adjustments, so I'm not sure how much value is in this price for Carolina. At an inflated number, I might be willing to give Atlanta a look.
■ Minnesota at Dallas (-10): Vikings coach Leslie Frazier is running out of weeks to save his job, and he has apparently come to the conclusion that Christian Ponder ­— and not Josh Freeman or Matt Cassel — offers him the best chance to survive. Good luck with that, and expect a full-scale housecleaning in Minnesota in the offseason. A strong anti-Vikings case can be made, as well as a pro-Dallas argument, considering the Cowboys' 7-1 spread mark. I might also like this one over the total of 48½ if running back DeMarco Murray is available for Dallas.
■ New Orleans (-6½) at New York Jets: The battle of the coaching Ryan brothers will be hyped like Wrestlemania by the tristate tabloids. Though the Jets have been bipolar in their performance pattern — perhaps to be expected with a rookie quarterback — they also have been formful, not yet losing two in row straight up or ATS. Jets coach Rex Ryan's up-the-middle pressure did harass Tom Brady a couple of weeks ago, and Drew Brees' rhythm could be disrupted. The Saints usually don't bring their same knockout punch on the road, where they have dropped two of three ATS this season. If the good Jets show up, they might be worth a look at this price.
■ Tennessee (-3) at St. Louis: There are lots of angles at work here. The Titans are playing their first game since the death of owner Bud Adams, though who knows if that suggests a big effort from Tennessee. Rams coach Jeff Fisher gets his first shot at his former employer. St. Louis is also off a brutal Monday loss in which it outplayed Seattle for about 90 percent of the game. Another factor is teams are 1-6 ATS in games immediately after facing the Seahawks. Still, there's not a lot of value with this price on the Tennessee side, which is no juggernaut. If the St. Louis defense can corral Jake Locker as it did Russell Wilson, the Rams are worth a look.
■ Kansas City (-3½) at Buffalo: This might seem an odd place for the Chiefs' eight-game win streak to end. But the Bills are 4-0 ATS at home this season, beating Panthers and Ravens outright and losing on the final play to the Patriots and Bengals. Yes, Alex Smith is 27-5-1 straight up in his past 33 as a starter, but a low-risk Kansas City offense can ill afford any mistakes, and the Chiefs' win margins have been decreasing. This is a provisional vote for the Bills, who would be more appealing with Thad Lewis and not Matt Flynn at quarterback.
■ San Diego at Washington (Pick): It's hard to justify supporting the Redskins based on performance. But remember last season when Washington ran off seven wins in a row down the stretch to steal the NFC East. And the Redskins did have Denver on the ropes last week before Peyton Manning woke up. Robert Griffin III also looks good to go, so I'll stick my neck out and vote for Washington.
■ Philadelphia at Oakland (-2½): It's Nick Foles at quarterback for the Eagles, but with Michael Vick out of the mix, coach Chip Kelly's offense has stalled. The Philadelphia offense did not score a touchdown the past two weeks, though mostly with overmatched rookie Matt Barkley at the controls. Considering the Eagles' current offensive shortcomings, and the fact the Raiders are 6-1 under the total this season and 12-2 in their past 14 dating to mid-2012, under 45 looks tempting.
■ Tampa Bay at Seattle (-15½): The price is high, but not Jacksonville-like high, and technicals both ways suggest the Seahawks can handle this number. That's because coach Pete Carroll's crew has covered 11 of the past 14 at home, not to mention 13 of the past 18 games overall. Meanwhile, the winless Buccaneers have not covered in their past five, are 1-6 ATS this season and 2-11-1 in their past 14. I'm simply not interested in Tampa Bay until further notice, as coach Greg Schiano gets closer to walking the plank.
■ Baltimore (-2½) at Cleveland: The Browns might have a chance to end the Ravens' 11-game series winning streak, especially after quarterback Jason Campbell's encouraging performance against the Chiefs. But off a bye week and with Joe Flacco's receiving targets now healthier, I would rather trust the Baltimore series trends to continue.
■ Indianapolis (-2½) at Houston: It's perhaps the final chance for Houston to turn around its disastrous season. But to do so, under-fire coach Gary Kubiak has deemed Case Keenum a better alternative at quarterback than Matt Schaub, who is available but will open the game on the bench. With one cover this season and no momentum to speak of, I cannot support the Texans, even as the Colts proceed without wide receiver Reggie Wayne.
— COMPILED BY MATT YOUMANS