Stefan Kozlov rallies to capture Las Vegas Tennis Open
October 22, 2017 - 8:28 pm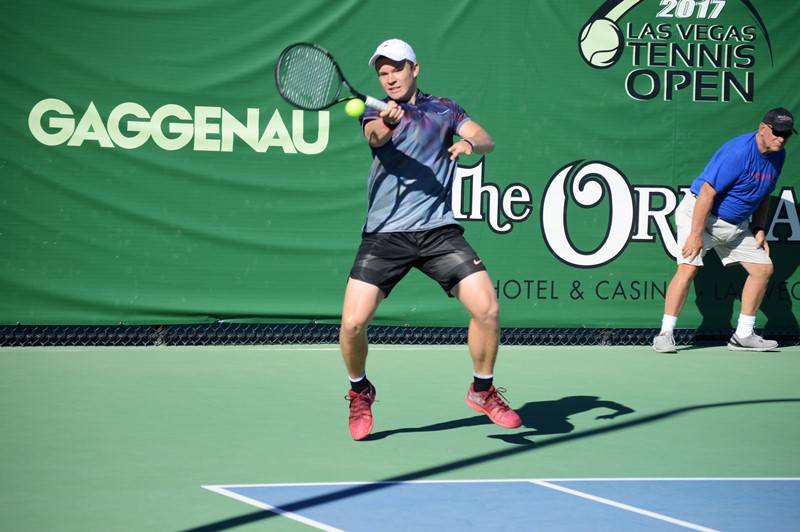 Stefan Kozlov was patient to adjust to lefty Liam Broady's crafty game, but once he did he was able to secure his second career $50,000 pro title by winning the ATP Tour Challenger Las Vegas Tennis Open on Sunday.
"We both just put it on the line today and it was 50-50," the 19-year-old Kozlov said of his 3-6, 7-5, 6-4 victory at the Fertitta Tennis Complex on the campus of UNLV.
"We were both left gasping for air and it wasn't easy. It could have gone either way today. I was very impressed with Liam's sportsmanship today."
Kozlov picked up his game with an early break in the second set. He broke serve for 3-all and then hit several nice finesse shots to hold his serve and take a 4-3 lead, pumping his fist and firing up the crowd after each point.
Broady received treatment from the tournament trainer for some late-match cramping right after the match and before the awards ceremony, laying on a towel.
"Obviously Kozlov has so much experience in these big matches," Broady said. "Maybe I wasn't aggressive at the right times of the match, and Koz has such good defense."
It will be 20 years next month that Kozlov's favorite player and Las Vegas resident Andre Agassi returned to tennis at age 27 ranked No. 141 in the world. Agassi then made the final of a similar USTA Pro Circuit $50,000 Challenger in his first tournament back. On these same UNLV courts Agassi began his inspiring journey to regaining the No. 1 ranking in the world.