Stirring rally lifts Gorman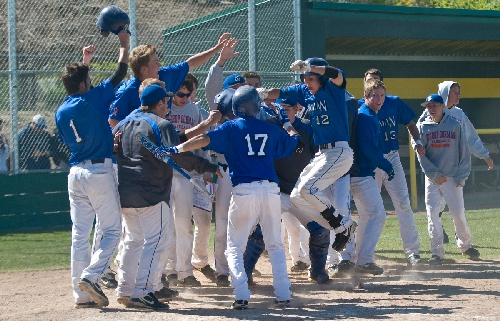 RENO — Bishop Gorman coach Chris Sheff has won big games in his time with the Gaels, including four straight state championships and an American Legion World Series title.
They all take a back seat to Friday's ridiculous comeback against Galena.
The Gaels trailed by 12 runs and were two outs from having the game ended by the 10-run rule before rallying for a 24-22 win in the Class 4A state tournament at Bishop Manogue High.
"To me, in my time here, that's the greatest win we've had by far," Sheff said.
The Gaels (35-3) will play Rancho (32-4) in the title game at 5 p.m. today at Aces Ballpark. The Rams would have to beat Gorman twice to earn the title.
With his team trailing 22-10, Erik Van Meetren hit a solo homer to lead off the bottom of the fifth and start a 10-run rally to cut the Grizzlies' lead to 22-20. Kenny Meimerstorf and Johnny Field also had three-run homers in the inning.
Meimerstorf, a freshman batting ninth for the Gaels, then had the game's biggest blow, blasting another three-run homer to cap a four-run sixth.
"There's a reason he's a freshman and he's in the lineup," Sheff said. "With the club we have, obviously you have to be a pretty solid hitter to be in this lineup. He's just a battler and a scrapper, and he had good (at-bats) today. He was patient and got pitches to hit and hit just two enormous home runs."
Meimerstorf has three home runs and a triple in two state tournament games.
"To hit those bombs, it was amazing to me," Meimerstorf said. "It just made me go nuts."
With the wind howling out, Galena jumped to a 10-1 lead heading into the bottom of the second. The Grizzlies blasted three home runs in the first two innings: a two-run shot by Eric Howsley, a three-run homer by Brian Pointer and a grand slam by Jeremy Rosenthal.
"We talked after the second inning, and we were down 10-1, and we said, 'Hey, with the wind and our offense, we're going to be in this game,' " Sheff said. "And I actually had goose bumps in the second inning, because I really felt like we were going to win the game."
Gorman scored six runs in the second before allowing a seven-run third inning. But the Gaels scored three in the third on Field's first three-run homer of the game and then had the big inning in the fifth.
Six Galena errors, including a two-out boot in the fifth that preceded Meimerstorf's first three-run shot, aided Gorman.
Galena was nearly out of the inning after allowing four runs, but Howsley lost a fly ball in the sun in right field, turning it into a Mikal Hunter two-run single and prolonging the inning.
"It's amazing coming back from 12 runs," Meimerstorf said. "We just never gave up and just kept fighting. In the beginning of the game, they got up, and we just knew we weren't going to give up and lose this game.
"It shows how much passion we have. We never give up."
■ Rancho 6, Galena 3 — Eric Holdren pitched a five-hitter and Zak Qualls blasted a grand slam as the Sunrise Region champion Rams eliminated the Grizzlies (24-11) to move into the title game.
"We'll show up at Aces Park tomorrow at 5 o'clock, and we've got enough pitching left to make it interesting," Rancho coach Tom Pletsch said. "Our goals were No. 1 the Northeast (League), No. 2 the Sunrise and No. 3 to get to the finals and let the chips fall where they may."
Holdren went the distance, striking out seven and walking two. He threw three innings Thursday in a 6-3 loss to Galena.
The only runs he allowed came on home runs to Pointer, who had a solo shot in the top of the first and a monster two-run shot to dead center in the sixth.
"Brian Pointer is signed to go to Oregon State, and he's a hell of a hitter," Pletsch said.
Qualls hit his grand slam in the second. It was the Rams' only hit in the inning; Pointer walked three to set up Qualls' shot to left-center.
Kevin Kline added a two-run homer in the third for Rancho, which hopes to end Gorman's run of four straight state titles.
"They're the four-time defending champion, and it's going to take a hell of an effort to unseat them in the championship game," Pletsch said. "But we're there."
■ Rancho 6, Reno 3 — Qualls pitched a five-hitter with 12 strikeouts as the Rams eliminated the Huskies (31-5) in Friday's first game.
Qualls had 11 strikeouts in the first four innings and went 2-for-4 with a double and three runs.
Brandon Pletsch was 2-for-3 with a home run, a double and three RBIs, and Kline doubled twice and drove in two runs.
Contact Prep Sports Editor Damon Seiters at dseiters@reviewjournal.com or 702-380-4587.
In-depth high school sports coverage
View slide show