Sugarland guitarist Thad Beaty ready to hit the Strip running
November 13, 2015 - 12:21 am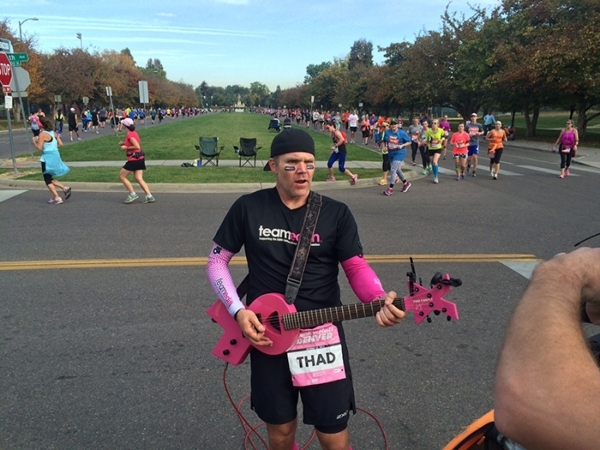 As guitarist for the Grammy Award-winning country band Sugarland, Thad Beaty has worked with artists ranging from Beyonce and Bon Jovi to Lady Gaga and Rihanna.
But Beaty said one of his most gratifying moments as a musician was playing guitar with a bevy of bands along the route of the Rock 'n' Roll Denver Half Marathon he ran in October to help raise awareness for the Edith Sanford Breast Cancer Foundation.
"It was awesome. It was one of my favorite things that I've done, and we've been lucky to do a bazillion things," said Beaty, 41. "There's something special about this. It was bigger than me."
Beaty also will be on a mission in Sunday's Rock 'n' Roll Las Vegas Half Marathon. He'll start in last place alongside Women's Running editor Jessica Sebor. For every racer she passes, Transamerica will donate $1 to the Sanford Foundation.
"I'm in huge trouble on this one. She's a blazing fast runner," Beaty said. "I'm going for support. If she runs by herself, she'll probably get by a couple thousand more folks."
Beaty and Sebor hope to pass at least 10,000 people in what was the third-largest half-marathon in the United States last year with 25,227 finishers. About 28,500 runners are registered for Sunday's 13.1-mile race on The Strip, but Beaty and Sebor shouldn't be hard to spot.
"We're going to look like a blazing Pepto Bismol streak going by," he said. "We're going to be pinked out."
Beaty and his family have been deeply affected by cancer, which has claimed the lives of Beaty's grandmother-in-law (his wife is Sugarland bass player Annie Clements) and of Sugarland's longtime guitar tech, Kevin Quigley.
Beaty's mother and mother-in-law are cancer survivors. When his mother was diagnosed with colon cancer in 2009 and Quigley was diagnosed with stage four lymphoma shortly thereafter, Beaty decided to change his lifestyle.
"It became very real very fast. That, paired with the fact that I knew I was unhealthy, out of shape and in a bad spot, really created a tidal wave," said Beaty, who at the time carried 230 pounds on his 5-feet-10-inch frame. "I started freaking out and having panic attacks. In a weird manifestation of stress and anxiety, my arms would go numb."
Slowly but surely, Beaty changed his diet, started running and lost 70 pounds in 18 months.
"Everyone knows eating more fresh fruits and veggies is good for you," said Beaty, who's now a vegan. "Instead of cutting out the bad stuff, I just made a decision to eat more of the good stuff. Over time, I didn't have as much room for the bad stuff."
A former high school baseball player and cross country runner in his native Mississippi, Beaty began running again on the road with the band and his runner's high became contagious.
"Instead of staying up half the night and sleeping half the day, we started as a group embracing (running)," he said. "We made that a huge part of our day and, lo and behold, we had more energy for the show and to take care of the things we had to do and everything was more positive overall."
Beaty has since completed multiple marathons and Ironman triathlons — which consist of a 2.4-mile swim, a 112-mile bicycle ride and a 26.2-mile run.
Along the way, Beaty and his bandmates dealt with another tragedy when the outdoor stage they were huddled under before a scheduled 2011 concert at the Indiana State Fairgrounds collapsed during a fierce storm, killing seven people and injuring nearly 100.
"That added to the fact that life is precious and we have health," he said. "It's a gift and it's our responsibility to manage it and be a good steward of that and do all you can.
"There's no cure-all and there's no guarantee you'll be disease free. But I'll be damned if I don't do all I can to increase the odds and live life."
In 2014, Beaty appeared on an episode of the TV show "Extreme Makeover: Weight Loss Edition," in which he helped Brandi Mallory lose 150 pounds, and they completed a half Ironman together.
"It changed the trajectory of her life forever, how she viewed herself," he said. "Seeing the joy and light in her eyes that followed that has truly been life-changing for me as well. If I could say to anyone running these races to find someone you think could never pull it off and help them go do it, your life would never be the same."
After undergoing chemotherapy treatment and then having part of her lung removed when her colon cancer returned a few years ago, Beaty's mother will celebrate her 65th birthday in a few days.
For Beaty, the battle continues.
"Even to this day, it's still very much part of our lives," he said. "She has a scan the day after her birthday. You get nervous every time. I don't know if it's something that really ever leaves your mind.
"At the end of the day, all we can do is decrease the odds."
n NOTE — A health and fitness expo that's free and open to the public is scheduled for 11 a.m. to 7 p.m. today and 9 a.m. to 7 p.m. Saturday at the Las Vegas Convention Center.
— Contact reporter Todd Dewey at tdewey@reviewjournal.com or 702-383-0354. Follow him on Twitter: @tdewey33