Summer sluggers a big hit in collegiate league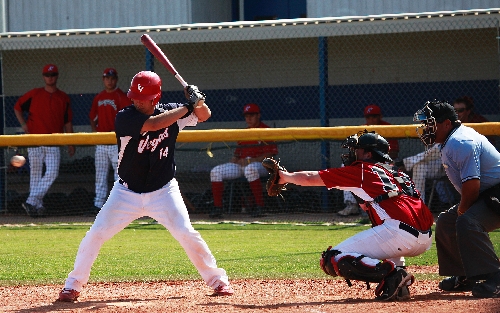 Don't let the superstar dreadlocks or "Hollywood" inscription on his Oakley sunglasses give the wrong impression — Marvin Campbell knows he still has plenty to prove to Division I baseball and UNLV.
This summer, he's making the most of his chances.
After a back injury sidelined Campbell early in his junior season, the former College of Southern Nevada outfielder has come out strong with the Las Vegas Summer Baseball Club in the California Collegiate League.
"Having that injury and having to miss all that time off that I did, being able to come back in a great league and play these great D-I guys and swing a wood bat, it helps," said Campbell, who is batting .250 with a .396 slugging percentage in CCL play. "Being able to come out at this level shows what I couldn't show during the spring season."
Campbell was recently named to the roster for the 2011 CCL All-Star Game, which will be played Wednesday in Glendale, Calif., and televised live at 6 p.m. on Fox Sports West. Former Bishop Gorman standout Brandon Garcia, former CSN players Jordan Stewart and Chipper Smith, and infielders Greg Bird, Duncan Blades and Kyle Bilbrey round out Team Vegas' all-star selections.
Campbell, a 6-foot-4, 235-pound outfielder/first baseman brings high-level experience to the summer ball club, Team Vegas manager Buck Thomas said.
Campbell hit .310 in 14 games at UNLV, which followed a sophomore season at CSN that saw him bat .302 with a .599 slugging percentage as the Coyotes advanced to the National Junior College World Series.
"He finally has a chance to get healthy, play in front of a hometown crowd, and run out every day," Thomas said of Campbell. "We look to him for leadership. He's been around the block a bit, with CSN and the JUCO World Series. To get him here, and get him some confidence when he's healthy, it helps. He's a team leader, both on and off the field."
In the summer, Campbell's bat has flourished for Team Vegas (12-9-1, 9-7-1 CCL). He has hit safely in 15 of 19 games, including five multiple-hit games and a six-game hitting streak early in the season.
"I've tried to be accountable," said Campbell, a former three-sport athlete at Las Vegas High. "There's one saying that I write on my hat every game: 'When the lights are on, it's time to perform.' It's something that I go by. You've always got to come out and compete. I try to be the best at anything I do."
Utility player Garcia, a 2008 Gorman graduate, also has plenty to show before his junior year at Southern California — most importantly to his parents.
Garcia has traveled across the Pac-10 and spent summers with the Alexandria (Minn.) Beetles of the Northwoods League, spending less than three months at home over the past four years before he joined Team Vegas.
"The parents are real happy I'm here for about three months," said Garcia, who is hitting .349 while playing all three outfield positions, first base and pitcher. "They miss me, and it kills them not to be able to go to every game in the spring. But they can catch every home game here, fortunately."
The versatile 6-foot-1 righthander also has a 2-0 record with a 1.20 ERA and 15 strikeouts.
"Coming back home, you've already played with these guys and against these guys, so they're familiar faces," Garcia said. "You don't have to go into a new team, feel awkward and build new friendships. You recognize these players from high school. You can reminisce on old stories, and it's fun."
The familiar setting provides a haven for local talent to return to Southern Nevada while playing in the third-ranked collegiate league by Baseball America.
"It's neat to see (Garcia) come home after three years of college, play in front of a home town crowd, and be with us," Thomas said.
"That's the goal behind Team Vegas: to give our local kids an opportunity to get out and show who they are. Sometimes our local guys leave town and get lost in the mix. This is an opportunity to come and show they can play at the highest level of college baseball."
Contact reporter Sean Walker at swalker@reviewjournal.com or 702-383-0430.