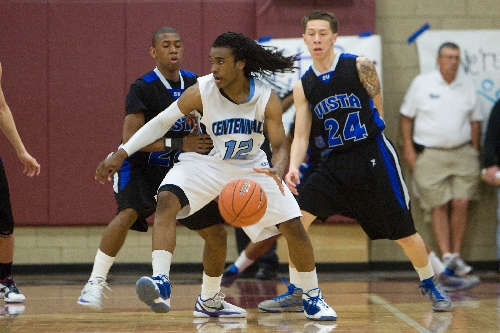 On the eve of the Sunset Region boys basketball playoffs, Sierra Vista had a team meeting and talked about the importance of starting well in the second halves of postseason games.
Apparently the players were listening.
A 10-0 run out of halftime put the Mountain Lions in control of their Sunset Region semifinal on Thursday night, en route to a 56-44 victory over Centennial at Desert Oasis.
Sierra Vista (24-5) advances to the Sunset title game at 7 tonight at Desert Oasis against Bishop Gorman (24-5). The Gaels defeated Palo Verde 90-73 in Thursday's other semifinal.
The winner earns a berth in next week's Class 4A state tournament. The loser will play the loser of the Sunrise Region championship game Tuesday for a state berth.
"We had a long meeting Monday about the third quarter being our most important quarter," said Sierra Vista guard Viko Noma'aea, who finished with 13 points, seven rebounds and six assists. "We came out and put the defensive pressure we wanted on them, and we took advantage of those turnovers."
The Mountain Lions trailed 25-24 at halftime but led for good after the decisive burst to open the third quarter. During the stretch, Dallin Molina scored a pair of baskets in the lane, Maiscei Grier and Justice Odabi each hit a 3-pointer, and Noma'aea had a breakaway dunk.
Sierra Vista also used a successful third quarter to win the program's first-ever playoff game over Cimarron-Memorial on Tuesday.
The defense spurred Thursday's run by forcing four turnovers.
"We just picked up the pressure. Our top guard was putting a lot of pressure on (their ballhandlers). We just pushed those guys to the corners and forced a lot of turnovers," said Grier, who finished with a game-high 18 points, including four 3-pointers.
Grier added a second 3-pointer just before the buzzer as Sierra Vista closed the third quarter with a 17-4 advantage and a 12-point lead.
"We were a little shaky in the first half. (We relaxed) and took control of the game offensively and defensively, especially defensively," Grier said. "A lot of steals and turnovers gave us a little excitement, and we were able to cruise through the rest of the game."
Sierra Vista was also helped by an injury to Centennial's leading scorer, Aaseem Dixon, who hobbled through the final three quarters after suffering a leg injury in a first quarter in which he scored all nine of his points. Marcus Allen also scored nine points for the Bulldogs (23-5).
■ Bishop Gorman 90, Palo Verde 73 — The Gaels got 31 points and seven rebounds from Shabazz Muhammad as they cruised past the Panthers (17-7).
Ben Carter added 22 points, 13 rebounds and five blocked shots for Gorman.
The Gaels closed the second quarter on a 24-12 run to turn a tie game into a 40-28 halftime edge.
"In the middle of second quarter, we kind of got it up to about 10 or 12 and felt like the momentum started to change a bit, but they kept it close," Gorman coach Grant Rice said. "It was a bit of a frustrating night for us defensively, but that's a credit to the Palo Verde players and coaching staff."
The Gaels built the lead as high as 22 points in the third quarter. Palo Verde got within nine at 77-68 with 4:12 left in the fourth before Rosco Allen, who had 14 points, seven rebounds and six assists, buried a 3-pointer to extend the lead to 12, and the Panthers never got closer.
Ryan Parks knocked down four 3-pointers as part of his 14-point night for Gorman, which defeated Sierra Vista 85-71 and 90-80 in Southwest League play.
Sierra Vista coach Kent Johnson said his team is up to the challenge and has the advantage of playing with no pressure.
"This is uncharted territory for us — me as a coach, this team, Sierra Vista as a high school. We had never won a playoff game before this year, so this is big already," Johnson said. "We know that everybody in the world expects them to win, so we feel we can come in loose and aggressive and see what happens.
"They're fantastic and we have all the respect in the world for them, but we'll see what we can do."
Contact reporter Adam Hill at ahill@reviewjournal.com or 702-224-5509.
In-depth high school sports coverage
Centennial vs. Sierra Vista