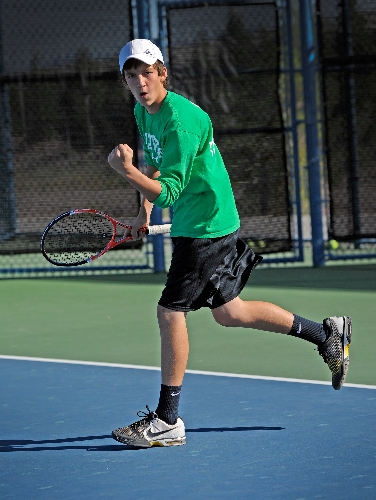 Zack Surmacz readily admits he's had trouble finishing off tennis opponents.
The Palo Verde sophomore has the ability to grab a sizeable lead but sometimes struggles to complete sets.
In a pivotal set against Centennial's Travis Beck on Friday, Surmacz raced to a 3-0 lead – and promptly lost the next four games.
But Surmacz recovered, holding serve twice and breaking once to rally for a 6-4 win in singles that helped the Panthers to an 11-7 victory over Centennial in the Sunset Region final at Darling Tennis Center.
Palo Verde (13-0) advanced to the state semifinals on Oct. 20. Centennial (10-2) will meet Green Valley in a state play-in match on Oct. 17.
"That's my weakness, being able to close out the match," said Surmacz, who nearly lost a 5-0 lead in one of his sets on Thursday. "That just came like a flashback, that this was just like yesterday. At 3-4, I just really stayed focused and stuck to the game plan."
It was a huge win for Surmacz against Centennial's No. 1 singles player and allowed the Panthers to take an 8-4 lead and momentum into the final round.
"That was a tide turner," Palo Verde coach Zach Brandt said. "Everybody got to see that finish the second round, so they were motivated to wrap up the third round."
Surmacz finished 2-1 in singles and Palo Verde showed its depth by capturing seven of the nine doubles matches.
Tanner Berkabile and Pascal Nilsson led the way in doubles, going 3-0. Ozzy Abraham and Bailey Swainston were 2-0 in doubles.
Lucas Lee was 3-0 and Beck 2-1 in singles for Centennial. Brandon Fish and Greg Madsen were 2-1 in doubles.
GIRLS
Bishop Gorman's bid for a fifth straight region title was hijacked by The Meadows last season.
On Friday, the Gaels got their title back, getting strong play from two freshmen in singles and a veteran presence in doubles to down Palo Verde 12-6 at The Meadows.
Gorman (12-1) advanced to the state semifinals on Oct. 20. Palo Verde (12-1) will meet Liberty in a play-in match on Oct. 17.
"It's nice. We knew we had some good players, and we knew we had a chance," Gorman coach Gordon Hammond said.
Sarah Bessen, normally the Gaels' top singles player, shifted to doubles and teamed with Erika Silvestri to go 3-0.
"We didn't think anyone could beat Victoire (Saperstein)," Hammond said of Palo Verde's top singles player, who went 3-0. "Sarah wanted to help the team."
Freshmen Brooke Swallow and Chelsea Crovetti each went 2-1 in singles, and the doubles teams of Morgan Matley and Taylor Larreau, and Lexi Sorrentino and Addie Gardner both went 2-1 for the Gaels.
Contact reporter Bartt Davis at bdavis@reviewjournal.com or 702-380-4587.
In-depth high school sports coverage