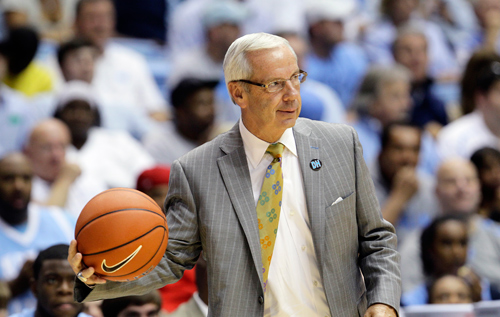 Most college basketball coaches would downplay the importance of their team being No. 1 in the nation when it's only late November.
Not Roy Williams.
The Hall of Fame coach isn't running from the fact North Carolina (4-0) sits atop the polls heading into today's third round of the Las Vegas Invitational at Orleans Arena. Instead, he's embracing the situation.
"We think we're pretty good," said Williams, whose squad faces South Carolina (2-2) at 7 p.m. "I like our guys. They're a hard-working bunch.
"A lot of college basketball teams are young. We don't mind being ranked up there. But we have to maintain their hunger and focus."
Williams was fortunate that three of his top players — Harrison Barnes, Tyler Zeller and John Henson — all decided to remain in school and not turn pro last spring. A fourth, sophomore point guard Kendall Marshall, has been just as important as he's quickly developing into a quality player.
"We have more stability and experience," Williams said. "We have the potential to be an exciting team."
And a well-traveled one.
The Tar Heels are already making their second trip west this season. Two weeks ago in San Diego, North Carolina got to experience something special when it played Michigan State on the deck of the aircraft carrier USS Carl Vinson.
With the backdrop of a dramatic sunset, and with President Barack Obama in the audience, the Tar Heels handled the Spartans, 67-55. The only member of the Carolina delegation that couldn't fully enjoy the moment was Williams. He suffered a vertigo attack while boarding the ship and while he was able to coach his team, he was far from 100 percent.
"It was a wonderful, wonderful experience," he said. "The kids loved it. We got to do some special things, put smiles on some faces and say 'Thank you' to the men and women who keep us safe every day."
Williams said he has had nine major vertigo attacks over the years. But he claims that he's fine, and unless today's game gets moved from the Orleans to the pirate ship at Treasure Island on the Strip, Williams should have no problems in his return to Las Vegas.
In 2007, the Tar Heels won the Las Vegas Invitational, beating Old Dominion and Brigham Young. It helped lay the foundation for a run to the Final Four in San Antonio, and Williams is hoping history repeats itself this weekend — with one major exception.
"The last time we were in Vegas, we lost Ty Lawson," Williams said. "We don't need any injuries this time."
North Carolina has broken the century mark in both of its LVI home wins against Mississippi Valley State (101-75) and Tennessee State (102-69), and may play UNLV in Saturday's nationally televised championship game on ESPN2.
The Rebels (5-0), face struggling Southern California at 4:30 p.m. and a win over the Trojans (2-3), coupled with a win by the Tar Heels over the Gamecocks, would pit Dave Rice's team against North Carolina. And, just like he doesn't flinch at being No. 1, Williams likes the idea of playing UNLV in Las Vegas.
"The possibility of playing UNLV is good for us," Williams said. "It would be a chance to play in front of a hostile crowd and that experience will help us down the road."
Contact reporter Steve Carp at scarp@reviewjournal.com or 702-387-2913. Follow him on Twitter @stevecarprj.
LAS VEGAS
INVITATIONAL
At Orleans Arena
Today's Schedule
• Tennessee State (2-3) vs. Mississippi Valley State (0-4), 11:30 a.m.
• Morgan State (0-4) vs. Cal Poly (2-2), 2 p.m.
• Southern California (2-3) vs. UNLV (5-0), 4:30 p.m.
• South Carolina (2-2) vs. North Carolina (4-0), 7 p.m.