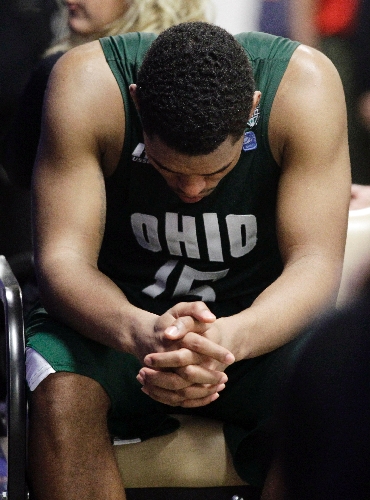 ST. LOUIS — The last of the little guys gave North Carolina a massive scare.
Harrison Barnes scored five of his 12 points in overtime and the top-seeded Tar Heels avoided a huge upset with a 73-65 victory over No. 13 seed Ohio on Friday in the Midwest Region semifinals.
Ohio, trying to become the first team seeded 13th or worse to make the region finals since the NCAA Tournament expanded in 1985, had a chance to convert a three-point play that would have given the Bobcats the lead with 25 seconds left in regulation. Walter Offutt missed from the line, however, and Ohio went 0-for-6 from the field in the first overtime of this year's tournament.
"One free throw away," Offutt said. "As a leader on this team, I take responsibility that I've got to hit that free throw. … It just feels terrible to kind of let my team down in that sort of way."
Tyler Zeller finished with 20 points and a career-high 22 rebounds for North Carolina, which sorely missed injured point guard Kendall Marshall. The Tar Heels (32-5) had three players with double-doubles for the first time in an NCAA Tournament game: Reggie Bullock had 17 points and 10 boards, and John Henson had 14 points and 10 rebounds.
Freshman guard Stilman White was an impressive fill-in for Marshall, dishing out six assists without a single turnover and playing 32 minutes — almost three times his previous high.
"We feel like we got away with one," Zeller said. "Ohio played the better game, they hit a lot of shots. I think we just were able to make a lot of plays at the end that made us capable of pulling it out."
Offutt led the Bobcats (29-8) with 26 points, including 18 from 3-point range, and Nick Kellogg added 14. But D.J. Cooper, who averaged 20 points in Ohio's first two tournament games, finished with 10 on 3-for-20 shooting.
"I've been getting those same shots all tournament," Cooper said. "I've been making them, and tonight I just didn't get the job done."
North Carolina, which has won 11 straight in the regional semifinals, plays second-seeded Kansas (30-6) on Sunday.
"It means a heck of a lot," said Tar Heels coach Roy Williams, "but we've got to play better than we did today."
That's for sure — especially since the Tar Heels are unlikely to have Marshall, the steadying hand behind their fast-paced attack. The left-handed guard broke his right wrist Sunday against Creighton. He had surgery Monday to put a screw in the wrist and got his cast off Wednesday.
Though Marshall said the wrist is improving, he didn't even dress Friday, sitting on the bench in a suit.
"He still hasn't done anything," Williams said when asked about the prospects of Marshall returning Sunday. "But North Carolina's going to play on Sunday. We're happy about that."
Barnes was dismal, flirting with a season low in scoring as he went 3-for-16. But his teammates weren't much better, turning the ball over a season-high 24 times and shooting 40 percent, six percentage points below their average.
"They don't play like a 13 seed," Henson said. "It was a great game."
After trailing by as much as 15 in the first half, the Bobcats got hot from long range. Ohio, a 10½-point underdog, was 8 of 13 from 3-point range in the second half, with Offutt doing most of the damage. He made a 3-pointer to start a 14-5 run and hit two more during the stretch, which pulled the Bobcats to 42-41 with 10:23 to play.
After Zeller's layup and a dunk by James Michael McAdoo, Cooper hit his only 3 of the game. Kellogg came right back with another to give Ohio its first lead, 47-46, with 8:28 to play, and the Ohio faithful — plus all the new fans the Bobcats picked up — went into a frenzy.
Bullock made a 3-pointer to give North Carolina a 63-61 lead with 39 seconds left, but Offutt — who else? — scored on an off-balance drive and drew a foul from White. Offutt's foul shot was way left, the only free throw the Bobcats missed in eight attempts, and Zeller grabbed the rebound.
"It's just like him to take responsibility for the loss because that's who he is," Bobcats coach John Groce said of his senior, a transfer from Ohio State by way of Wright State. "But the reality of it is, that doesn't fall on him."
The Bobcats had nothing left in overtime. Bullock opened the extra period with a 3 and Barnes came right back with a jumper. After Kellogg made a pair of free throws to cut it to 68-65, Barnes made a pair of his own and Ohio could never get any closer.