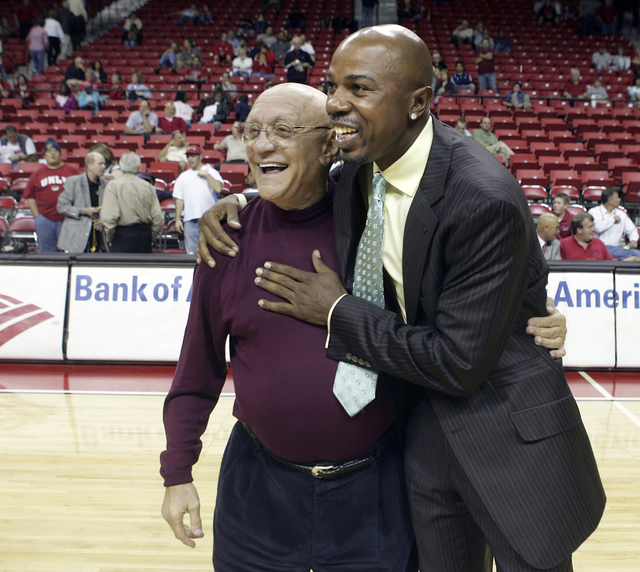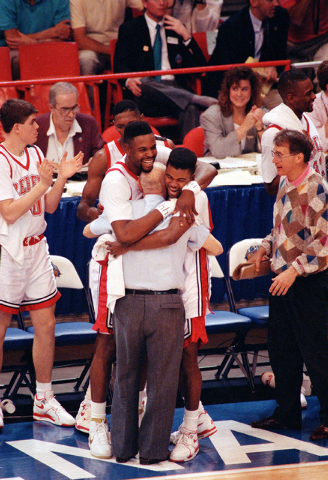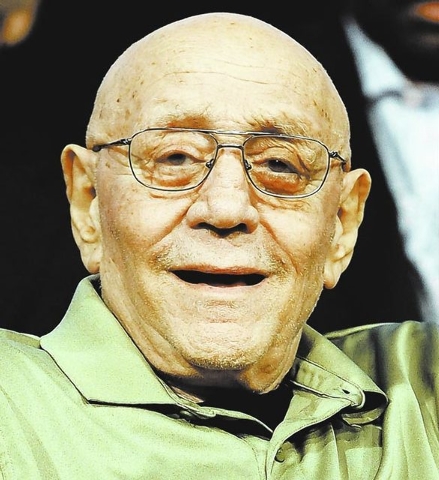 SPRINGFIELD, Mass. — Reggie Theus was fighting back the tears. Greg Anthony wasn't so lucky. He needed a handkerchief.
The two UNLV basketball legends were emotional Sunday as they watched their college coach, Jerry Tarkanian, gain induction into the Naismith Basketball Hall of Fame. They were among several former players, assistants and staff who made the trip to witness what they said was long overdue.
"When I saw him and I saw that smile on his face, I almost lost it," said Theus, a member of UNLV's first Final Four team in 1977 and now the coach at Cal State Northridge. "He said to me, 'Reggie, I knew you were going to be a coach,' and the hairs on the back of my neck stood on edge."
Anthony, a Rancho High School product whose point guard play helped UNLV to the 1990 national championship and a return trip to the Final Four in 1991, said: "It got a little melancholy for me. To see him up there go into the Hall of Fame and see him so happy with that smile on his face, I cried."
Tarkanian, 83, said getting to share the greatest honor of his basketball life with his former players and coaches was one of the highlights of the weekend.
"They're such great guys," Tarkanian said. "That made this so much more special."
Larry Johnson, who drove from New York to attend the ceremonies at Springfield Symphony Hall, said: "Coming up here, I was still bitter that they had kept my coach out all these years. He should have been in the Hall of Fame a long time ago. But being here today, watching him go in and seeing him so happy, I don't care. It was great that he got in, and that's what matters."
Dave Rice, the current UNLV coach who played and coached for Tarkanian from 1989 to 1992, said: "It was very emotional for me to see him go in and see him enjoying himself. It was wonderful. It made me feel really good inside to see him honored like this."
Tim Grgurich, Tarkanian's assistant from 1981 to 1992, said the induction was heartwarming.
"For a lot of us coaches and for a lot of players, and I think I can speak for them, Coach Tark gave us an opportunity to be successful," Grgurich said. "He did so much for us. No one deserves this more than he does."
Paul Biafore, the head student manager in 1990, said every player and coach can share in the joy of Sunday.
"I believe a little piece of all of us went in with Coach," Biafore said. "I didn't know what it meant to work hard until I got to UNLV, and Coach Tarkanian showed what was possible if you worked hard. It's an honor to be here and see this."
Tarkanian also left a lasting impression during his brief NBA career with the San Antonio Spurs, for whom he went 8-12 before getting fired in December 1992. Tom Thibodeau, the current coach of the Chicago Bulls who was an assistant on Tarkanian's San Antonio staff, said he learned a lot from him.
"His leadership stood out, as did his ability to communicate and to lead," Thibodeau said. "He spent time with every player, and they could see the sincerity and honesty he had.
"It's very unfortunate that he only lasted 20 games, but that's the NBA. But in the short time I was with him, I learned how to deal with people through watching him, and he's made me a better coach."
John Welch, who coached for Tarkanian at UNLV and Fresno State and currently is an assistant with the Brooklyn Nets, said he wouldn't be in the NBA today if Tarkanian hadn't given him a chance in 1986.
"I think he's the most underrated coach in the world," Welch said. "He did so much for so many young coaches. I'll always be grateful for him giving me a chance. I feel very blessed.
"I know it meant a lot to him to have his players share this day with him, but it meant a lot to me to be here for him."
Contact reporter Steve Carp at scarp@reviewjournal.com or 702-387-2913. Follow him on Twitter @stevecarprj.