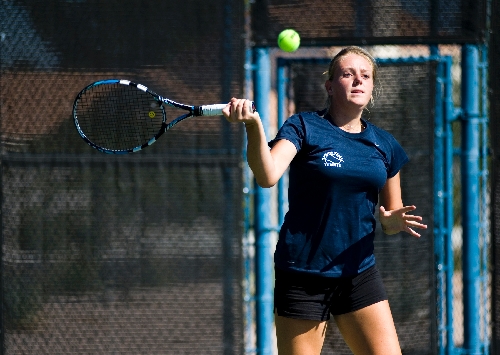 Tiffany Tavares needed only 40 minutes Saturday to complete a journey that lasted three years.
Having encountered heartbreak in two previous Class 4A state tennis tournaments, the Spring Valley senior wasn't about to let her final chance at a singles title slip away.
Instead, Taveres dominated the final, needing less than an hour to defeat Bishop Gorman freshman Chelsea Crovetti 6-0, 6-1 at Darling Tennis Center for the first state tennis title in school history.
Tavares finally achieved her goal after losing the state final as a sophomore and the semifinal last year.
"I knew I could do it," she said. "It was a huge mental thing for me. I needed to do this to know that I could do it. I finally got over that hurdle."
Tavares, who lost only one game during her morning semifinal against Silverado's Jordan Minnick, never let Crovetti into the match, winning the first set in 17 minutes.
"I like how (Crovetti's) game matches with my game," Tavares said. "(Minnick) plays very flat, and because I'm very tall, I don't like that. (Crovetti) plays more spin, and I like that. After a couple games, I started feeling really good."
Crovetti was a bit of a surprise finalist, rallying to beat Palo Verde's Victoire Saperstein 2-6, 6-4, 6-3 in the semifinal.
A measure of redemption also was won in the doubles final, in which The Meadows junior sisters Amanda and Taler Brazell rebounded from a loss in last year's final to hold off Liberty's Aphrah Brokaw and Ashley Wao-Udin, 6-3, 6-4.
"They were the toughest opponents we've had, and we didn't want to repeat last year," Taler Brazell said. "We felt like we lost emotionally last year."
In the 2010 final, Brokaw teamed with Danae Ingwaldson to defeat the Brazells. This time, the Brazells won the first set, but began having flashbacks after falling behind 3-0 in the second.
"They played really well, and they mixed things up against us," Amanda Brazell said. "We just had to work together more."
The Brazells controlled the net, often pinning the Liberty juniors against the baseline and not giving away many free points.
"They tried to poach a lot," Amanda Brazell said. "We wanted to take that away from them."
Contact reporter Bartt Davis at bdavis@reviewjournal.com or 702-387-5230.
In-depth high school sports coverage