November 6, 2008 - 10:00 pm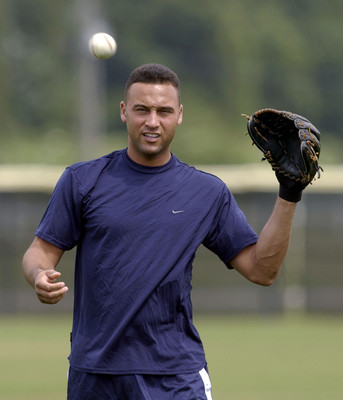 When it comes to power hitting, no one can launch bombs quite like Denny Crine. The 6-foot-6-inch, 300-pounder has a sweet swing and the physique of a cleanup hitter.
But he's not a coveted New York Yankees prospect, and he has no future as a major leaguer.
Crine, 34, is a teacher at Mannion Middle School in Henderson.
In late September, Crine won the LongHaul Bombers competition — a slow-pitch softball home run derby — and was crowned the national home run king.
A 1992 graduate of Basic High School, Crine advanced through qualifying rounds at major league parks in New York, San Diego, San Francisco, Seattle and St. Petersburg, Fla. He hit nine homers in 15 swings and then survived a sudden-death round to win the finals at the Metrodome in Minneapolis.
The finals were staged before a Chicago White Sox-Minnesota Twins game, and Crine said his last homer was "pushing 500 feet." The proof can be seen on YouTube videos and at softball360.com.
"We got good crowds, and the fans got pretty fired up because of the distance the ball travels," said Crine, who was sponsored by bat manufacturer Miken.
Baseball's home run king is Barry Bonds, but he has a beach ball-sized head and an asterisk next to his name. Accusations of steroid use haunt Bonds and many other major league sluggers.
If a Mitchell Report was done on softball players, Crine said a lot of names would be on it — but not his name.
"There's actually a lot of them who are steroid users," Crine said. "If you look at some of the guys, it's pretty easy to tell. Softball is not a regulated sport, so no one really cares. But I don't want to say they encourage it.
"I've never done anything like that. I take pride in knowing that it's something natural, that I have a natural talent rather than a chemically enhanced talent."
At one time, Crine was a talented pitcher. After attending junior college, he was a seventh-round draft pick by the White Sox in 1994, and he played three years in the minors.
For being the LongHaul Bombers champ, Crine won a Harley-Davidson Viper chopper valued at $40,000.
"I plan to sell it," he said, "because I don't know how to ride one."
• NO GLOVE FOR JETER — A group that tracks every ball hit in the majors ranks the Yankees' Derek Jeter among the worst fielders in baseball, according to the New York Post.
Bill James, author of "Baseball Abstract," and a panel of nine other voters ranked Jeter 22nd among all shortstops, with one calling Jeter "the least effective defensive player in the major leagues."
Jeter blamed a similar statistical study that gave him a low defensive rating on a "computer glitch."
But there is plenty of proof that Jeter can play the field — Jessica Alba, Jessica Biel, Mariah Carey, Vanessa Minnillo and Scarlett Johansson, among others.
Alex Rodriguez, on the other hand, erred with the 50-year-old Madonna, who doesn't look a day over 60.
COMPILED BY MATT YOUMANS REVIEW-JOURNAL