Texas football players speak out, say coach told them to level referee
September 18, 2015 - 11:11 am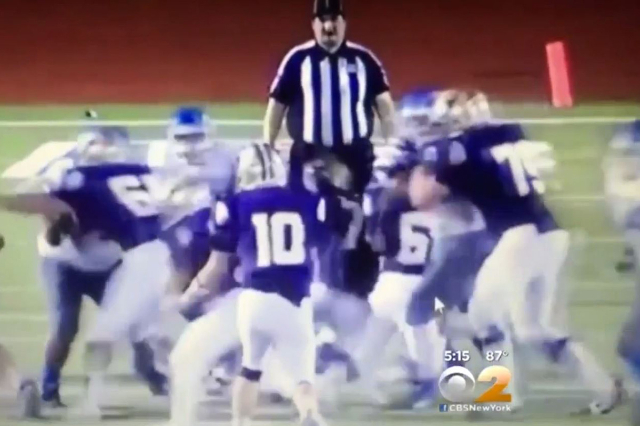 Two Texas high school football players who were suspended from the team and school after leveling a referee during a game on Sept. 4 spoke out on Good Morning America Friday morning.
The John Jay High School players say they crashed into the referee, blindsiding him from behind, because their coach told them to.
"You put your trust into this grown up, a guardian, your coach who has been there since, for me, since my sophomore, freshman year," Michael Moreno, 17, told Good Morning America. "I trust him, you know, that he wants the best for me and I just did what I was told."
Moreno says the coach, Mack Breed, and assistant coach, pulled him and another player aside and told them, "You need to hit the ref. He needs to pay the price." Moreno then got the message to Rojas once back out on the field.
Breed is currently on paid leave, according to Good Morning America, and has yet to comment on any of the allegations.
Video of the incident shows Moreno and Rojas intentionally colliding with the referee. The players have alleged that the referee, Robert Watts, directed racial slurs at players.
"He told one of my hispanic friends, 'speak english this is America,' and then to an African American on our team he told him the n word," Victor Rojas told Good Morning America.
Watts's attorney told ABC News that he did not use racial slurs on that field that night.
Moreno says what happened that night doesn't show who he really is.
"Everyone sees me as this thug or gangster or I did this because I'm a bad guy," Moreno says. "That's not who I am. Underneath the helmets and the pads, I'm really a great kid."
Rojas also says he regrets the actions he took that night.
"I'd apologize for the mistake that I made," Rojas said if he could talk to the referee.
Texas police are still investigating the incident.
Contact Kira Terry at kterry@reviewjournal.com. Find her on Twitter: @kiraterry
Like Sports News on Facebook: