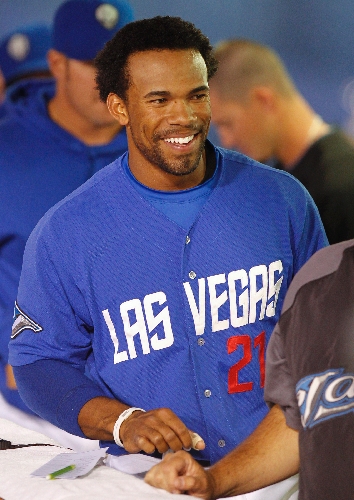 After starting the season with the Blue Jays and batting .308 in April, left fielder Eric Thames hit only .193 in May before being optioned to Las Vegas on May 30.
"They wanted me to just relax, take a breather and kind of get back on the right foot. I've been doing that," Thames said. "It took me by surprise, but it's part of the game.
"I'm just thinking about getting back up there (to Toronto) and getting on a roll."
The chiseled Thames, 25, homered in his first game for the 51s and is batting .237 (9-for-38) with two home runs and five RBIs in 10 games with Las Vegas.
He was 0-for-4 with a sacrifice fly as the 51s (36-28) rolled to a 13-3 victory over Tucson (21-43) on Monday night at Cashman Field.
"I'm still figuring things out, but I'm going to get hot real soon," he said.
A fourth-year pro, Thames made his major league debut with Toronto on May 18 last season and hit .262 with 12 homers, 37 RBIs, 24 doubles and five triples in 95 games. He was unable to match that production with the Blue Jays this year, batting .243 with three homers, 11 RBIs, seven doubles and a triple in 46 games.
"A lot of balls were right at people and a lot of balls I just missed," he said.
After starting the season on a hot streak, Thames became mired in a slump in May and began to press at the plate.
"Pressing is a natural thing," he said. "That's what I did and things got compounded and here I am now."
When the Blue Jays sent Thames to Las Vegas, Toronto manager John Farrell said it was to give him a bit of a breather and hopefully get his mind clear.
"Just to get him back to his normal self," 51s manager Marty Brown said. "To give him a chance to regroup, get his swing together and go back up there with a positive attitude."
Thames is embracing that approach.
"I feel fresh and able to focus on getting back up there," he said. "It's just different here because you're not under the microscope as much and you can just focus on doing your thing and not worry about people being too critical of you.
"It's less invasive and less intense."
A seventh-round draft pick out of Pepperdine in 2008, Thames spent his first pro season in Single A in 2009 and blossomed the next year at Double-A New Hampshire, batting .288 with 27 homers and 104 RBIs. Last year, he hit .352 with seven homers and 45 RBIs in 53 games for the 51s.
"It's just a need situation now (in Toronto)," Brown said. "If Eric starts swinging the bat the way he did last year, I'm sure they'd find a spot for him."
■ NOTE – Vladimir Guerrero's 4-for-5 night boosted his average to .303 (10-for-33) in eight games for the 51s.
Contact reporter Todd Dewey at tdewey@reviewjournal.com or 702-383-0354.
LAS VEGAS — 13
TUCSON — 3
KEY: Adam Lind homered twice and had a bases-loaded double for a team season-high six RBIs. Vladimir Guerrero went 4-for-5 with a triple and two RBIs.
NEXT: Padres (RHP Bear Bay) at 51s (TBA), 7:05 p.m. today, KBAD-AM (920)