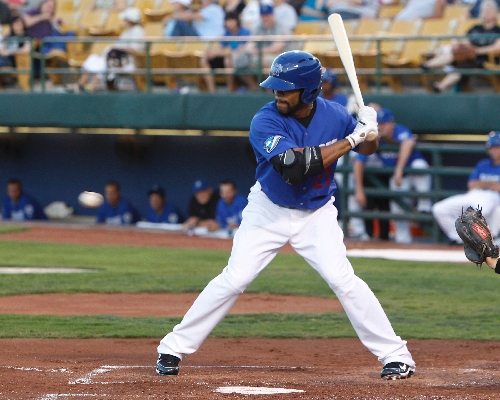 After having his big league debut delayed twice in the span of about a week, 51s left fielder Eric Thames made the most of his first trip to the majors when he finally got there in mid-May.
The thick-armed Thames, 24, batted .286 (12-for-42) with two doubles, a triple and four RBIs in 13 games with the Blue Jays, who called him up from Las Vegas on May 17.
Thames said he was scheduled to go up to Toronto earlier in May to replace shortstop Yuniel Escobar, but the plan was scuttled when it was determined Escobar didn't need to go on the disabled list.
"I kind of was excited, then like immediately let down," Thames said Monday before going 1-for-3 for the 51s in their 3-0 win over Colorado Springs at Cashman Field. "It took two or three days to get my emotions back and I was like, 'All right, if I stay here the whole year, whatever. I'll go out there and put some results together.'
"A week later, they called me up for real."
Las Vegas hitting coach Chad Mottola feigned outrage at Thames before giving him the good news at batting practice.
"I heard 'Motor' screaming at me from the dugout. The guys were like 'Why's he screaming at you?' " Thames said. "I went over and he said 'I'm just messing with you. You're going to "The Show." Go pack your stuff.' "
Thames, a 2008 seventh-round draft pick of Toronto out of Pepperdine, took a red-eye flight to Detroit, where he was penciled in the next day as the Blue Jays' designated hitter against the Tigers.
But as Thames said he was getting mentally prepared to play his first big league game, it was delayed by rain and ultimately rained out, him to wait another restless night to make his debut.
"I was pretty tired. I couldn't sleep on the red-eye, I was too excited," he said. "It was a long day, but the adrenaline made up for it.
"Your adrenaline is always going up there."
Thames went 1-for-3 in his debut against the Rays and finished his first stint in the majors by going 3-for-5 with a triple in a June 1 game against the Indians.
"It was a really big learning experience," he said. "The pitchers are filthy up there. Their (strike) zones are smaller, but their stuff is just disgusting. … So it's just learning to be a little more selective, that's the thing I took out of it."
Blue Jays manager John Farrell agreed the key to success for Thames is being selective.
"When he stays within his strike zone and doesn't chase too many pitches out of the zone, he's got a chance to be a dangerous hitter for us," he said. "He's got a very bright future as a big league hitter.
"The way he handled himself in the box and the confidence (with which) he swings the bat was very, very good to see."
Thames, who was optioned to Las Vegas June 5 to make room for Blue Jays first baseman Adam Lind, said his time with Toronto boosted his confidence.
"It was a challenge for me to be able to jump in feet first," said Thames, batting .328 with six home runs and 33 RBIs for the 51s (36-29). "But I felt I adjusted pretty well. I was getting hot at the end, but Lind came back and hit the ground running.
"Hopefully I'll be back up there again soon and keep doing what I was doing."
■ NOTES — Outfielder Danny Perales was optioned from Las Vegas to Double-A New Hampshire, and outfielder Darin Mastroianni was promoted to the 51s from the Fisher Cats. … Toronto signed infielder Kevin Howard and assigned him to Las Vegas, and 51s outfielder Jason lane was place on the disabled list.
Contact reporter Todd Dewey at tdewey@reviewjournal.com or 702-383-0354.
LAS VEGAS — 3 COLORADO SPRINGS — 0
KEY: Brett Cecil threw a four-hit shutout, with seven strikeouts, and Kevin Howard homered for the 51s.
NEXT: Sky Sox (RHP Esmil Rogers) at 51s (RHP Scott Richmond), 7:05 p.m. today, KBAD-AM (920)