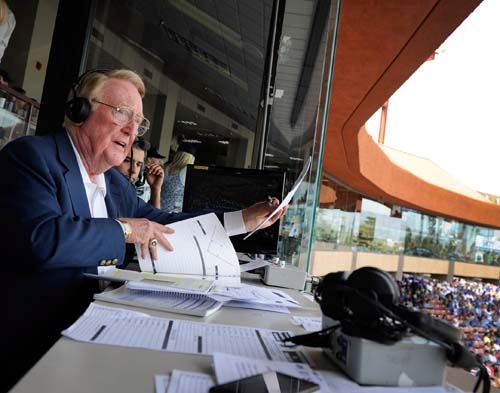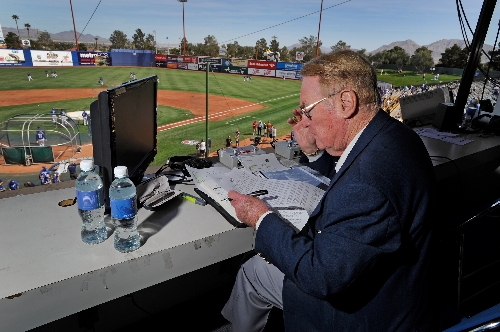 For generations of baseball fans in Southern California and beyond, Vin Scully's voice is the soundtrack to summer.
But for the legendary Dodgers broadcaster, the roar of the crowd is synonymous with the season.
"It's something that hypnotized me when I was 8 years old listening to the only sports they had (on radio) in those days, college football, and I loved the roar of the crowd," said Scully, 83, born and raised in Bronx, N.Y., as a Giants fan. "That, to me, is summertime."
Named the greatest sportscaster of all-time by the American Sportscasters Association, Scully was at Cashman Field on Sunday to call his first Dodgers game this spring for Prime Ticket.
"It will be a good practice game for me," Scully said shortly before Los Angeles' 4-3 exhibition loss to the Chicago Cubs before a crowd of 11,051. "This is a nice low-key day to get a chance to stretch vocally and mentally."
After speculation he'd retire last year, the seemingly ageless Scully announced in August he'd return for an unprecedented 62nd season with the Dodgers.
Since joining the franchise in Brooklyn, N.Y., in 1950, a year after graduating from Fordham, Scully has broadcast three perfect games — Don Larsen in 1956, Sandy Koufax in 1965 and Dennis Martinez in 1991 — and 19 no-hitters.
He has called countless memorable moments, including Hank Aaron's 715th home run and Bill Buckner's error in Game 6 of the 1986 World Series, but is perhaps best known for his call of Kirk Gibson's dramatic home run in Game 1 of the 1988 World Series.
"High fly ball into right field, she is gone," Scully said before staying silent for more than a minute.
"The best thing I did was say nothing and just let the crowd exult," Scully said Sunday. "It was a marvelous moment."
The moment was made more memorable when the master wordsmith uttered the phrase, "In a year that has been so improbable, the impossible has happened."
Scully said God only knows how he came up with those words.
"You know, God is good. Sometimes he'll give me a blessing, and he did then," he said. "Sometimes he'll say that's enough and then I'll draw blanks."
Scully hasn't drawn many blanks in more than six decades behind the microphone, but the humble Hall of Famer disputes the notion that he always knows the perfect thing to say.
"Most of the time driving home, I guess I'm like anybody else in the business," he said. "I have one of those 'Gosh, I wish I would have said,' or 'Gosh, I wish I hadn't said.'
"You always criticize yourself more than you think about what was said properly."
In addition to Dodgers games, Scully broadcast baseball's "Game of the Week" for NBC from 1983-89 and the World Series on CBS Radio from 1990-97.
He also did play-by-play for PGA Tour events and NFL games for CBS from 1975-82, with his most famous football call coming on "The Catch" by Dwight Clark from Joe Montana.
After broadcasting a dozen All-Star Games and 25 World Series, Scully said his most memorable call was when Brooklyn pitcher Johnny Podres shut out the New York Yankees in Game 7 of the 1955 World Series.
"Maybe because I was younger and more impressionable," Scully said. "I was doing the World Series with the great Mel Allen and I happened to be on the last half of the game, so for the only time in history, I was able to say, 'Ladies and gentlemen, the Brooklyn Dodgers are the champions of the world."
Scully, who will only work Dodgers home games and National League West division games this season, said he still gets goose bumps watching baseball.
"I'm still intoxicated by the roar of the crowd," he said.
n NOTES — Carlos Zambrano allowed one run on six hits in five innings for the Cubs (7-10) and also doubled and scored. Starlin Castro and Jeff Baker each went 3-for-3 for Chicago. Rafael Furcal went 2-for-3 with an RBI for the Dodgers (5-13) and Hector Gimenez homered.
Contact reporter Todd Dewey at tdewey@reviewjournal.com or 702-383-0354.
CHICAGO — 4
LOS ANGELES — 3
KEY: Jeff Baker's RBI single with two outs in the bottom of the 10th lifted the Cubs.