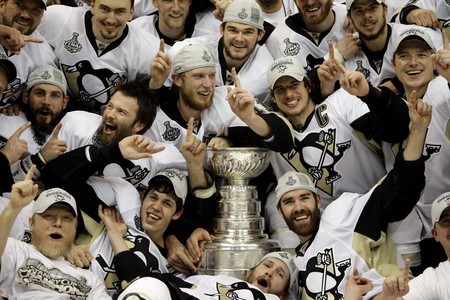 Muhammad Ali was at Joe Louis Arena, perhaps waiting for a fight to break out. One did in Game 7 of the NHL championships, but not in the traditional hockey sense.
The two heavyweights on Friday night were the Pittsburgh Penguins and Detroit Red Wings, and they played a Game 7 for the ages, one that was in doubt into the final frenetic seconds. Ali was upstairs wearing a Red Wings jersey, but the knockout punch was scored by a Pittsburgh team led by a star so young he lives with the owner.
Bad mouth hockey no more. The fastest sport on ice is back.
Sure, the NBA playoffs might beat it in the ratings, but there was a lot to like about a Stanley Cup rematch that featured not only some of hockey's brightest young stars but two teams that staked a claim to a great rivalry that could last years.
Forget for a moment that the NHL still allows its teams to play in places like Phoenix and Sunrise, Fla., where hockey is more of a curiosity than a way of life. Detroit and Pittsburgh are hockey towns, with knowledgeable fans who appreciate everything from a good fight to a great save.
And if the Penguins and Red Wings are the game's future, the future is bright. Hockey, with an assist from high-definition television, has an opportunity to prosper and grow, something that would have been unimaginable a few years ago.
Ratings for Game 7 won't be available for a few days, but without competition from the NBA playoffs, NBC figures to come up with its best numbers in years. If not, they should hang up the skates because the game was as exciting and suspenseful as any final in any sport.
The Penguins, even with star Sidney Crosby on the bench after taking a hard hit in the second period, held on for a 2-1 win that was all the more surprising considering they were blanked 5-0 in the same arena two games earlier. They not only won the first Stanley Cup for Pittsburgh since Mario Lemieux led the team to the title in 1992 but avenged their Finals defeat from a year earlier.
Lemieux now owns the team, and the 21-year-old Crosby rents a room at his house. Hard to imagine that happening in any other sport, but hockey people always have been a little bit different.
What other sport not only engraves the names of players and coaches on its trophy but allows them to take it home and show it off to the neighbors? In what other sport would so many players grow playoff beards because superstition and tradition dictate it?
And what other sport has players who have just gone through either extreme anguish or the ultimate celebration line up to shake each other's hands when it's all over?
Quirky, maybe. But if the thrilling finish to Game 7 didn't do it for you, maybe some of hockey's endearing traits will.
This season's compelling playoffs and the tantalizing possibility of an ongoing Penguins-Red Wings rivalry are just the latest indications that hockey finally is starting to heal from the labor dispute that canceled the 2004-05 season. Credit some of that to the new salary cap and the fact people watching on HD at home can see the puck, but most important were new rules that opened up the game and made it more free flowing.
The fact that no one was fighting in Game 7 wasn't necessarily different from any other Final. No sense risking penalty minutes when every body counts.
What was different from years past was there were no big wrestling matches, no lingering bear hugs and only one hooking penalty. The rule changes implemented after the missed season are working, and two highly skilled teams skating aggressively the whole night showed how much better the game is because of them.
The NHL heads to Las Vegas this week to cap its recent good fortune with an awards show that will be its flashiest ever. It does so basking in the glow of a playoff season that was awfully good even before the epic championship final.
TV ratings are up, and so are revenues even in the midst of a recession. Arenas were sold out throughout the playoffs, and season-ticket holders are standing in line to get renewals.
Hockey remains a niche sport, but that's OK, too. Not everyone grew up on ice, and it's hard for outsiders to feel the same kind of passion toward the sport that people in Canada and parts of the United States do.
But if this keeps up, a lot of new fans might tune in to see what the fun is all about.
Tim Dahlberg is a Las Vegas-based national sports columnist for The Associated Press. Write to him at tdahlberg@ap.org.