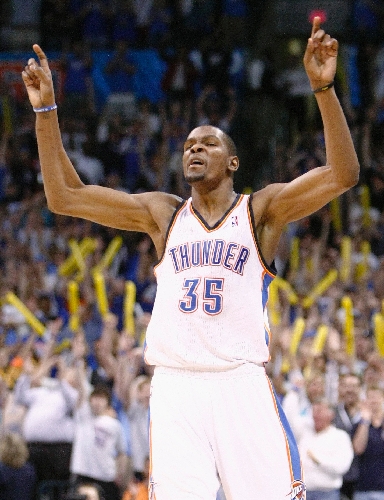 OKLAHOMA CITY — With his All-Star point guard on the bench with three early fouls, two-time NBA scoring champion Kevin Durant took it upon himself to keep the Thunder rolling.
After he did, even the mighty Miami Heat never could recover.
Durant had 28 points, nine rebounds and tied his season-high with eight assists, Kendrick Perkins added a season-best 16 points, and Oklahoma City opened a difficult stretch in its schedule by beating Miami 103-87 on Sunday.
The two contenders opened the day tied for the second-best record in the NBA, three games behind the Chicago Bulls in the race for the top overall seed in the playoffs. West-leading Oklahoma City edged ahead into second, with the rematch 10 days away in Miami.
"I think it was a good test for us," said Perkins, who has set season scoring highs in two straight games.
Oklahoma City took the lead for good in the first four minutes of the second quarter, then built on it after All-Star Russell Westbrook picked up his third foul with 7½ minutes left before halftime.
"We came out and did what we needed to do and protected home court," Perkins said. "Now we've got to move on. I don't think we should ride a rollercoaster over this one win."
The Thunder will travel to face the Los Angeles Lakers and host Chicago next Sunday in their tough 11-day stretch.
Oklahoma City had a season-high 13 steals and forced Miami into 21 turnovers that led to 28 Thunder points. Miami's big three — LeBron James, Dwyane Wade and Chris Bosh — combined for 15 of the giveaways.
"We will own this one," Heat coach Erik Spoelstra said. "They jumped us. Everybody saw it. They had us on our heels and they were the aggressors."
Wade led Miami with 22 points but also committed a season-high six turnovers. Bosh had 18 points and five turnovers, and James ended up with 17 points, seven assists and four turnovers.
"Some of it was attack turnovers and some of it was careless turnovers," James said.