Tide relishing ride on road
November 8, 2008 - 10:00 pm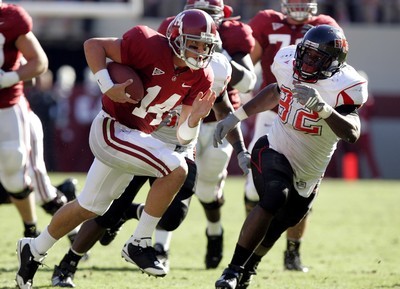 It's homecoming day at Louisiana State, but not the traditional kind. This is a different sort of return, and the uninvited guest is Nick Saban.
The second-year Alabama coach, who led the Tigers to the 2003 national championship, has become public enemy No. 1 to LSU fans.
The top-ranked Crimson Tide (9-0) tries to continue its perfect season as a 3-point favorite over the Tigers in another hyped Southeastern Conference rivalry.
Alabama has been better away from home with decisive victories over Clemson, Georgia and Tennessee.
LSU's passing game has struggled, and the Tigers will find running room hard to come by. The Tide allows 66 yards rushing per game, and humongous defensive tackle Terrance "Mount" Cody is likely to return for this game.
LSU (6-2) was thumped 52-38 by Georgia at home two weeks ago. An afternoon start time should help Alabama's cause.
Tide senior quarterback John Parker Wilson has been a steady leader, completing 60.8 percent of his passes for 1,412 yards and eight touchdowns.
Look for Saban to leave LSU fans feeling sour as Alabama covers the spread.
Other selections for today's games (home team in CAPS):
• VANDERBILT (+24) over Florida: The Gators capitalized on numerous Georgia mistakes last week and scored 49 points on just 373 yards of offense. Tim Tebow is banged up but listed as probable.
Vanderbilt quarterback Mackenzi Adams should benefit from an extra week off, and the Commodores are still looking for the elusive sixth win and bowl eligibility. They won't get it here, but they should stay within the number.
• Arkansas (+13) over SOUTH CAROLINA: The Razorbacks are starting to see some dividends under new coach and offensive guru Bobby Petrino. Casey Dick passed for a career-high 385 yards in last week's win over previously unbeaten Tulsa, and Michael Smith has rushed for 987 yards.
• UCLA (+8) over Oregon State: Beavers quarterback Lyle Moevao injured a shoulder in last week's 27-25 victory over Arizona State and might not start. The Bruins are off a much-needed bye and must win here for any chance at bowl eligibility.
• Baylor (+28) over TEXAS: With their heartbreaking loss at Texas Tech, the Longhorns capped the toughest four-game stretch of any team in the nation. Now they must regroup against an improving Baylor team. The Bears are led by speedy quarterback Robert Griffin, a freshman who threw his first interception in 209 pass attempts this season in a 31-28 loss to Missouri.
• PITTSBURGH (-6) over Louisville: Running back LeSean McCoy is one of the nation's most underrated players, but he got some exposure in Pitt's four-OT win at Notre Dame. Quarterback Bill Stull will return after sitting out last week with a concussion. The slumping Cardinals allowed 207 yards rushing to Syracuse in their 28-21 loss.
• California (+22) over SOUTHERN CALIFORNIA: The Trojans' defense is solid, but the offense has struggled against the Pac-10's better teams. Cal coach Jeff Tedford's teams have played USC tough, and the Bears have enough playmakers to stay within three touchdowns.
• New Mexico (-41/2) over UNLV: Redshirt freshman quarterback Mike Clausen makes his first start because the Rebels lost starter Omar Clayton in last week's 44-14 loss to Texas Christian. UNLV has not stopped the run and now must face Rodney Ferguson, one of the top backs in the Mountain West Conference.
Last week: 2-4 against the spread
Season: 29-31
Barry Holthaus, a handicapper for VegasInsider.com, is providing college football analysis for the Review-Journal this season. He can be heard on "Leroy's Sports Hour" at 10 p.m. Saturdays on KLAV-AM (1230).