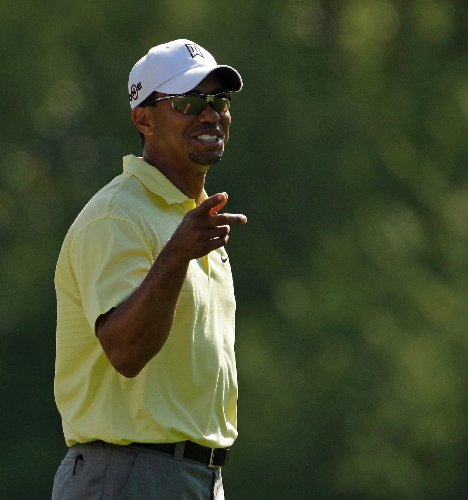 All the media attention surrounding the Masters is boosting action at Las Vegas sports books this week, and it's not because Phil Mickelson and Ernie Els are teeing it up.
The return of Tiger Woods and the circus he has created will make the year's first golf major a business success.
"I'm glad Tiger's back because he certainly generates excitement and action," said Jimmy Vaccaro, director of operations for Lucky's sports books. "We are writing more tickets than I've ever seen. Obviously, it's very simple. It's all because this kid is in the tournament."
Woods is the 9-2 favorite at most books, including Lucky's. The Las Vegas Hilton lists Mickelson as the second choice at 10-1 odds, followed by Els at 12-1.
There are 22 individual matchups posted at Cal Neva books, and Woods is a minus-140 favorite over Mickelson and a minus-150 favorite over Els.
Because of the drama in Woods' personal life and his nearly five-month layoff from competition, he is a smaller favorite than in recent years. Two years ago, he went into the Masters as a 6-5 favorite. His odds were about 9-4 last year, when he was a minus-250 favorite in a matchup against Mickelson.
The Hilton has posted an array of Woods-related propositions, including:
■ Will Woods make the cut? (Yes is minus-700; no plus-500.)
■ Will Woods lead at the end of any round? (No is minus-420; yes plus-350.)
■ What will Woods shoot on his first hole? (Par is minus-180; any other score plus-160.)
For the second year, Vaccaro has posted props on what Woods will score on each of the 18 holes in the first round.
Vegas Insider handicapper Barry Holthaus said he expects Woods to aim for an uneventful first round Thursday.
"I think his goal is to shoot even par and get out of the first round," said Holthaus, who recommends wagering on Woods to record more than 10½ pars at minus-115 in the first round. "You can't win the Masters on the first day, but you definitely can lose it."
Woods is a four-time Masters winner, but has not won the green jacket since 2005.
There is some skepticism about how Woods will perform, given the perception that his game should be rusty. Betting against Woods to win is minus-600.
"It wouldn't surprise me at all if he wins the tournament. He's a freak," Cal Neva sports book director Nick Bogdanovich said. "I guarantee you he was hitting balls every day."
Odds are posted on Woods' number of major wins in 2010: zero (7-5), one (8-5), two (4-1), three (12-1) and four (22-1).
Vaccaro said the early ticket count on the Masters is about double what it was last year. Odds and props will be adjusted after each round, so the best scenario for the books would be for Woods to be in the hunt Sunday.
Woods did not win a major last year, when the four winners were Angel Cabrera (Masters), Lucas Glover (U.S. Open), Stewart Cink (British) and Y.E. Yang, who outdueled Woods on the final day of the PGA.
Contact reporter Matt Youmans at myoumans@reviewjournal.com or 702-387-2907.