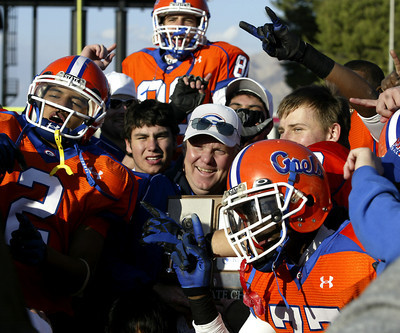 Bob Altshuler won't be back as Bishop Gorman's football coach next season despite a two-year record of 26-2 and a state championship.
Altshuler said he was informed Thursday the school would not renew his contract.
"I came into a meeting with the head of school and the athletic director, and they said they weren't going to renew my contract," Altshuler said. "It's the first I ever heard anything like that."
Athletic director Peter Weinburgh declined comment.
In 2007, Altshuler coached the Gaels to a 14-0 record and the Class 4A state championship. It was Gorman's first state title since 1983.
Gorman had a 12-2 record in 2008, losing 50-14 to Palo Verde in the Sunset Region championship for the only loss to a Nevada school under Altshuler.
"I had a lot of fun for two years and had a lot of great kids," Altshuler said.
He said he had no inclination he might be fired as coach. He said he would remain at Gorman as a dean through the end of the school year.
"I have no idea. I was not told anything," said Altshuler who coached football and wrestling for 30 years in Washington prior to taking the job at Gorman.
"I've never been let go of a job anywhere. I've had extremely strong communications where I came from. I never had a problem. I go by the book. Maybe part of my problem is going by the book and doing it right."
Altshuler said he met with the players to inform them of the coaching change.
"I told them I'd support them 100 percent," he said. "They're awesome young men."
Altshuler said he is undecided about his football future.
"Right now it's just a matter of deciding if I'm going to go into coaching here or go off to a college," Altshuler said. "I'll just explore those options."
Despite being fired, Altshuler had nice things to say about his time at Gorman.
"It's a great school," he said. "Bishop Gorman, there's a lot of real positive stuff here. I really have some great relationships with the Bishop Gorman community, their boosters, their alumni and parents as well as kids."
Contact Prep Sports Editor Damon Seiters at dseiters@reviewjournal.com or 702-380-4587.
In-depth high school sports coverage