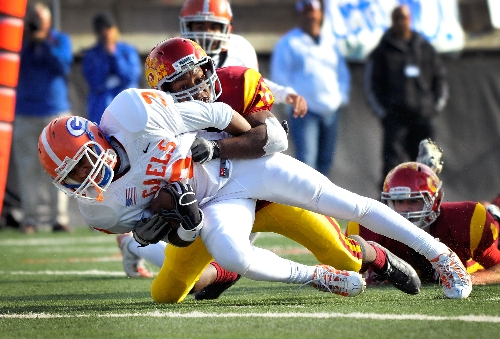 Filming infomercials is hard work.
Now I know what it's like to be that Slap Chop guy (except for the jail time). It'll all be worth it, though, when I get my new business venture rolling.
Look for my late-night commercials advertising my new psychic textline beginning Oct. 10.
Why then?
Is there any better date than 10-10-10 for someone as hot as I am?
And no, I'm not vain, but rumor has it I am getting my own clothing line before long. T-shirts and maybe even hats for the skating psychics (and psychos) out there.
Eric did an OK job filling in for me last week, going 7-1 overall. Good thing I gave him a couple of tips.
I'm shooting for perfection this week, starting with my four to score. For four more, find me on Nevadapreps.com.
■ Del Sol (2-3, 0-1) at Foothill (5-0, 1-0) — I'm starting to think Del Sol coach Preston Goroff could take 11 people who've never seen a football before and turn them into a winning team.
Every year he loses almost everybody, and every year he makes his team relevant.
The Dragons nearly shocked the Southeast League last week before falling to Liberty in overtime.
They'll give Connor Afoa and the Falcons their first real test of the year after five straight blowouts.
The Falcons pass by running Afoa and Kyle Keplinger. Foothill by 8.
■ Bishop Gorman (3-2, 2-0) at Desert Oasis (4-1, 3-0) — Few people believed Eric last week when he picked Desert Oasis to beat Spring Valley.
Maybe they're finally figuring out the Diamondbacks are pretty good.
But there's a giant wall in front of them this week.
Gorman is back from touring the West. Desert Oasis is not De La Salle, and Shaquille Powell and the Gaels won't play a close game again for a while. Gorman by 28.
■ Basic (4-1, 1-1) at Liberty (3-1, 2-0) — The Wolves have to be wondering if their schedule will ever get any easier.
Basic's last three games have all been decided by three or fewer points with defenders Dante Rogers, DeVonte Boyd and Adrian Fleetwood saving the day with interceptions last week against Coronado.
The big meal at the M Resort last week almost cost the Patriots, who survived Del Sol's scare.
Ty Byrd is due for a big rushing game. Liberty by 6.
■ Shadow Ridge (2-2, 0-2) at Arbor View (5-0, 3-0) — Arbor View has a few more hurdles to clear before a final-week showdown with Palo Verde.
If the Aggies keep spreading the ball around the way they did last week against Legacy, they'll have a chance of getting to that Palo game still undefeated.
Shadow Ridge is simply in the wrong league. In the Southwest or the Northeast, the Mustangs would have a shot at being a playoff team.
Instead, they'll be 0-3 in league play. Arbor View by 13.
Last week: Eric was 7-1 (overall), 3-5 (with points).
Season: 34-6 (overall), 26-14 (with points).
Contact Fielder at fielder@nevadapreps.com.
In-depth high school sports coverage