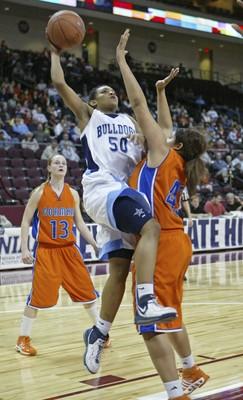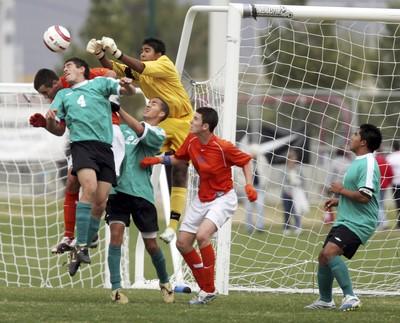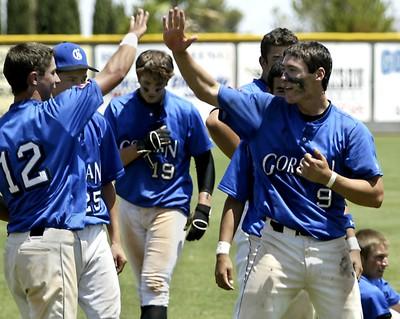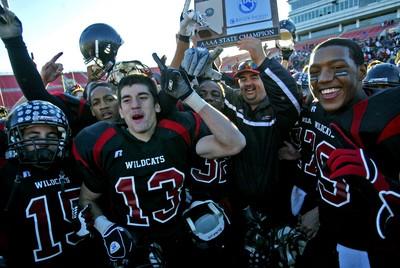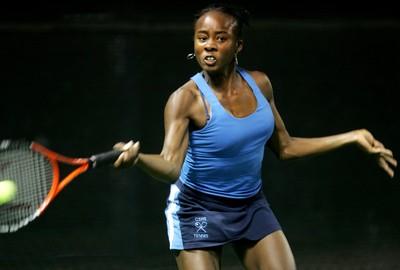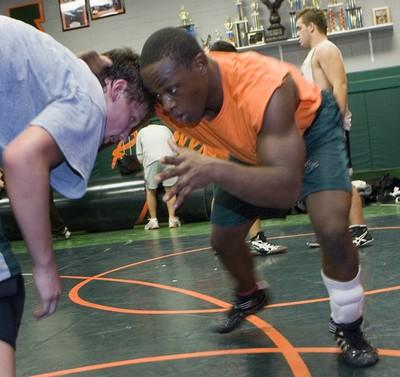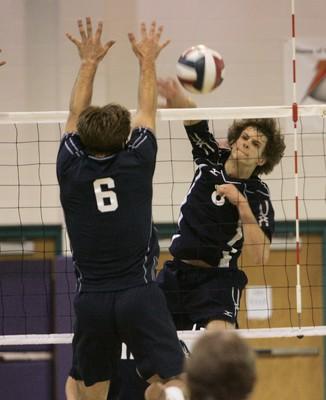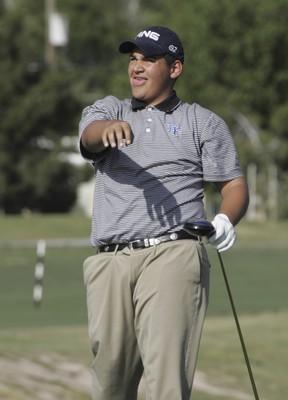 Dynasties. Record-setting performances. Blue-chip prospects. They all were part of the past year in high school sports in Southern Nevada.
Las Vegas High kicked things off in the fall by winning its second consecutive state football crown, and Bishop Gorman pretty much ruled the rest of the fall sports scene, winning state titles in girls golf, girls tennis and boys soccer.
While temperatures cooled in the winter, University of North Carolina signee Italee Lucas stayed hot, scoring a state-record 57 points for Centennial in a girls basketball playoff game. But Gorman, not surprisingly, denied the Bulldogs a state title.
Another highly regarded basketball recruit, Galena's Luke Babbitt, did get the job done in the state title game, leading the Grizzlies past a talented Mojave team.
On the wrestling mat, though, the deep Rattlers wouldn't be denied the state championship. Mojave cruised to the title, ending rival Cimarron-Memorial's four-year reign at the top.
Palo Verde's girls soccer team gave its coach, Marc Hechter, a perfect retirement gift — his second straight Southern Nevada championship.
When winter gave way to spring, the Gaels basically had to beat Galena twice in the same game to lay claim to their second consecutive state baseball title. The Gaels took the field close to an hour after they apparently had won the game to do it again.
Shadow Ridge's boys volleyball team rallied past Centennial to secure the school's first state championship in any sport, and Coronado won its second straight state crown in girls swimming.
Northern Nevada schools won state in boys golf and boys and girls track and field, but individuals from Southern Nevada shone in those sports.
Foothill's Matt Nolasco won the state golf crown in a playoff with Coronado's Scott Lewis.
Pahrump Valley's Dominique Maloy won three state track and field events, giving her a record 15 in her career, to lift the Trojans to the Class 3A title.
FALL
Las Vegas blew open a close football game in the second half on its way to a 33-6 victory over Galena at Sam Boyd Stadium for its second consecutive Class 4A state title and third in six years.
"Last year felt great, but this year — winning back to back — feels even better," Las Vegas senior quarterback O'Ryan Bradley said.
The Wildcats, who led 7-6 at halftime, wasted no time in taking control of the second half. On the second play, Bradley hit Daniel Durnian with an 86-yard touchdown pass to give Las Vegas a 13-6 lead.
"That's what won the game for us," Bradley said. "If we didn't do that, I don't think we would have won the game."
Bradley, who was 8-for-11 for 169 yards in the second half, added a 16-yard touchdown pass to Chris Kelly on the second play of the fourth quarter to make it 26-6, and Jovan Massey returned an interception 12 yards for a score with 3:06 to play to seal the victory for Las Vegas, which forced five turnovers.
"The defense, those kids love to play football," Wildcats coach Chris Faircloth said. "That's probably the biggest reason they're as good as they are. They like to run; they like to hit. You don't have to beg any of them to work hard because they all work hard."
Galena blanked a short-handed Palo Verde squad in one semifinal contest to earn the right to play for the title. The Panthers' quarterback, leading rusher and top receiver were charged the day before Thanksgiving in connection with two arson fires at Faith Lutheran. Without those three key players, Galena rolled, 35-0.
On the links, Bishop Gorman's girls golfers swept the Class 4A individual and team state titles for the fourth straight year.
The Gaels, who shot 777, crushed runner-up Centennial by 51 strokes, and junior In-Ah Park shot 6-under 138 at Empire Ranch Golf Course to prevail, beating first-round leader Bethany Glassford by seven strokes.
The Park family has claimed the last three individual crowns, with In-Ah's older sister, In-Bee, winning in 2004 and 2005. In-Ah Park was the lone player to finish under par, and she set a state tournament record for her 36-hole score in relation to par.
"We work hard all year to get to this point, and to have it pay off like this feels good," Park said.
In Class 3A girls golf, Pahrump Valley won its second straight state title.
Bishop Gorman also excelled in boys soccer, scoring three second-half goals to rally past Silverado 3-2 to capture the Class 4A state crown at Cimarron-Memorial High School.
Nick Eary scored two goals and Zac Zaher had one for the Gaels, who trailed 1-0 at halftime. Ricky Abrego tied the score at 2 for the Skyhawks, but Eary scored the game-winning goal for Gorman on a rebound.
"I just kicked it and hoped and prayed. I just wanted it to go in for the team," Eary said. "It's an unbelievable feeling."
Bishop Gorman's dominance also was on display in girls tennis, where the Gaels conquered Coronado for their second straight state championship.
The Cougars also had to settle for second place in boys tennis, with Palo Verde taking home the title.
In what is believed to be the first brother-sister tandem in state history to win individual tennis titles in the same year, Canyon Springs' Candynce Boney and Stan Breland prevailed in their respective state championship singles matches.
Northern Nevada high school Damonte Ranch beat Silverado in the Class 4A girls volleyball state title match to win its first state championship in any sport, and Reno swept state titles in boys and girls cross country.
WINTER
Lucas set a Class 4A girls state record with 57 points in Centennial's victory over Cheyenne in the Sunset Regional tournament, which the Bulldogs eventually won over rival Bishop Gorman. But the Gaels held the 5-foot-9-inch guard in check in the state championship game en route to their second consecutive state title.
Bishop Gorman buried Centennial in an 87-66 romp at the Orleans Arena.
Lucas, who averaged 41 points in her three previous playoff games, scored 22 points for the Bulldogs on 8-for-27 shooting, including 1-for-9 on 3-point attempts.
"My shot was off," Lucas said. "I tried to go to the hole and I tried to dish, but it wasn't enough."
In boys basketball, Babbitt, a 6-8 Galena junior forward, showed why he was considered one of the top 25 juniors in the country, coming up huge down the stretch in the state championship game.
Babbitt scored 12 of his team's 13 fourth-quarter points, making five of six shots from the field, to lead the Grizzlies to a 54-51 win over Mojave at the Orleans Arena.
"I thought both teams showed good character," Galena coach Tom Maurer said. "God, it was just a great chess match. Thank God I had one more piece."
That piece was Babbitt, who finished with 25 points, seven rebounds and three assists.
"The Babbitt kid is an awfully talented player, and down the stretch in the second half, he made shots," Mojave coach Tony Hopkins said. "We had a hand in his face. Just down the stretch, it was too much of Luke being on."
In the week of the Class 4A girls soccer Southern Nevada championship, Hechter, the only girls soccer coach in Palo Verde history, told his team he was retiring after the game.
The Panthers responded by presenting Hechter with the perfect retirement gift: another championship trophy. Palo Verde successfully defended its Southern Nevada title with a come-from-behind 2-1 victory over Green Valley at Bettye Wilson Park. Palo Verde also defeated the Gators in last year's final.
"They filled my heart," Hechter said of his last four teams, which all advanced to the Southern Nevada championship game. "I'm going to miss them.
"But I'm 55 years old and it's a time when my wife and I should be spending time together," added Hechter, who will continue teaching at Palo Verde.
Mojave qualified 13 wrestlers for the Class 4A state tournament at Spanish Springs, and nine of them earned medals to lift the Rattlers to their first state title.
Reggie Powers, who finished the season unbeaten at 189 pounds, was the only individual champion for the Rattlers, who rolled to the title and ended league rival Cimarron-Memorial's four-year reign as state champs.
The Spartans finished second and had two individual champions.
"We're state champs — there's nothing else to say," Mojave coach Bill Murray said. "Our season has been awesome."
SPRING
In the Class 4A state championship baseball game, Bishop Gorman scored what appeared to be the winning run in the bottom of the seventh inning, only to see the score taken off the board following a protest by Galena.
But that didn't stop the Gaels. Gorman loaded the bases again in the bottom of the eighth, and Jeff Malm's run-scoring single gave the Gaels a 4-3 victory and their second consecutive state crown.
"Our motto all year has been, 'It's not going to be easy,' " Gorman coach Chris Sheff said. "And today was a perfect ending to 'it's not going to be easy.'
"But they just kept fighting, and we're state champions again."
The Gaels trailed 3-2 going into the bottom of the seventh at the Community College of Southern Nevada's Morse Stadium. With one out, Scott Dysinger doubled and Malm was intentionally walked.
Taylor Cole then lined a single to left field to score Dysinger with the tying run. After Brandon Garcia was intentionally walked to load the bases, John Rickard lined what appeared to be a game-winning single to left.
Malm crossed home plate, and Rickard was mobbed near first after touching the bag. But alert Galena coaches noticed Cole and Garcia never made it to their next bases, leaving the force-outs intact.
The Grizzlies, with ball in hand, tagged third, then second, arguing for an inning-ending double play. The umpires didn't make a call and left the field, leaving Gorman celebrating an apparent victory.
But Galena protested, and after a 45-minute conference, a double play was ruled and the game moved to the eighth inning.
"I think they made the right call, I really do," Sheff said. "I was trying to yell to our guys to advance, and things were so loud I couldn't get their attention."
In the Class 4A softball state title matchup, Spanish Springs' Mallary Darby was too much for Las Vegas to handle. The pitcher from Northern Nevada hurled a one-hitter to carry the Cougars to an 11-0 victory over the Wildcats at Stephanie Lynn Craig Park.
Darby finished the season at 21-0. In the final three games, she allowed one hit and struck out 34 over 15 innings.
Shadow Ridge rallied to beat Centennial in the Class 4A boys volleyball state title match, winning the 4-year-old school's first state championship in any sport.
Trailing 23-21 in the final game, the Mustangs reeled off five of the match's final six points to prevail 25-18, 20-25, 25-20, 26-24 at Silverado.
Shadow Ridge had lost two straight matches to Centennial, which beat the Mustangs for the Sunset Regional title.
"Our goal was not letting them beat us three times in a row," said Shadow Ridge captain Josh Shea, who had 56 assists in the state title match. "Our first year, we had a plan that we wanted to compete for a state championship and a regional championship. We did both and we came away with winning the one that counted more.
"We always said we wanted to be the first team at Shadow Ridge to do it, and we did."
In boys golf, Spanish Springs won the Class 4A state championship, but Foothill's Nolasco captured the individual state crown, beating Coronado's Lewis on the first playoff hole.
Nolasco, a senior who lost to Lewis at the Sunrise Regional, shot 2-under-par 70 in the second round at Somersett Country Club to force a playoff and then birdied the par-5 ninth hole to prevail.
"I hit the ball great. I don't think anybody in the state hit the ball as good as me this week," Nolasco said. "That was the key. I hit a lot of quality shots and gave myself a lot of chances within 10 feet."
Reno swept the boys and girls Class 4A track and field state titles, but Pahrump Valley's Maloy stole the show in Class 3A.
The senior won three events, giving her a record 15 in four years, and propelled Pahrump to the state championship.
Silverado senior Sean Zurko won the 800-meter run in the day's best race to end his four-year prep career unbeaten by a Nevada high school runner.
Reno also took home the boys swimming state championship at the city's Lombardi Recreation Center, and Coronado captured the girls swimming state crown for the second year in a row, winning three events and finishing in the top four in seven others.
Preps Central