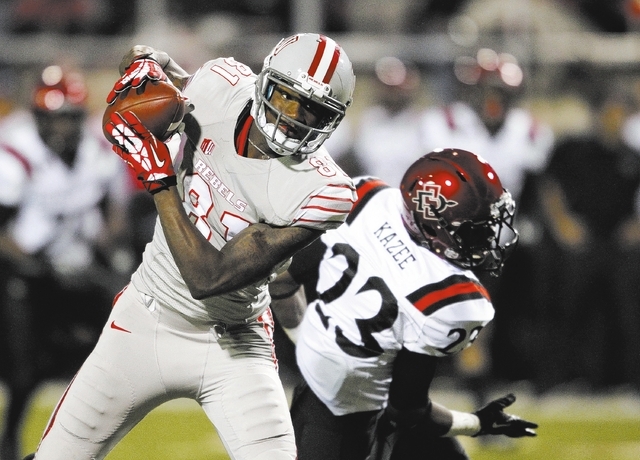 UNLV made their case for a bowl game a lot stronger after beating San Diego State on Saturday, 45-19.
Both teams are now 7-5 with each now being done with the regular season.
Here is a look at some of the top performers at Sam Boyd Stadium during UNLV's Senior Night.
UNLV
Caleb Herring – The senior quarterback capped off his career with one of his best statistical games. He threw five touchdown passes and ran for one more, making him responsible for 42 of the 45 Rebel points.
Herring went 20-for-30 for 270 yards and he ran for an additional 60 yards on nine carries.
Devante Davis – Davis caught four of Herrings five touchdown passes in a 171-yard effort of his own. Three of his touchdowns were in the first half and helped UNLV take a 17-point halftime lead.
Tyler Gaston – The defender intercepted one of SDSU's passes midway through the first quarter to stop the momentum of the Aztecs' offense. He also added three tackles to that interception.
Mike Horsey – The Aztecs' first drive of the second half wound up around the red zone, but Horsey's interception stopped any chance of SDSU starting a comeback.
San Diego State
Quinn Kaehler – While he did throw two interceptions, Kaehler was responsible for 239 yards of offense and a touchdown pass.
Tim Vizzi – SDSU was already out of reach by the fourth quarter, but Vizzi's 71-yard punt return late in the game was one of the final highlights.
Colin Lockett – In addition to catching the lone touchdown pass of the game for the Aztecs, Lockett managed 98 receiving yards on the night.
RELATED: Rebels blow out San Diego State for statement win
Twitter loves UNLV's trashing of SDSU, hates uniforms
Offside call to start half stuffed Aztec momentum