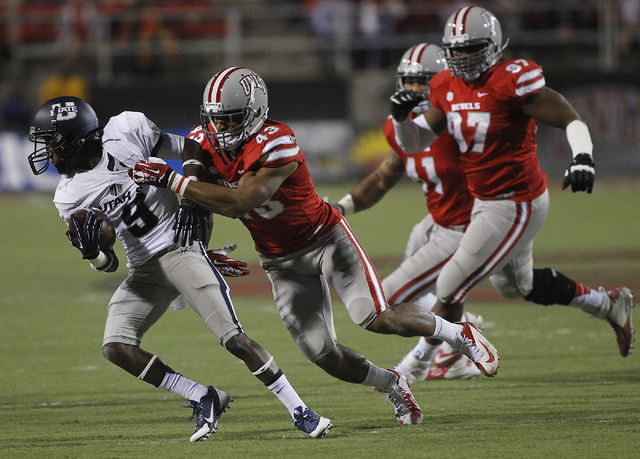 UNLV went back and forth with the Utah State Aggies on Saturday, but came up on the short end of a 28-24 result.
The Aggies clinched bowl eligibility with the win and remain close to Boise State in the Mountain Division standings. The Rebels are now 5-5 and still need one more win to become eligible for a bowl game.
Here is a look at some of the top performers from the game.
UNLV
Tim Cornett – Despite fighting injuries, Cornett ran for 115 yards and a touchdown in a losing effort. He was responsible for nearly all of the running game for the Rebels.
Caleb Herring – The quarterback threw for two touchdowns and 252 yards during the game.
Tyler Gaston – The defensive player managed six tackles and two sacks. He also recovered one of Utah State's four fumbles early in the second half to give the Rebels the ball in Utah State territory.
Maika Mataele – The wide receiver caught five passes for 49 yards, including a touchdown pass in the fourth quarter that put UNLV ahead 24-21.
Utah State
Bruce Natson – While he only had 71 yards, Natson scored two touchdowns. The biggest came in the fourth quarter, when he ran 12 yards to give the Aggies the lead for good.
Joey DeMartino – The Aggies' leading rusher scored a touchdown and ran for 75 yards.
Travi Reynolds – Utah State's receiving corps produced two 100-yard receivers during the game. Reynolds managed 129 yards on the day.
Dare Garretson – The Aggies' quarterback threw for one touchdown, one interception and 288 yards during the game.
RELATED: UNLV stalls in red zone, loses to Aggies 28-24
Fake field goal comes back to haunt UNLV
UNLV loses second chance at bowl game; Twitter loses its collective head
Gameday Grades: UNLV vs. Utah State