Tourney gives Jimmer Mania national audience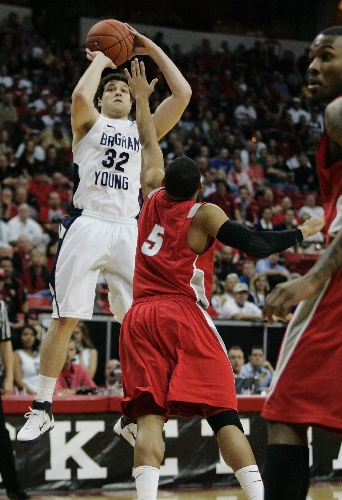 DENVER — Welcome to Jimmer Time, the March Madness edition.
From the White House to the Rocky Mountains and beyond, Jimmer Fredette of Brigham Young is capturing imaginations heading into the NCAA Tournament. And if it's true that for an event to be great, it needs a big star, then everyone from the leaders at the NCAA to the suits at CBS must be rooting like crazy for Fredette and the Cougars.
He's the nation's leading scorer with the nation's best name — a humble, eminently watchable star who has revved up the Cougars program to a level not seen since the days of Danny Ainge. Or maybe better than that.
Even President Barack Obama took notice, calling the BYU star "unbelievable. Best scorer in the country, obviously," in an ESPN interview after Obama unveiled his March Madness bracket.
Seeded third in the Southeast, BYU (30-4) takes on No. 14 Wofford (21-12) today.
"What's it they say? You get Jimmerized? He's a verb," said effervescent CBS color commentator Bill Raftery, who will certainly have fun calling this game — and saying that name. "From watching the tapes, what stands out is his enjoyment of the game. It's visible with the energy and the infectiousness and the personality he plays with. It comes across the screen when you're watching it."
It has been, indeed, quite a lovefest for Fredette.
After deftly handling a news conference Wednesday that was almost exclusively about himself, Fredette went out to practice on the Pepsi Center floor and was immediately greeted with a sign that said "We're going to Jimmerland." None of this is new for Fredette, a senior who has averaged 28.5 points in helping BYU win 30 games for the second straight season.
"It just comes with the territory," Fredette said. "If you have a good team, you're playing well, you're going to get notoriety. You have to realize that and take it in stride."
He's adored at home, heckled on the road and claims to love every bit of it.
He's a New York kid who wasn't recruited much back east. So, he took his game west and has turned into one of the biggest stars in a region that plays most of its games after the masses along the Atlantic have gone to bed.
How do his teammates handle Jimmermania?
"Well, I mean, Jimmer, he demands a lot of attention," guard Jackson Emery said. "When Jimmer is on, you like to keep the ball in his hands. We let Jimmer play his game. If it's pass, shoot, whatever, we know Jimmer is going to make the best play."
He scored 52 points Friday in an 87-76 victory over New Mexico at the Mountain West Conference tournament: "That's a special talent," Lobos coach Steve Alford said afterward. "No matter how strong, athletic, big, small, you throw at him, he still has that unique ability to create space to get his shot."
In a way, though, his output in that game was as impressive as it was foreboding about where the Cougars stand right now. They haven't been the same since leading rebounder Brandon Davies was suspended for violating the school's honor code earlier this month.
Although Fredette's explosion helped them beat New Mexico for the first time in three tries, the next day they lost 72-54 to San Diego State — a team they had handled easily in two regular-season meetings.
"The team is different," coach Dave Rose said. "I think that we play a little different. But I do believe that we can continue to be successful."
To move on, BYU will have to handle Wofford, which is making its second straight trip to the tournament as champion of the Southern Conference.
The Terriers are ranked eighth in the nation in shooting percentage (47.9) and sixth from 3-point range (40.7). They're led by Noah Dahlman, who averages 20 points a game. With an average of 2.73 years' experience, the Terriers are one of the most seasoned teams in the country. Last year, they took Wisconsin to the wire in a 53-49 first-round loss.
BRIGHAM YOUNG VS. WOFFORD
WHEN: 4:15 p.m. today
WHERE: Pepsi Center, Denver
TV: CBS (8)
LINE: BYU -8