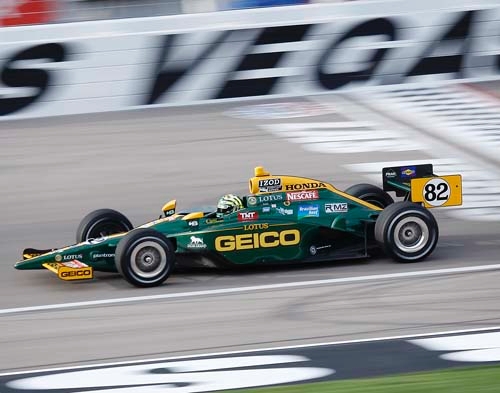 CHARLOTTE, N.C. — Track owner Bruton Smith said Friday he would welcome IndyCar back to Las Vegas Motor Speedway if the series wants to return.
Two-time Indianapolis 500 winner Dan Wheldon was killed in the opening laps of the Oct. 16 season finale at Las Vegas. It was IndyCar's first visit to the track since 2000.
IndyCar CEO Randy Bernard has said he will make no decision about a return to Las Vegas until after the investigation into the 15-car accident that killed Wheldon is complete. But Smith said he'd be fine with another race.
"We've got a three-year contract, and if they would like to honor it, of course we would," Smith said. "If they wish to come back, we'll have them."
IndyCar and LVMS officials had previously announced the 2012 season finale would be at Las Vegas. That's in doubt, though, because the combination of the IndyCar and the track's progressive banking aren't a great fit.
Smith said it's up to IndyCar to decide if its cars can run safely on the high-banked Las Vegas speedway, but he'd suggest slowing them off their speeds of 220-plus mph before they run on any more ovals.
"If you want to do something, slow them down, and there's so many things you can to do bring the speeds down," Smith said. "I don't think the fans can tell the difference if those cars slow down a bit, but there's really no need for them to be going 220 mph. I don't scare easily, but that would scare me."
Bernard has said all oval tracks will be addressed after the investigation is complete, but the CEO wants them on the schedule with road and street courses so that IndyCar can be marketed as the most versatile series in motor sports.
But the 2012 schedule was in flux even before Wheldon's accident. Speedway Motorsports Inc., the company owned by Smith, had already said New Hampshire and Kentucky would not host IndyCar events next year, leaving two holes in the series schedule.
Texas Motor Speedway, an SMI track that draws the second-highest crowd of the season behind only the Indianapolis 500, is on the schedule for June 9. But track president Eddie Gossage said the sanctioning agreement has not been completed, and he's not happy that the date he'd held — the race after the Indy 500 — went to Detroit Belle Isle.
Infineon Speedway, also owned by SMI, has hosted seven consecutive IndyCar races since 2005 but has not been announced for next season.
"Texas, Infineon and Las Vegas, we'd love to have IndyCar at all three places," Smith said. "I have not talked to Randy, I'm sure he's got plenty to do right now and doesn't need to be talking to me. But when he's got some time, I'll be here to talk."