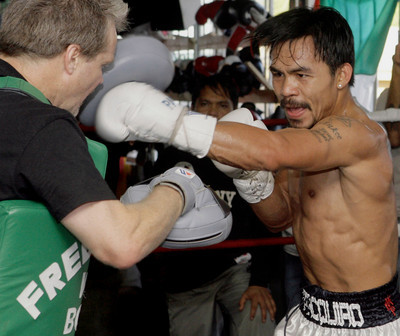 HOLLYWOOD, Calif. — There was a time not long ago when people couldn't turn inside the Wild Card Boxing Club and not see an image of Oscar De La Hoya.
In early 2007, boxing's "Golden Boy" seemed to be everywhere inside Freddie Roach's gym.
But times have changed.
Today, there's little presence of De La Hoya. There's a small photo surrounded by larger ones by the counter, and an oil painting of De La Hoya fighting Felix Trinidad in the gym's other room. Roach said the only reason the painting is there is because it belongs to a friend and he's trying to find a buyer.
Whether it was a subconscious effort at revisionist history by Roach or that this is now Manny Pacquiao's home away from home, the fact is De La Hoya is virtually persona non grata at Roach's facility.
Roach worked De La Hoya's corner May 5, 2007, when De La Hoya lost a 12-round split decision to Floyd Mayweather Jr. at the MGM Grand Garden. In the aftermath, Roach joined a long list of former De La Hoya trainers, even though De La Hoya told Roach he would be with him in the future.
Roach, who has been with Pacquiao since 2001, insists he's not taking his dismissal by De La Hoya personally. But Roach also has been on the attack when it comes to discussing De La Hoya, who will meet Pacquiao on Saturday at the MGM Grand in a 147-pound fight.
"I don't think Oscar is going to have any answers for Manny," Roach said. "Oscar hasn't fought four times in four years. This is Manny's third fight this year. I really don't think it'll be close.
"I pushed hard for this fight because I knew it was a great fight for Manny. It's really not this fight. It's what it does for his life. I think it makes him a superstar. He's already a great fighter. But this is going to be the icing on the cake."
Roach said De La Hoya still can fight, though, at age 35, he doesn't possess the quickness to use the jab or his vaunted left hook effectively against the younger, quicker Pacquiao. But Roach said Pacquiao will be ready regardless of what De La Hoya brings into the ring.
"It's no secret Oscar has a great jab," Roach said. "We have to find a way to get inside his jab. Without the jab, Oscar's lost."
Roach, who suffers from Parkinson's disease, has not let his ailment slow him in preparing Pacquiao. For the past three months, Roach has been taking a new drug, Azilect, which has helped him more than any other medication he has been taking since being diagnosed in 1990. He is down to one pill a day, a far cry from the 30-plus pills of other medications he once ingested daily.
"The biggest side effect is I drool a little bit," Roach said. "I can live with that."
Business at his gym, located in a strip mall on Vine Avenue, has been brisk. On any given day, more than 100 people find their way inside to work out. Roach's focus, however, remains on his star pupil.
"Everyone is saying Oscar's too big for Manny," Roach said of De La Hoya, who at 5 feet 8 inches will have a height advantage of 2 inches on Pacquiao to go with a reach advantage of about 6 inches. "I don't think the size is a big deal. If a guy has a height advantage or a reach advantage, how easy is that to take away? It's very easy, and Manny has the style to take that advantage away.
"Manny's going to put pressure on Oscar, and if Oscar tires like he normally does, we will stop him. We're going to break this guy down and win each round, one at a time. That's our goal."
De La Hoya said he has found Roach's comments about him amusing. He also is using them as motivation, which Roach conversely finds amusing.
"If Oscar needs me to get motivated for this fight, he needs to get a real job," Roach said.
Contact reporter Steve Carp at scarp@reviewjournal.com or 702-387-2913.
Video