Transfer Smith didn't sit idle while awaiting turn as Rebel
October 28, 2013 - 9:13 pm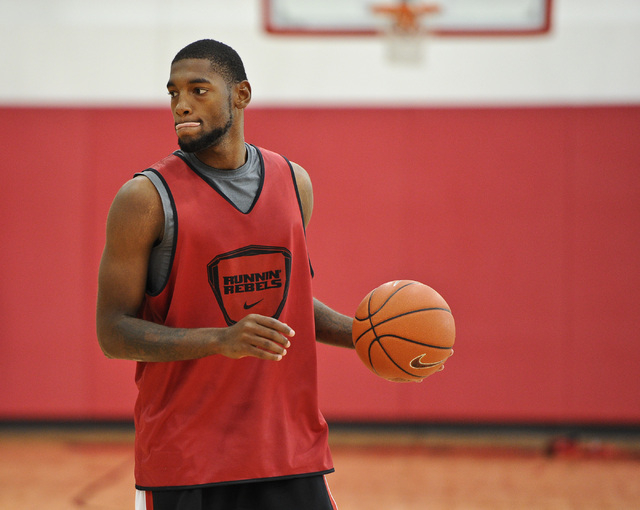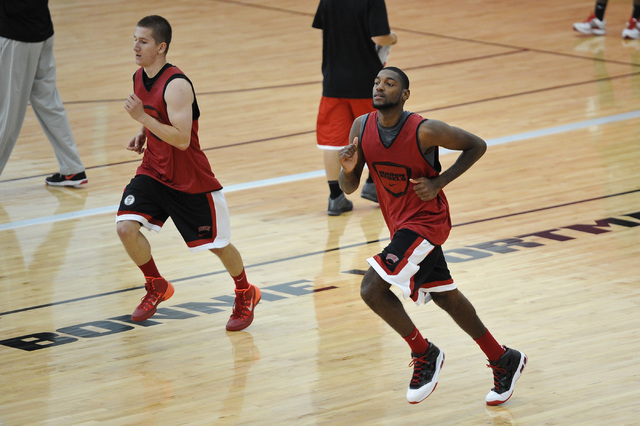 During his redshirt year on the bench, UNLV junior Roscoe Smith made a decision to get off the couch.
As a transfer from Connecticut, Smith practiced with the Rebels and watched games from the sideline. But when the team was on the road, he was at home. The time alone was a chance to look in the mirror.
"The toughest thing about sitting out a year," Smith said, "is there's going to come a time when you're going to ask yourself, do you really want to play this game? Do you really want to get better as a basketball player?
"When the team is away, you can't travel with them. So there's two things you can do, you can either sit on the couch and eat a bunch of junk food or get in the gym and work. I definitely put in the time and the work."
Smith is in position to earn a starting role for UNLV, which plays its first exhibition against Dixie State at 8 p.m. Friday at the Thomas &Mack Center.
"I'm excited to get back in the games and get back under the lights," said Smith, who last appeared in a game on March 15, 2012.
Smith was a starter on Connecticut's national championship team as a freshman, but he was among five players to leave the program after the Huskies were banned by the NCAA from participating in the 2013 postseason.
While considering offers from Atlantic Coast Conference, Big 12 and Southeastern Conference schools, he made his first visit to Las Vegas.
"I liked the atmosphere and liked everything about the vibe," said Smith, who is from Baltimore and attended Oak Hill Academy in Virginia as a senior. "I know I picked the right school."
He's eligible to play at the right time. Six of the Rebels' top eight scorers from last season are gone, leaving juniors Khem Birch and Bryce Dejean-Jones as the only returning starters. Smith, a 6-foot-8-inch forward, is expected to start as a stretch-4 between Birch at the center position and Dejean-Jones as a swingman.
"Roscoe has the ability to play inside and out," coach Dave Rice said. "He's a perimeter guy with size who can guard in the post but also can guard on the perimeter. He can shoot the 3, but he will be very selective about when he shoots it, and that goes with what we're doing with all of our guys."
UNLV's roster is highlighted by newcomers and versatile weapons, with most players capable of adapting to multiple positions. Even big men Birch and Smith can grab a rebound and handle the ball on a fast break.
The backcourt starters are likely to be a pair of junior-college transfers, 6-foot point guard Deville Smith and 6-6 combo guard Jelan Kendrick.
"It's scary because we all have the mindset of guards. When you rebound, you're pushing the ball and there's no slowing down," Smith said. "We'll definitely play a different style, a faster pace on offense and defense. All we're doing is just runnin'.
"No one has a solid lock on a starting position. A lot of guys, when they go to college basketball, they just want to focus on themselves. We have a lot of young guys that's willing to sacrifice for the better good of the team."
The team's youth opens another door for Smith, who has big-game experience. In the 2011 Final Four, he had six points and eight rebounds in 29 minutes against Kentucky and started the title game against Butler.
"He had a big leadership role for us last year, even as a redshirt, and we're counting on him for that," Rice said.
Smith was named the Mountain West newcomer of the year and all-conference first team by Blue Ribbon, though he has different goals.
"I'm trying to be first team all-defense. I take pride in defense and rebounding. I feel like defense wins games," he said.
"I expect a lot from myself and I know the coaching staff expects a lot from me, as well. I prepared myself mentally and physically to get to this point."
■ NOTES — UNLV still is waiting on the NCAA to rule on the eligibility of transfer Kevin Olekaibe, a former Cimarron-Memorial High star and a three-year starter at shooting guard for Fresno State. … Chris Wood, a 6-10 freshman from Findlay Prep, returned after breaking a finger on his right hand, but he missed more practice time last week with strep throat.
Contact reporter Matt Youmans at myoumans@reviewjournal.com or 702-387-2907. Follow him on Twitter: @mattyoumans247.