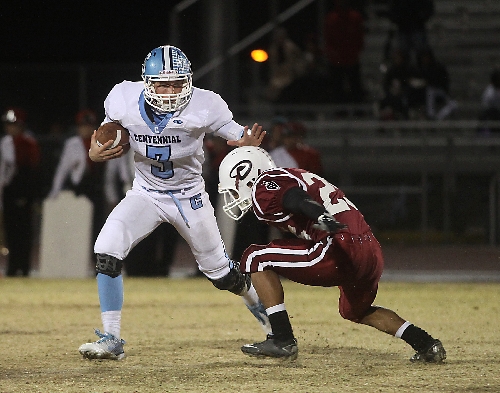 The conditions weren't exactly ideal for Centennial quarterback Austin Turley when he took the field on Friday night.
Steady rain and cool temperatures made gripping and throwing the ball difficult tasks, and Turley's first pass attempt slipped out of his hand, and he covered it for a 3-yard loss.
But when the rain subsided, the junior heated up, throwing for 114 yards in the second half to help the Bulldogs rally for a 21-14 road victory over Desert Oasis in a Sunset Region quarterfinal.
"The ball was real wet, but when the rain stopped, our coach, he had a lot of faith in me and kept giving me opportunities to make plays," Turley said. "So that's what I tried to do."
Centennial (7-3) ran the ball well at times in the first half but was unable to put points on the board as the Diamondbacks (7-3) led 7-0.
But the Bulldogs came out throwing in the second half. Centennial's first three third-quarter plays were passes, with Turley completing a 40-yard touchdown pass to Cody Milford on the third play to tie the game.
Turley completed 7 of 10 passes in the second half. His TD pass to Milford was a quick slant, and Milford split a pair of defenders and broke away for the score.
"We had to make a couple adjustments tonight in the second half and get that thing loosened up a little bit and get some space to run the football," Centennial coach Leon Evans said. "We didn't have much time to throw, so with the short pass tonight we were able to get it to our playmakers to make some plays in space, and it helped a lot in the second half."
The passing game opened up the offense for Centennial, which was limited to 88 yards in the first half. The Bulldogs gained 193 yards of offense after halftime.
Turley often had to scramble to keep plays alive, and a key instance of that came on third-and-17 from the Desert Oasis 28. He found Milford open over the middle, and Milford took the ball to the Diamondbacks 2-yard line.
Fullback Coby Newton then scored on a 2-yard plunge, tying the score at 14 with 9:44 to play.
"People don't realize that kid's on two bad knees and can barely practice on Monday and Tuesday," Evans said of his quarterback. "But he comes out and he's a gamer, and he just competes so damn hard every week."
After Turley's scramble helped Centennial tie the game, a special teams miscue by Desert Oasis gave the Bulldogs the opportunity to win.
The Diamondbacks' Mark Fredericks tried to fair catch a punt but muffed the ball, and Centennial's Andrew Romoff recovered at the Desert Oasis 22 with 5:24 to play.
A 19-yard run by Jacobi Owens set up Newton's second TD, this time on a 3-yard run that gave Centennial the lead.
"That was probably the play of the game," Evans said of the muffed punt. "We got that and we were able to punch it in, and it was huge."
Turley finished 9-for-16 for 131 yards. Owens rushed for 127 yards on 22 carries, and Milford caught five passes for 89 yards for Centennial, which plays at Palo Verde (10-0) in the Sunset semifinals at 7 p.m. Thursday.
Centennial has won seven consecutive games since a 49-12 loss to Palo Verde on Sept. 16.
"After those first three games, we reassessed our goals," Evans said. "We wanted to go 7-0 and get back into a semifinal game with Palo."
Trevon Barnes rushed for 177 yards, including touchdowns of 20 and 4 yards, on 27 carries for Desert Oasis, which lost to Centennial in the first round of the playoffs for the second straight year.
Contact prep sports editor Damon Seiters at dseiters@reviewjournal.com or 702-380-4587.
In-depth high school sports coverage
Class 4A Sunrise Region Playoffs
• Liberty 42, Valley 6
• Las Vegas 37, Green Valley 21
• Foothill 34, Desert Pines 12
• Basic 42, Canyon Springs 21
Class 4A Sunset Region Playoffs
• Bishop Gorman 49, Cheyenne 6
• Arbor View 57, Bonanza 7
• Centennial 21, Desert Oasis 14
• Palo Verde 40, Durango 7