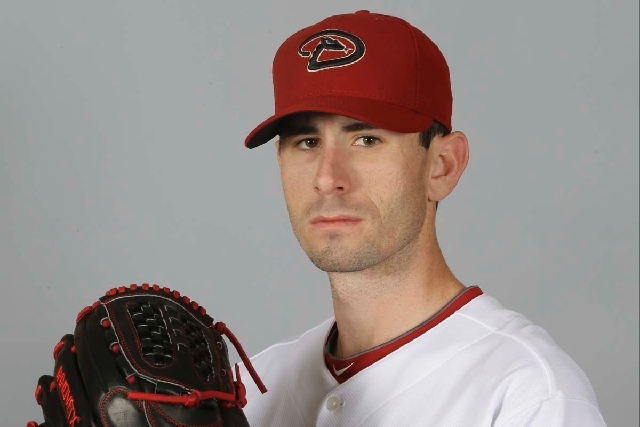 One of the most horrifying images of last baseball season was of a rocket shot of a line drive that struck then-Oakland Athletics pitcher Brandon McCarthy in the head.
McCarthy, now with the Arizona Diamondbacks, still is feeling the effects of the injury he suffered when the Angels' Erick Aybar crushed a pitch up the middle on Sept. 5.
McCarthy suffered a seizure last month while dining with his wife at a Phoenix-area restaurant.
So he probably can be forgiven if he gets sensitive when he turns on a TV and sees a baseball analyst, a former pitcher nonetheless, using the video of that frightening moment to demonstrate a point on MLB Network.
"If you don't pitch in, this is what's going to happen," Mitch Williams said on "MLB Tonight" while a video played of the line drive striking McCarthy.
McCarthy wasn't amused. The charismatic pitcher and prolific tweeter directed a message to Williams on Twitter.
"I hope the clip of me nearly dying helped you make one of your asinine points," McCarthy posted, and followed with an avalanche of humorous "this is what's going to happen" comments.
"If you teach your child to throw a football, this is what will happen" — Mitch Williams, over a clip of Tom Brady's knee injury.
"If you study flight using hydrogen, this is what's gonna happen" — Mitch Williams, talking over a clip of the Hindenburg disaster.
McCarthy's followers came up with more examples, some of which McCarthy retweeted.
"If you fail out of art school this is what happens" — Mitch Williams, on the Third Reich.
"If you build a boat, this is what's gonna happen" — Mitch Williams, reviewing some Titanic footage.
"If you make a movie, this is what's going to happen." — Mitch Williams, on "Gigli."
The bit took off so much that Mitch Williams, known as "Wild Thing" in his pitching days, was a trending Twitter topic Wednesday night and Thursday morning.
McCarthy posted a screencap of the trending topics, with Mitch Williams included on the list, with one final comment on the matter.
"If you're going to try to make a point by showing someone being seriously injured this is gonna happen," McCarthy posted with the picture.
The one thing everyone can agree on from this fiasco: "Gigli" really was awful.
■ WHAT'S IN A NUMBER? — Nerlens Noel was picked No. 6 in last month's draft by the New Orleans Pelicans and immediately shipped to the Philadelphia 76ers.
Many so-called draft experts had projected the former Kentucky center to be the top pick in the weeks and months leading into the draft.
Noel doesn't want to forget that several teams believed he wasn't worthy of a top-five pick. So he is wearing No. 5 for the 76ers to represent the number of teams that passed on him.
Noel could have chosen several other numbers.
He could have worn No. 1 for the number of currently functional knees on his body. He also could have worn No. 0 to represent the number of NBA-ready post moves in his offensive arsenal.
COMPILED BY ADAM HILL
LAS VEGAS REVIEW-JOURNAL