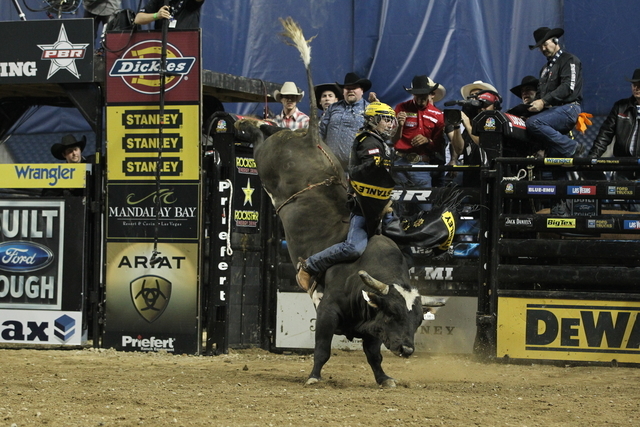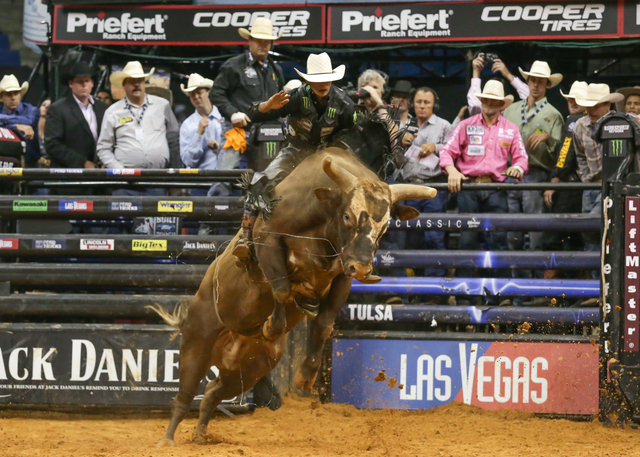 The 20th anniversary of the Professional Bull Riders World Finals in Las Vegas is shaping up as a showdown between two-time defending world champion Silvano Alves and surging former PBR World Finals event champion J.B. Mauney.
With 538.5 points separating the top two riders and 5,500 points up for grabs at the Finals, the event — which will take place at 6 p.m. today through Saturday and at 11:30 a.m. Sunday at the Thomas &Mack Center — has the potential to be the closest title race in PBR history.
In the closest race to date, Mauney became the only rider ever to go 8-for-8 en route to the event title in 2009 but still fell 594 points short of the world title to Kody Lostroh.
The 26-year-old from Mooresville, N.C., expects a closer battle in this year's six-round format.
"I guarantee it'll come down to Sunday and that final bull will determine who's the world champion," Mauney said Monday. "That's how I think it will turn out. May the best man win."
In his eighth PBR season, Mauney — who, like Alves, is a former PBR Rookie of the Year — has placed second twice and third twice and desperately wants to grab a gold buckle.
"I want to win it bad. A couple times I ended up second, and I always say second's the first loser," he said. "It's about time I step up and win it."
Alves, 25, who hails from Sao Paolo, Brazil, wasted little time claiming the world crown.
After earning Rookie of the Year honors in 2010, Alves won it all in 2011 and last year became the first rider to win consecutive PBR world titles.
"I'm very happy, and it's quite important, because no one has ever done it before and my name will always be remembered," Alves said through an interpreter Monday, adding the keys to his success have been consistency, concentration and a lot of practice.
"When I just came to the United States, the first year was hard," he said. "I didn't think I could get to where I am."
Alves, who won three events this season, appeared to be cruising to his third straight world title early on — building a lead of almost 3,000 points over Mauney — before Mauney turned it on and closed the gap down the stretch, winning five of the past nine events in the most successful run in PBR history.
Mauney has won three consecutive events — a feat that hadn't been achieved since 2000, when Chris Shivers won three straight en route to the world title.
"I've been having fun and not worrying about anything, not looking at the points or standings or anything like that," Mauney said. "I've just been letting it all hang out and having a good time."
During his run — in which he has stayed on 22 of 35 bulls for eight seconds — Mauney rode 1,700-pound Bushwhacker, ending the bull's four-year, record-setting 42 consecutive buck-off streak.
"It was probably the highlight of my career so far," Mauney said. "A bull that rank, a lot of people said he couldn't be rode, that he'd never be rode. There were people that doubted me, and I wanted to prove to myself I could ride him."
Mauney said getting married last year to his wife, Lexie, and raising their 2½-year-old daughter, Bella, together has given him a newfound maturity and different outlook on life.
And Mauney said maintaining a sharp focus has been the key to Alves' success.
"In the locker room, he's a different guy — he's smiling and joking — but when he's on the back of the bucking chute, it's time for business," he said. "That's what it takes. You've got to stay focused and know what your job is."
While Alves still holds the cards as the leader entering the Finals, Mauney knows if he can continue his hot streak, he might finally grab that gold buckle.
"I've seen crazy stuff happen in Vegas," he said. "It's anybody's game when you get here."
Contact reporter Todd Dewey at tdewey@reviewjournal.com or at 702-383-0354. Follow him on Twitter: @tdewey33